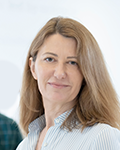 Marlene Gyldmark has a Masters degree in political science and economics from Copenhagen University in Denmark and an MPhil in health economics from York University in the United Kingdom. She has received the best education from the many talented and accomplished people she has had the pleasure of working with. Ms Gyldmark began her professional career in Tanzania at the Ministry of Health in Dar Es Salaam employed by the Danish International Development Agency. After this, she was at the University of Copenhagen working on a project researching the use of benzodiazepines in Denmark. Thereafter she moved into health service research at the Danish Hospital Institute where she worked on a variety of research projects related to health economics, as well as the financing and regulation of medicine use.
After several years in health service research, Ms Gyldmark moved to the pharmaceutical industry. She worked at Novo Nordisk headquarters in Denmark, then Pfizer Denmark, and finally Roche headquarters in Switzerland. During her years at Roche, she worked in market access and HEOR for pharmaceuticals. The past 2.5 years, she has been at Roche Diabetes Care where she works mainly with integrated personalized diabetes management through digital solutions. Her daily job is to lead the HEOR and real-world data group.
During most of her professional career she has been involved in teaching and training, first as external lecturer at Copenhagen University and later as external lecturer and course coordinator for executive training in market access, digital health, and value-based healthcare at Copenhagen Summer University. Ms Gyldmark's other work experience includes being a member of the board at EASE Consulting (2000-2012). Ms Gyldmark's involvement with ISPOR has stretched over many years through supporting the organization and attending conferences. She has also been a regular reviewer of abstracts and posters (poster awards) and has organized and taken part in panel sessions, posters, and oral presentations.
ISPOR Vision Statement by Marlene Gyldmark
It would be an honor for me to serve as a member of ISPOR's Board of Directors and have the opportunity to support, continue, and strengthen the amazing work already done by ISPOR. In particular, I would like to focus on 4 points that are especially meaningful to me.

Firstly, collaboration. Given my background in academia, public sector, pharma, and the medtech industry, I strongly believe in a productive dialogue and collaboration across the many stakeholders in healthcare. This includes patients, families, and healthcare professionals, as well as new the players entering the healthcare sphere. In order to meet the goal of universal health coverage and access to healthcare for all, we need to work together to find innovative and perhaps unusual solutions to overcome the complex challenges to achieve high-functioning healthcare systems. ISPOR is already fostering this dialogue and is in a unique position to move it up to the next level.

Secondly, digital health. For the first time (2020), digital technologies feature in ISPOR's Top 10 HEOR Trends report. I expect "digital health" to remain a top 10 trend for many years to come. Much has been accomplished with regard to innovative medicines and high-precision diagnostics and devices. There are, however, still huge gaps, especially in chronic diseases, to achieve desired treatment outcomes and more importantly to avoid getting sick in the first place. Providing easier and broader access to healthcare, analysing and interpreting large amounts of health data, and empowering patients/people are some of the benefits made possible by digital health. Again, I see ISPOR as being in a position to foster the dialogue and the science needed to expedite these opportunities.

Thirdly, real-world data (RWD) has been a key trend for several years and I see this as a crucial aspect in the development of healthcare. This is especially true when it comes to RWD being used to complement the RCT-based evidence paradigm. This is essential because digital solutions do not fit well into the traditional pharma evidence paradigm and we need to look for new approaches.

Finally, training is an important topic for me. On a daily basis, I experience the need for training with respect to HEOR, HTA, and decision making in healthcare. Here again ISPOR is known for its training programs and is in a position to provide training on the art as well as the science.