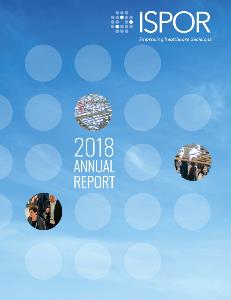 2018 was an extremely productive year for ISPOR. During the year, the Society set new records, launched many new initiatives, and reinvested heavily in its mission.
Just a few of the highlights include:
HEOR Conferences:
The Society convened 5 global conferences and drew the largest attendance of any ISPOR conference to date at ISPOR Europe 2018 with more than 5500 attendees.
Publications:
Value in Health reached a new milestone with an impact factor of 5.494. Value in Health Regional Issues is now indexed in MEDLINE/PubMed, EMBASE, Scopus, and several other scientific databases.
Dialogue With Decision Makers:
ISPOR facilitated dialogue, deliberation, and consensus building through a number of activities, including 5 Health Technology Assessment Roundtables, 5 responses to public calls for comment, 4 Patient Representatives Roundtables, publication of 3 ISPOR Reports and 7 Special Task Force Reports, and 1 Summit on value assessment and more informed healthcare pricing.
Communication and Collaboration:
The publication of the first annual "Top 10 HEOR Trends" report was designed to inform the broader healthcare audience about the importance of health economics and outcomes research (HEOR). ISPOR also launched a number of new technology systems, including a completely redesigned website and membership platform, to better communicate and provide value to its members. Additionally, the Society refreshed its brand with a new "look and feel" that has already been recognized with a number of awards.
Investing in Our Mission:
The Society expanded its investment in mission critical initiatives with $2.9 million US in 2018 alone.
ISPOR acknowledges and thanks all of its members and the diverse group of stakeholders who have helped achieve many important milestones over the past year.
Download the full annual report (below) to read the story of ISPOR and its members who contribute to the science of HEOR and help to improve healthcare decisions.