Highlights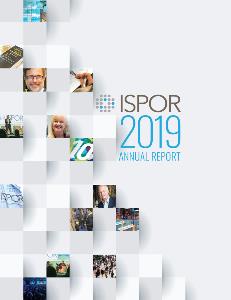 In 2019, the Society made great strides in a number of areas. A few of the highlights over the past year include:
ISPOR Strategic Plan Update 2024
ISPOR released its updated Strategic Plan and an accompanying white paper, "The Future of HE+OR: HEOR's and ISPOR's Impact on Healthcare Systems and the Multistakeholder Community."
Mission-Focused Investments
The Society expanded its investment in mission-focused activities from US $3.1 million to US $3.7 million in 2019.
Value in Health
ISPOR's flagship publication, Value in Health, celebrated its 20th anniversary, launched its new brand/redesign, and once again boosted its impact factor—now at 5.037
Driving Innovation
The Society continued to drive HEOR innovation in a number of strategic initiatives, including:
Real-World Evidence Transparency Initiative
The Initiative held an ISPOR Summit centered on the real-world evidence transparency and wrote a draft paper that was made available for public comment.
Health Technology Assessment (HTA)
ISPOR published a major paper identifying the need for good practices in HTA, hosted 5 HTA Roundtables across the globe, and updated HTACentral.org that also received an award for digital excellence.
Patient Engagement
The Society organized 4 Patient Representatives Roundtables in Asia Pacific, Europe, Latin America, and North America.
Diversity
In 2019, ISPOR released its formal Diversity and Inclusion Policy and made significant gains in improving speaker diversity at its conferences.
Global HEOR Conferences
The Society implemented a highly successful conference series over the year the comprised of 5 global conferences, including ISPOR 2019, ISPOR Latin America, ISPOR Warsaw, ISPOR Summit, and ISPOR Europe. ISPOR's highest conference attendance to date was achieved in 2019 with ISPOR Europe registering 5550 participants representing 90 countries.
Dialogue With Decision Makers
Over the year, ISPOR facilitated many opportunities for dialogue, deliberation, and consensus building, including 5 Health Technology Assessment Roundtables, 4 Patient Representatives Roundtables, 10 responses to public calls for comment, 5 global conferences, and 4 new ISPOR Reports.
ISPOR acknowledges and thanks all of its members and the diverse group of stakeholders who have helped achieve many important milestones over the past year.
Download the full annual report (below) to read the story of ISPOR and its members who contribute to the science of HEOR and help to improve healthcare decisions.
Past Annual Reports