ISPOR is a Society firmly committed to the advancement of health economics and outcomes research (HEOR) based on sound methods and scientific excellence. ISPOR believes that diversity and inclusion are foundational principles for achieving our mission, and that diversity and inclusion are valuable and relevant to all of our Society's activities: cultivating and sustaining significant, high-quality education programs, publications, member benefits, and networking.
ISPOR's Strategic Plan 2020 incorporated core Organizational Values, including embracing diversity of perspectives. This plan articulated that the Society would be strengthened "through encouragement and acceptance of diverse ideas, cultures, and disciplines".
Based on this plan and in response to growing participation of new stakeholders such as payers, healthcare providers, and patient engagement organizations, we restructured our governance to involve members from all stakeholder groups and global regions in the important work performed by the ISPOR councils, committees, special interest groups, task forces, and editorial boards and other working groups. When the Strategic Plan was implemented, ISPOR acknowledged that some groups were underrepresented in activities and that it was to the advantage of the Society, its mission, and all members that this be addressed.
In addition to stakeholder diversification, the 2015-2019 ISPOR Governance Initiative sought to establish frameworks to facilitate greater diversity and inclusion across ISPOR. The Society has already achieved significant diversity in the composition of its Board of Directors. Today, 50% of its Board members are women and 50% live outside of North America. Throughout other member groups, ISPOR has realized progress in stakeholder, geographic, and gender representation.
ISPOR launched its Women in HEOR initiative at the end of 2017 to cultivate relationships further and ultimately achieve greater participation by women in Society endeavors. To date, this effort has stimulated interest in and increased networking opportunities for women and champions of women. The group sponsored its first education sessions focused on communication, discussions on unconscious bias, dialog on encouraging women to seek mentors, and other topics. In 2018, a member interest survey was conducted, and results are available here.
The ISPOR Women in HEOR initiative has begun work to positively influence greater inclusion of women as leaders, speakers, and authors, although we acknowledge that further progress is needed. The Women in HEOR Initiative has been designated to report ISPOR's diversity metrics annually, beginning in 2020.
The 2015-2019 Governance Initiative communicated direction around ISPOR's diversity expectations and themes that are now also incorporated/actioned in new and revised policies and procedures, including:
Board of Directors and Volunteer Leadership Code of Conduct (including antiharassment policies)
Regional Chapter Agreements
Working group policies and guidelines; for example: the required appointment of diverse representatives on the Health Science Policy Council, Education Council, Global Engagement Council, task forces, special interest groups, and other groups, including the Board of Directors
A New Professionals group was created and funded to support development of future leaders and the engagement of early career individuals
The Women in HEOR initiative was developed and funded to more effectively engage and promote women in ISPOR
Funding in the millions of Euros/USD has been appropriated for programs in emerging markets and geographies. Members from these areas have been and continue to be invited and appointed to ISPOR groups, planning, and leadership activities
The updated ISPOR Code of Ethics speaks to the importance of diversity
ISPOR's business/staff operation, based in the United States, is fully compliant with all state and federal diversity-related laws and statutes and has operated as a highly diverse organization with strong global and diverse ethnicity. In addition, women comprise nearly 80% of ISPOR's staff and most of its executive team members are female
ISPOR Diversity Commitments
ISPOR aims to maintain a welcoming environment for all members. By embracing diversity, we will become more reflective of the HEOR community. Importantly, by embracing diversity and inclusion, the Society will also become more effective in delivering value to members and thereby accomplishing our mission.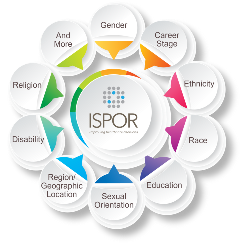 Like other contemporary organizations, we define diversity to encompass a wide range of differences among people and their perspectives. For ISPOR, dimensions of diversity include, but are not limited to gender, career stage, ethnicity, race, education, sexual orientation, regional or geographic location, disability, religion, and other areas. All are welcome to engage with ISPOR to learn and support our mission. In turn, we will reflect a progressive organization with a commitment to diversity in our work and operations and will act to ensure that there is no systemic bias, either conscious or unconscious, that limits the ability of people to actively engage in our activities.
ISPOR board members, leaders, and volunteers will help the Society grow and promote diversity by nominating, inviting, appointing, and engaging members and stakeholders with attention to our diversity dimensions.
The ISPOR Board of Directors and CEO will guide the implementation of ISPOR's diversity objectives and policies, including developing an implementation plan to be published on the ISPOR website. We will encourage the accelerated participation of those reflecting other areas of diversity in our activities. The Society will work with its leaders and groups to stimulate increased participation.
Leaders are expected to look beyond their personal circles and networks when recruiting speakers, reviewers, and committee members.
We will continue to articulate top-level support for diversity and work in collaboration with the Women in HEOR initiative to capture suggestions for change and report performance metrics annually at the ISPOR Annual Business Meeting.
Through communications, policies, and direction in standard operating procedures, we will consistently articulate our expectation that working groups, panels, and teams worldwide reflect not only multiple stakeholder groups, but also ISPOR's diversity dimensions that include gender, career stage, and other parameters described above.
ISPOR is driven by sound methods and scientific excellence and seeks to engage the brightest and best. In producing its programs, diverse panels are strongly encouraged, and the inclusion of members in all career stages as well as those representing diverse ethnicities and multistakeholder and geographic diversity, is also expected.
ISPOR will incorporate diversity and related training for all volunteer leaders and make training available to the membership.
Approved by: ISPOR Board of Directors 5-18-2019