Asia:
Jeff J. Guo, BPharm, PhD
(January 2018 – December 2018)
University of Cincinnati
Cincinnati, OH, USA
Contact Editor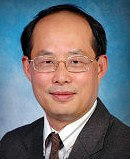 Jeff J. Guo, BPharm, PhD, is a full professor tenured at the University of Cincinnati (UC) College of Pharmacy and a Faculty Research Fellow of Department of Public Health Sciences at the UC College of Medicine. He has been teaching graduate courses, eg, Pharmacoepidemiology & Drug Safety, Clinical Trial Phase III & IV Research & Design, Evidence-Based Pharmacotherapy, Pharmaceutical Economics Policy, and Biostatistics & research methods at UC. He has served as major advisor for 14 PhD, 32 MS, and numerous PharmD students. Prior to joining UC, he worked as a drug information specialist/senior pharmacy engineer at the United States Pharmacopeia (Rockville, Maryland) 1996-1999. He also worked as CRO research manager at the Degge Group Ltd (Arlington, Virginia) 1999-2000, and at the China Food & Drug Administration (Beijing, China) 1983-1991.
He has been an Associate Editor for Value-in-Health Regional Issues 2011-2017, and sits on editorial boards of Research in Social Administrative Pharmacy, Chinese Journal of Pharmacoepidemiolgy, Journal of Preventive Medicine, Intractable Rare Diseases Research, Health Services & Policy Journal, and American Health & Drug Benefits. He is a founder and the past chair for ISPOR's Asian Consortium Advisory Committee. He was invited expert panel member for Bill Gates Foundation, Brookings Institute, and invited speaker at the US FDA, US Census Bureau, University of Chicago, the World Bank, Tokyo University, UC Berkley, University of Brasilia, Beijing University, etc. He has extensive project experience with Ohio and Alabama state Medicaid rational drug utilization reviews and health policy research, the US Pharmacopeia Drug Information, and the US national medication error report system (MedMARx®). He has had contract research experience with the US government, health foundation, and several major pharmaceutical companies such as Bristol-Myers Squibb, Genentech, Baxter, Novartis, and Johnson & Johnson.
He published several textbook chapters in pharmaceutical policy and pharmacoepidemiology, as well as over 140 peer-reviewed research papers in different journals including JAMA, Lancet, British Medical Journal, Annals of Internal Medicine, Pharmacoepidemiology Drug Safety, Journal of Clinical Psychiatry, Public Health Reports, Stroke, Pharmacotherapy, Pharmacoeconomics, Value in Health, and Annals of Pharmacotherapy. His major research topics involve following areas: real-world evidence, drug safety and pharmacovigilance, drug-induced adverse toxicity, drug utilization, health insurance policy, physician prescribing behavior, drug price, drug information, phase IV clinical research, drug development regulatory, pharmaceutical market competition, rare disease and orphan drugs, cost-benefit analysis for medications, the risk-benefit measurement, drug policy, as well as health outcomes research.
Central and Eastern Europe, Western Asia, and Africa:
Dan Greenberg, PhD
(January 2016 – December 2018)
Ben-Gurion University of the Negev,
Beer-Sheva, Israel
Contact Editors


Dan Greenberg is an associate professor and chairman of the Department of Health Systems Management at the Faculty of Health Sciences and the Guilford-Glaser Faculty of Business and Management at Ben-Gurion University of the Negev in Israel, where he teaches on comparative healthcare systems, health technology assessment, and economic evaluation of technologies in healthcare. Since 2008, he is also affiliated with the Center for the Evaluation of Value and Risk in Health at The Institute for Clinical Research and Health Policy Studies at Tufts Medical Center, Boston, MA, and is an adjunct faculty at the Tufts University School of Medicine.
After receiving his doctorate degree from Ben-Gurion University of the Negev in 2001, Dr Greenberg completed a 3-year post-doctoral research fellowship at the Harvard Clinical Research Institute and Cardiovascular Division, Beth Israel Deaconess Medical Center, and Harvard Medical School, initially as a Fulbright Scholar. He was also a Visiting Scientist at the Department of Health Policy and Management at the Harvard School of Public Health. His research focuses on economic evaluation of healthcare technologies, health technology policy, medical decision making and outcomes research. He has conducted economic evaluations for various medical interventions and contributed to the literature on the willingness to pay for cardiovascular interventions, diffusion of innovations, and the use of economic evaluations for coverage and reimbursement decisions at the national level. Dr Greenberg authored or co-authored over 60 papers and book chapters and published his work in leading medical and health policy journals, such as the British Medical Journal, Annals of Internal Medicine, Journal of the National Cancer Institute, Health Affairs, and Value in Health.
Dr Greenberg is a co-founder and the former president of the Israeli Society for Pharmacoeconomics and Outcomes Research (ISPOR-Israel), and is currently an associate editor of Value in Health and member of the editorial board of Applied Health Economics and Health Policy.
Latin America:
Fernando De La Hoz Restrepo, PhD, MD, MSc
(June 2018 – December 2020)
Universidad Nacional de Colombia
Bogota, Colombia
Contact Editors

Fernando De La Hoz Restrepo is full professor at the Department of Public Health of the School of Medicine in Universidad Nacional de Colombia (Colombian National University), the oldest and largest government-funded University in Colombia. He is a medical doctor from the Universidad Libre de Colombia - Seccional Atlántico - and holds a PhD degree in Infectious Disease Epidemiology from the London School of Tropical Medicine and Hygiene. He has also an MSc degree in epidemiology from the Universidad del Valle de Colombia (Colombia´s University of the Valley) and is also a former trainee from the Colombian Field Epidemiology Training Program, which is sponsored by the Colombian National Institute of Health, USCDC, and Training Programs in Epidemiology and Public Health Intervention Network.
He has been part of editorial teams of Colombian medical journals, such as Biomedica (the Journal from the Colombian National Institute of Health), the Revista de Salud Publica (Journal of Public Health of the Colombian National University), and Infectio (Journal of the Colombian Association for Infectious Diseases).
He has worked on economic and outcome evaluation of vaccination programs in Colombia and other countries, and has conducted field assessments of the effectiveness (phase IV) of old and new vaccines in Colombia (pertussis, hepatitis B, rotavirus, Haemophilus influenza type b, and conjugated pneumococcal vaccines). He has coauthored more than 100 papers published in national and international peer-reviewed journals and has served as academic supervisor for 11 PhD students and more than 30 MSc students. Also, he was a member of the advisory committee on health research for the Panamerican Health Organization (2006-2010), member of the WHO´s Quantitative Immunization and Vaccines Related Research (QIVRR) Advisory Committee, and member of the WHO´s Immunization and vaccines related implementation research advisory committee (IVIR-AC) (2008-2014).
Vivian WY Lee, BSc, PharmD, BCPS (AQ Cardiology)
(January 2018 – December 2020)
The Chinese University of Hong Kong
Shatin, NT, Hong Kong
Shu Chuen Li, PhD
(January 2018 – December 2020)
University of Newcastle
Callaghan, Australia
Asrul Akmal Shafie, PhD, RPh, BSc
(January 2018 – December 2020)
Universiti Sains Malaysia
Minden, Pualu Penang, Malaysia
Xin Sun, PhD
(September 2018 – September 2021)
Chinese Evidence Based Medical Center
Chengdu, China
Ming-Chin Yang, DrPH
(January 2018 – December 2020)
National Taiwan University
Taipei, Taiwan
For Central and Eastern Europe, Western Asia, and Africa


Maciej Niewada, MD, MSc
(January 2018 – December 2020)
Warszawski Uniwersytet Medyczny
Warsaw, Poland
Ahmed Awaisu, PhD
(January 2017 – December 2019)
College of Pharmacy Qatar University
Doha, Qatar
Valentin Brodszky, PhD
(December 2018 – January 2021)
Corvinus University of Budapest
Budapest, Hungary
Rafael A. Pinedo Villanueva, PhD
(August 2018 – August 2021)
University of Oxford
Oxford, UK
Aurelio Mejía, MSc, BEc
(July 2017 – June 2020)
Fundación Universitaria de Ciencias de la Salud
Bogota, Colombia
Patricia de Soarez, MPH, PhD
(July 2017 – June 2020)
University of São Paulo
São Paulo, Brazil
Marcelo Nita, PhD, MD, MSc
(January 2018 – December 2020)
University of São Paulo
São Paulo, Brazil
J. Jaime Caro, MDCM, FRCPC, FACP
(January 2018 – December 2020)
Evidera
Lexington, MA, USA
(January 2018 – December 2020)
Syed Aljunid, PhD, MD, MPH
Universiti Kebangsaan Malaysia
Kuala Lumpur, Malaysia
Chee Jen Chang, PhD
Chang Gung University
Tao Yuan, Taiwan
Esther W. Chan, PhD
University of Hong Kong
Pokfulam, Hong Kong
Yin Ting Cheung, PhD, BSc
The Chinese University of Hong Kong
Shatin, NT, Hong Kong
Hilton Y. Lam, PhD, BA, MHA
National Institutes of Health
Manila, Philippines
Jarir At Thobari, MD, PharmD
Universitas Gadjah Mada
Bulaksumar Yogyakarta, Indonesia
Jing Wu, PhD
Tianjin University
Tianjin, China
For Central and Eastern Europe, Western Asia, and Africa
(January 2018 – December 2020)
Representing Central and Eastern Europe
Mary Geitona, BSc, PhD
University of the Peloponnese
Damaskinou & Κolokotroni, Greece
Dominik Golicki, MSc, MD, PhD
HealthQuest
Warsaw, Poland
László Gulácsi, MSc, MD, PhD
Corvinus University of Budapest
Budapest, Hungary
Mihajlo (Michael) Jakovljevic, MD, PhD
University of Kragujevac, Serbia
Hosi University, Tokyo, Japan
Zoltán Kaló, MSc, MD, PhD
Eötvös Loránd University and Syreon Research Institute
Budapest, Hungary
Representing Western Asia and Africa
Hakan Ergün, MD, PhD
Ankara University
Ankara, Turkey
Mohamed Izham B. Mohamed Ibrahim
Qatar University
Doha, Qatar
(July 2015-June 2018)
Kasem S. Akhras, PharmD
Novartis Pharma Services AG
Dubai, United Arab Emirates
(January 2018 – December 2020)
Yajaira Bastardo, PhD
Caracas, Venezuela
Cesar Alberto Cruz, MD, PhD
Mexico City, Mexico
Jorge Elgart, MSc, BEc
CENEXA (UNLP-CONICET)
La Plata, Argentina
Rodrigo Henriquez, MD
Universidad de Las Americas
Quito, Ecuador
Rosina Hinojosa, MSc, BSc
Lima, Peru
Camila Quirland Lazo, Rph, MSc
University of Chile
Santiago, Chile
Victor Zarate, MD, MSc, PhD
Chilean Ministry of Health
Santiago, Chile
Management Advisory Board
Jalpa A. Doshi, PhD (chair)
University of Pennsylvania
Philadelphia, PA, USA
Rok Hren, PhD, MSc
Siemens Healthineers
Ljubljana, Slovenia
Rosanna Tarricone, PhD, MSc
Bocconi University
Milan, Italy


505 Lawrence Square Blvd South
Lawrenceville, NJ, USA 08648
Contact Editors
Lyn Beamesderfer
Director, Publications
Jennifer Brandt
Editorial Assistant