Interest in the field of health economics and outcomes research (HEOR) has grown exponentially as governments and other payers grapple with how to provide the best possible health outcomes at affordable costs. At ISPOR, we believe that every healthcare decision should be informed by the best scientific research derived from rigorous, proven methodologies. Toward that goal, the Society's mission is to promote HEOR excellence to improve decision making for health globally.
What Is HEOR?
In today's world, healthcare decision makers across the globe are often faced with the need to select therapeutic "interventions" from multiple treatment options, including biopharmaceuticals, medical devices, and healthcare services. However, the benefits and costs of these interventions can range dramatically and the benefits can be economic, clinical, both, or may include hard to measure costs or benefits the patient experiences directly. Health economics and outcomes research (HEOR) can help healthcare decision makers—including clinicians, governments, payers, health ministries, patients, and more—to adequately compare and choose among the available options.
ISPOR has defined the following HEOR topics in its taxonomy that are the key areas of focus for the organization and its membership:

Clinical Outcomes
Epidemiology and Public Health
Economic Evaluation
Health Policy and Regulatory
Health Technology Assessment
Health Service Delivery and Process of Care
Medical Technologies
Patient-Centered Research
Real-World Data and Information Systems
Specialized Treatment Areas
Specific Diseases and Conditions
Study Approaches
Methodological and Statistical Research
Organizational Practices
ISPOR Science Strategy
The objective of the ISPOR Science Strategy is to identify a targeted set of topical "themes" that the Society believes will have the greatest impact on both the field of HEOR and global healthcare. ISPOR believes that this Science Strategy, when well executed, will help meet the evolving needs of healthcare decision making. The Science Strategy themes include: Real-World Evidence | Economic Evaluation Methods | Patient-Centered Research | Special Populations and Technologies | HTA in Healthcare Decision Making | Health Economics, Access, and Policy | Low- and Middle-Income Countries | Resilient Learning Healthcare Systems.
HEOR Trends

As HEOR plays an ever-greater role in helping to inform healthcare decisions, ISPOR leveraged the thought leadership of its member experts to provide direction on where the field is heading in what is a rapidly changing healthcare marketplace. The new ISPOR 2020 Top 10 HEOR Trends is the second annual publication for this initiative.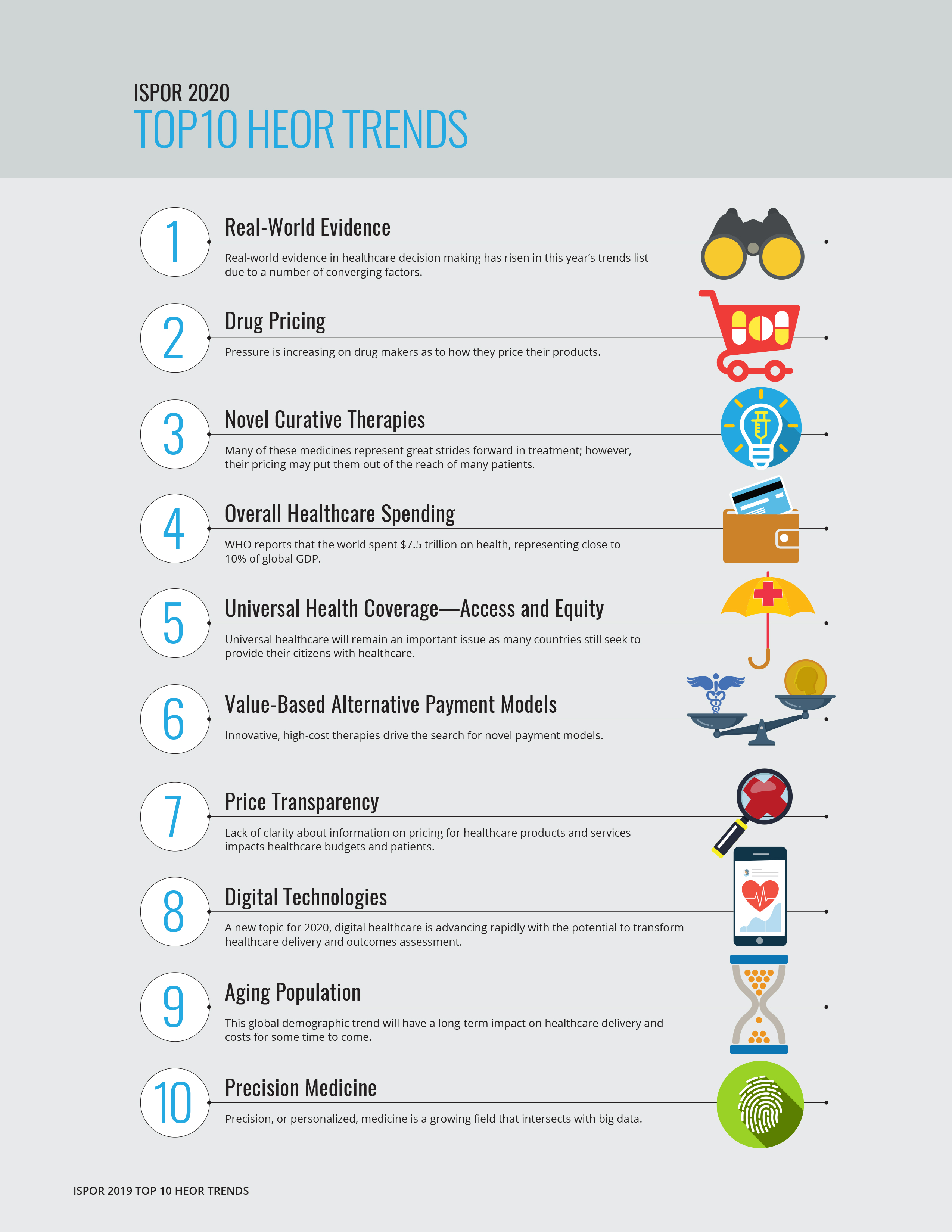 Health Technology Assessment
Health technology assessment (HTA) is an evidence-based, multidisciplinary process intended to support healthcare decision making by assessing properties and effects of one or more new or existing health technologies in comparison with a current standard. ISPOR's Health Technology Assessment Central is a comprehensive repository of resources and tools that support HTA and helps bridge the gap between HEOR and other disciplines that inform HTA and healthcare decisions.
Subscribe to HEOR News and Events
Connect with the global community of healthcare stakeholders and stay informed on the latest and greatest happenings in the world of HEOR.