Strengthening ISPOR Through Diversity
ISPOR's commitment to diversity begins with its strategic pillars and organizational values. One of the Society's core values is, "We promote diversity and inclusion in our membership and all endeavors.
ISPOR's Organizational Values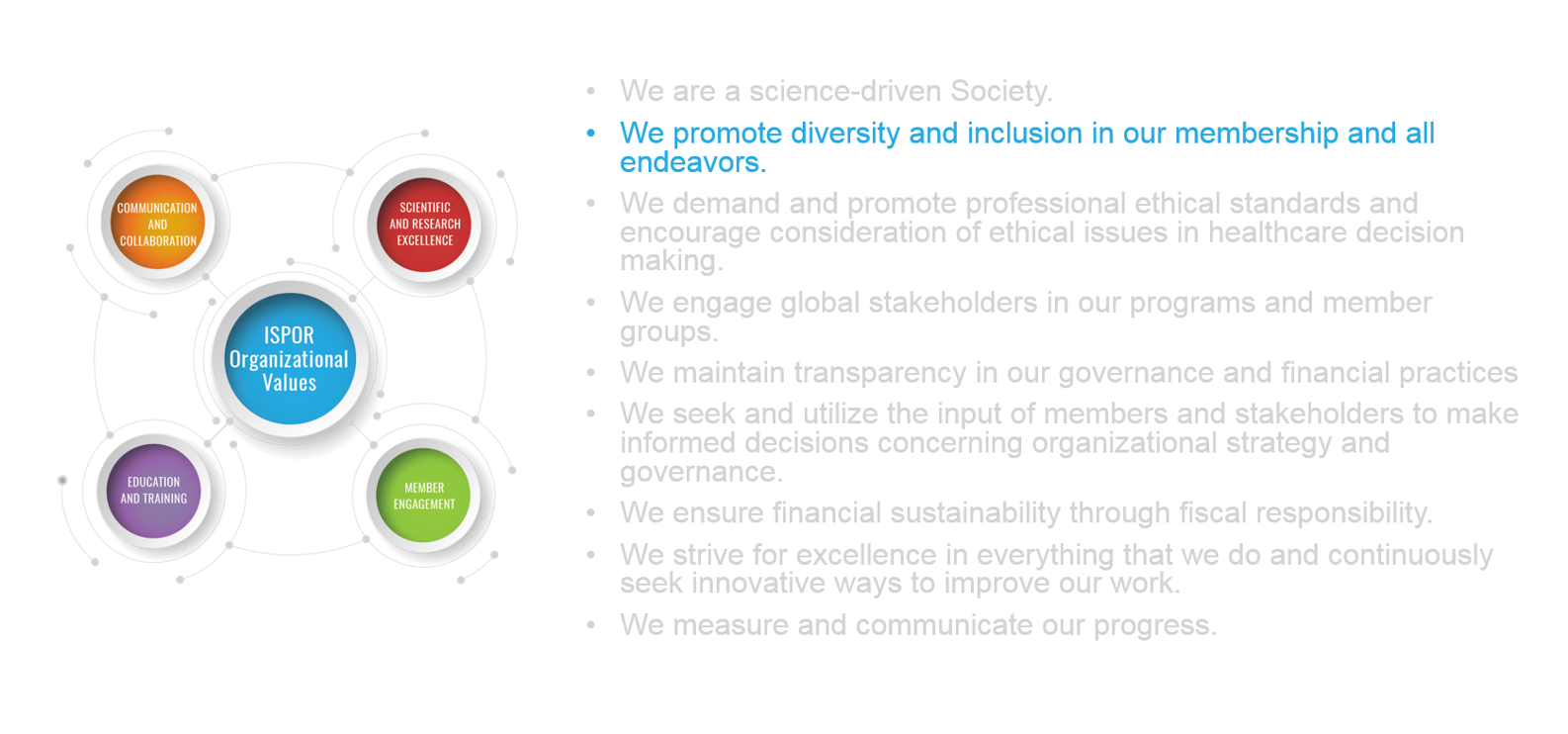 Diversity Is a Performance Issue
Diversity is not simply the right thing to do. Diversity is a performance issue. Research has demonstrated that diversity of all types improves performance.1 ISPOR believes that diversity will improve both the Society and the science of health economics and outcomes research (HEOR).
Diversity Dimensions
Since its inception, ISPOR has recognized the importance of diversity and has actively worked to improve diversity of all types. As a global, multistakeholder organization, ISPOR's diversity focus includes a variety of diversity dimensions, including (but not limited to) gender, career stage, ethnicity, race, education, sexual orientation, regional/geographic location, physical disability, religion, and more.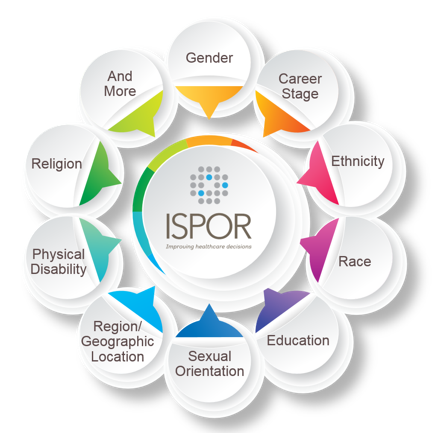 Diversity Policy and Initiatives
ISPOR's board of directors recently approved a diversity policy to formalize the Society's position on diversity. Diversity themes are currently incorporated into many ISPOR groups and initiatives, including the Society's:
Strategic plan
Governance initiatives

Board of directors' code of conduct
Chapter agreements
Nominations committee standard operating procedures (SOPs) and guidelines
Working group SOPs and guidelines

Board of directors, councils, working groups, and staff
Conference SOPs that encourage session speaker diversity
Conference accommodations (eg, nursing mother rooms, prayer rooms, meal accommodations)
New Professionals network
Women in HEOR initiative
What You Can Do...
Lack of diversity is a deeply-rooted issue that spans the globe and is seen in virtually every area of life. Unconscious bias often exacerbates and perpetuates the problem. For this reason, no single, "simple solution" exists to address this pervasive issue.
ISPOR will do its part and more. The Society is committed to diversity in its leadership and all activities that reflects its exceptionally diverse global, multistakeholder membership. True change, however, requires more. True change requires the efforts of the HEOR community. ISPOR is committed to having a real impact and asks for the commitment of all members in the HEOR community to actively encourage diversity through:
Leaders Submitting Abstracts for Conferences
Non-plenary sessions at ISPOR conferences are generated through members' abstract submissions and undergo peer-review. Metrics on these submissions show that selection bias is not occurring; rather submitted abstracts are not reflecting appropriate diversity, most notably gender diversity. ISPOR strongly encourages diversity of speakers/panelists for submitted sessions and asks that leaders submitting abstracts:
Consider diversity of all types in the composition of session speakers and panelists.
Think hard before submitting an abstract for sessions that are composed of all men. Ask yourself, "Is/are there really no highly qualified woman/women who could serve as speaker/s and/or panelist/s?" We must all work to assure that the many expert women leaders in the field are included in the conversation through participation in conference sessions.
Conference Speakers and Panelists
Strongly consider not participating in an all-male panel.
If asked to speak or serve on a panel, ask about the session's diversity and:

Consider participating only if it is a diverse panel.
Offer to help invite highly qualified, diverse speakers before agreeing to participate.
Managers of People
Recognize that unconscious bias exists in all human beings.
Mentor and champion all of your talented employees. Help assure that all employees, including women and other diverse groups, achieve success and advance in their careers.
Women in HEOR
Submit your abstracts to ISPOR conferences and to other conferences in the field.
As noted above, non-plenary sessions often lack the desired diversity because members' submitted abstracts lack the desired diversity. Fewer women submit abstracts and also submit fewer numbers of abstracts than their male counterparts.
ISPOR strongly encourages women in HEOR to submit their abstracts for issue panels and workshops.