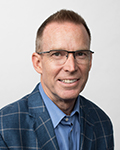 David Thompson, PhD is a health economist who has been working in the field of HEOR since 1988. During the course of his career, he has developed expertise in economic modeling, retrospective database analysis, prospective real-world research, and patient-reported outcomes. His work has been global in nature, with extensive experience in North American and European markets, as well as the emerging markets of the Asia Pacific and Latin American regions.
Dave is senior vice president, real-world research, at Syneos Health, a position he has held since 2016. Prior to joining Syneos Health, he held leadership positions at Quintiles (2012-2016), i3 Innovus/OptumInsight (2000-2012) and Policy Analysis Inc (1988-2000).
Dave is a long-time contributor to ISPOR, having led the launch and functioned as editor-in-chief of Value & Outcomes Spotlight (and, before it, ISPOR Connections) from 2008 to the present. He has also served as a leadership member of the ISPOR Task Forces for Good Research Practices on Indirect Treatment Comparisons (2009-2012) and Revision of the ISPOR Code of Ethics (2015-2017). A frequent ISPOR conference presenter, Dave has led more than 50 workshops, issue panels, forums, short courses, and symposia at ISPOR's Annual International, European, Latin American, and Asia Pacific conferences. He has published widely in peer-reviewed medical journals, including Value in Health.
Among various current external affiliations, Dave is a steering committee member for the Clinical Trials Transformation Initiative (CTTI), a multistakeholder initiative of Duke University and the US Food and Drug Administration; a team leader on the CTTI initiatives on real-world evidence and pragmatic clinical trials; and an advisory group member for the Duke-Margolis Real-World Evidence Collaborative.
Dave holds degrees from the University of California Riverside (BS, Economics) and University of Massachusetts (PhD, Economics).
Vision Statement by David Thompson

ISPOR's growth and development since its founding 25 years ago has been nothing short of remarkable, from a few dozen individuals congregating in the United States to some 20,000 members spanning more than a hundred countries. Through my role as Editor-in-Chief of Value & Outcomes Spotlight, I have witnessed how much of this development unfolded and have a good understanding of how ISPOR should approach the 4 pillars of its strategic plan:
Scientific and Research Excellence. ISPOR has successfully positioned itself as the leading professional society for scientific rigor, methodologic innovation, and research integrity in the realm of health economics and outcomes research (HEOR). Use of real-world evidence in regulatory decision-making and value assessment frameworks in health technology assessment are areas in which ISPOR can exert further leadership on a global basis in the years ahead. Another area that ISPOR should address is the use of digital tools (eg, smart phones, wearables) for remote data capture for real-world study measures.
Member Engagement. ISPOR primarily engages with its members through various electronic and print media, webinars, and the annual conferences. Areas for growth include increased presence on social media (eg, Twitter, LinkedIn) and greater leveraging of member insights through an annual member survey, results of which could be used to further promote ISPOR members to broader communities of researchers, policy makers, and health system stakeholders all over the world. In addition, as the student and regional chapter networks now comprise about half of ISPOR's overall membership, approaches for strengthening ties across these chapters and back to "the mothership" are in order.
Education and Training. ISPOR's ever-expanding array of short courses held in conjunction with the annual conferences remain wildly popular, particularly to students and early-career professionals. Further development of programs for mid-career professionals specific to ISPOR members working in the biopharmaceutical and medical devices industries, consultancies and contract research organizations (CROs), and academic settings is also an opportunity.
Communication and Collaboration. In recent years, ISPOR has added resources and staff to enhance its internal and external communications capabilities. Outreach to professional societies adjacent to ISPOR, such as ISPE, has led to some important multisociety collaboration opportunities. Additional progress can be made by reaching into regulatory and other health policy circles such that ISPOR gains more widespread authority as the go-to organization for insights and expertise in the field of HEOR and the value of medical interventions in real-world settings.
With my tenure as Editor of Value & Outcomes Spotlight coming to a close, I look forward to new opportunities to contribute to our Society. It would be an honor to serve as a member of the ISPOR Board of Directors.