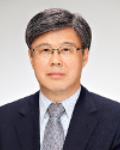 Dong-Churl Suh, PhD is a professor and the director of the graduate program at the Chung-Ang University College of Pharmacy in Seoul, Korea. He is also the director of the Institute for Pharmaceutical Economics and Policy. He previously served as the dean of the College of Pharmacy and the dean of the Graduate School of Food and Drug Administration at Chung-Ang University from 2012-2014.
Prior to his involvement at Chung-Ang University, Dr Suh was a tenured professor and the director at Rutgers-The State University of New Jersey School of Pharmacy in the United States from 1994-2012 and held a joint appointment at the School of Public Health. He was a visiting scholar at the Centre for Health Economics at University of York in the United Kingdom from 2009-2010 and at the University of Sheffield in the United Kingdome from 2010-2011.

Dr Suh received his PhD in health economics from the University of Minnesota, his MBA from the State University of New York at Buffalo, New York and his BS and MS in pharmacy from Chung-Ang University in Seoul, Korea.

Professor Suh has actively served on ISPOR committees in different positions. He recently served on the Program Committee of the Virtual ISPOR Asia Pacific 2020 conference. He also taught the ISPOR short course, "Performance-Based Risk-Sharing Arrangements for Drugs and Other Medical Products."
Dr Suh founded the ISPOR-Rutgers University Chapter and served as the faculty advisor during his time at Rutgers University. He was also one of the founders of the ISPOR Asia Consortium in 2005. In addition, Dr Suh has served on numerous ISPOR committees including a chair/co-chairperson for the abstract review committee (2004); the research review committee (2004-2005); the committee for guideline development for abstracts (2005); and as a member for the Asia Consortium Advisory Committee (2005-present); the award selection committee (2002-2009); and serval other committees.

Dr Suh has served in many leadership roles for other professional organizations, including but not limited to: co-chairperson of the organizing committee for the "Economics Modelling and Diabetes: The Mount Hood 2019 Challenge" international conference in Seoul, Korea; the president of the Korean Association of Health Technology Assessment; the president of the Korean Academy of Social and Managed Care Pharmacy; the Scientific Section chairman of the Federation of Asian Pharmacists Association; the vice president of the Korean Society for Pharmacoepidemiology and Risk Assessment, and a director for several organizations.
Dr Suh has had the honor of being a consultant to the Korean government on several occasions. He received the South Korea President's Award in recognition of his valuable contributions on enhancing pharmaceutical research.

Several other received accolades include the Best Research Presentation Poster Award from ISPOR multiple times; the Ishidate Award from the Federation of Asian Pharmaceutical Associations (2018); the Roche Best Research Paper Award from the Korean Cancer Association (2019); the New Investigator Award from the American Association of Colleges of Pharmacy; and the Health Outcomes Research Award from the American College of Clinical Pharmacy.
Vision Statement by Dong-Churl Suh, RPh, MBA, PhD

I have been a member of ISPOR since 1995 and have more than 25 years of professional experience in health economics and outcomes research. Based on my wide range of leadership, academic, and professional experiences, including co-chairing the Program Committee of the ISPOR Asia Pacific 2020 conference, I will advance ISPOR's standing as a vital organization in the healthcare decision making process based on scientific research evidence while serving in a leadership role.

ISPOR has grown tremendously over the last few decades with more than 20,000 members and chapters worldwide and has positioned itself as a worldwide scientific hub for health economics and outcomes research. I believe it is time for ISPOR to move forward and be at the forefront of the next generation of value proposition and advancement policies in healthcare decision making.

I am eager to leverage my experiences and passion toward promoting and achieving ISPOR's mission and strategic goals of providing resources and education for health economics and outcomes research; increasing membership and opportunities for involvement while improving communication; networking among members, as well as accomplishing the ISPOR's Strategic Plan Update 2024.
I will actively support continuing ISPOR's leadership efforts in interprofessional collaborations and progressing efforts to increase the use of health economics and outcomes research through the following aims:

Developing stronger relationships between the ISPOR member network and the overall health research and policy community by expanding ISPOR's collaboration with policy makers and other healthcare professionals to encourage the use of health economics and outcomes data in the decision making process;
Supporting communication among ISPOR members to share regional or country experiences in using health economics in decision making by developing webinars or other programming features such as recurring regional conference calls;
Promoting cutting edge health economic and outcomes research through assisting the growth and development of futureresearchers and supporting health economic and outcomes research excellence;
Increasing dissemination of health economic and outcomes research findings and assessment tools that will lead to better efficiency in resource utilization and enhance dialogue between researchers and practitioners in decision making; and
Developing creative and effective ways of fostering our profession through mentoring and career development initiatives to reach out to young and aspiring health economists-in-training and provide them with professional networking and mentorship opportunities.
If elected to serve on the ISPOR board of directors, I would be truly honored to serve and bring my passion for achieving the core mission and strategic goals of ISPOR while fulfilling my responsibilities with unparalleled commitment and energy. My vision is to enhance strategic plans to provide an all-encompassing range of timely and critical professional development platforms that are essential to the evolution of health economics in the rapidly changing healthcare industry.
I would like to close with an adaptation of my favorite quote that even if I knew that tomorrow the world would go to pieces, I would still plant my apple tree in the ISPOR community. Thank you for your time and consideration.