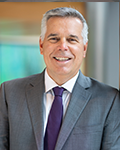 Sean D. Sullivan, BScPharm, MSc, PhD, is Professor and Dean, University of Washington, School of Pharmacy. He holds a joint appointment as Professor of Health Services in the School of Public Health. He holds adjunct appointments in the School of Medicine, the Public Health Sciences Division at the Fred Hutchinson Cancer Research Center, and at the Kaiser Permanente Washington Health Research Institute.

He completed training in pharmacy at Oregon State University in 1983, obtained a master's degree at the University of Texas in 1986 and a PhD in health economics and policy at the University of California, Berkeley in 1992.

Dr. Sullivan has authored more than 400 articles, book chapters and reports. In many of these, he has assessed the evidence and applications of medical technology in relation to coverage and reimbursement decisions. His research interests include health technology assessment, medical decision-making, and economic evaluation of medical technology, including pharmaceuticals. He is past president of the International Society for Pharmacoeconomics and Outcomes Research (ISPOR) and past chair of the Academy of Managed Care Pharmacy (AMCP) Executive Committee of the Format for Formulary Submissions – the United States evidence-based guidelines for formulary decision making.

Dr. Sullivan was a member of the Medicare Evidence Development and Coverage Advisory Committee, a member of the Regence Blue Shield and Premera Blue Cross P/T Committee, and Chair of the Premera Blue Cross Value Assessment Committee. He was awarded the 2014 Stephen G. Avey Lifetime Achievement Award from the Academy of Managed Care Pharmacy (AMCP), the2015 APhA Academy of Pharmaceutical Research Sciences (APRS) Research Achievement Award, and was named an ICON of Pharmacy (2019) from Oregon State University.