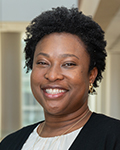 Eberechukwu Onukwugha, PhD is a professor in the Department of Practice, Sciences, and Health Outcomes Research and the executive director of Pharmaceutical Research Computing at the University of Maryland School of Pharmacy in Baltimore, MD, USA. She received a Bachelor of Arts in economics and French from the University at Albany, State University of New York, and a Master of Science in agricultural and applied economics and Doctor of Philosophy in economics (concentration: econometrics) from Virginia Polytechnic Institute and State University (Virginia Tech). Dr Onukwugha completed a 2-year postdoctoral fellowship in pharmacoeconomics and health outcomes research at the University of Maryland School of Pharmacy during which she was a recipient of the PhRMA Foundation's Post-Doctoral Fellowship in health economics and outcomes research. She currently serves on ISPOR's Board of Directors (2020-2023).
Dr Onukwugha's research interests are in cost analysis, health disparities, and medical decision making by individuals and institutions. She has 20 years of experience conducting health economics and outcomes research using administrative medical and pharmacy claims, hospital discharge, and prospectively-collected data. She uses linked data to investigate the role of contextual (eg, hospital, physician, and geographic) factors in explaining health outcomes and processes of care. She examines the costs and health outcomes associated with health-related decisions as well as the institutional and environmental context framing individuals' health-related decisions. The health-related decisions of interest include the decision to receive guideline-recommended treatment, self-care following a hospital discharge, and healthcare resource utilization among adults diagnosed with chronic conditions.
Dr Onukwugha has authored over 120 peer-reviewed articles in health economics and outcomes research. Her research has been published in journals such as Cancer, Ethnicity & Disease, JCO: Clinical Cancer Informatics, PharmacoEconomics, Neurology, Value in Health, Journal of Hospital Medicine, Medical Care, Journal of Managed Care & Specialty Pharmacy, Journal of Oncology Practice, Journal of General Internal Medicine, and Medical Decision Making. Dr Onukwugha is an Editorial Board member for PharmacoEconomics and an Associate Editor for Ethnicity & Disease. She co-chairs the scientific review committee for the PhRMA Foundation's Value Assessment and Health Outcomes Research program. In addition to serving on ISPOR's Board of Directors, her prior ISPOR service highlights include: 1) conference co-chair for ISPOR 2022, the annual international conference; 2) co-chair of the Research Review Committee for the ISPOR 2018 and ISPOR 2019 conferences; 3) president of the Faculty Advisor Council from 2013 to 2015.
ISPOR Vision Statement by Eberechukwu Onukwugha
As president-elect of ISPOR, I will bring a global perspective to both evidence generation for decision making and the advancement of ISPOR's core mission, "to improve decision making for health globally." My global perspective is shaped in part by a childhood split between Nigeria (living on the campus of the International Institute of Tropical Agriculture) and the United States (US). Having lived and attended school in the US, Nigeria, and France, my perspective on global health is also shaped by my social and environmental exposures. My prior experiences have uniquely prepared me to contribute to ISPOR's mission and increase the impact of health economics and outcomes research (HEOR) through innovations in partnership development and evidence generation.
While we count the months removed from the start of the COVID-19 pandemic and wrestle with continuing public health challenges, the need for relevant and actionable evidence to support healthcare decision making at the individual, institutional, and governmental level has never been more pressing. Continuous innovation in our methods of scientific inquiry and communication will be needed. ISPOR has correctly positioned itself as a "catalyst for innovation in the HEOR field." In doing so, ISPOR invites each of us to be a catalyst for innovation. As a member of the ISPOR Board, my vision is that every ISPOR member can see their role as a catalyst for innovation, articulate how ISPOR can help them better fulfill their roles, and engage with ISPOR to advance our collective mission.
To be impactful, innovation must be meaningful. Innovation must transform our systems and transform us. Consider evidence generation and real-world data. To achieve meaningful innovation in evidence generation, we would need to reimagine what real-world data means. We would collect data that reflects the diverse perspectives of key stakeholders, including patients, families, and healthcare providers. We would define outcomes and exposures based solely on lived experiences, utilize mixed methods to leverage both qualitative and quantitative insights, and commit to including perspectives that have been marginalized due to social, economic, political, or other forces. These changes would not only impact the evidence that is used for decision making but also impact the simulation and modeling studies that depend on real-world data for inputs.
My experiences interacting with patient advisory councils, patient engagement organizations, healthcare providers, data vendors, and regulators have taught me how much we all depend on data to achieve our objectives. I will advocate for partnerships that drive meaningful innovation related to real-world data, including what we collect and who is represented. I will also advocate for training opportunities focused on evidence generation and oriented to junior investigators, students, and post-doctoral fellows. It will be an honor to support the Society's global service mission by building partnerships designed to foster meaningful innovation in evidence generation and increase the impact of HEOR.