ISPOR Conferences
Stepping Past the QALY: What Is Next in Value Assessment Frameworks?
Cate Bailey, PhD, MApSci, BA; Monash University, Melbourne, Australia; Ingrid Cox, MD, MSc, Dip; University of Tasmania, Hobart, Australia


The QALY (quality-adjusted life year) over the past few decades has been a useful metric in cost-effectiveness analyses. Notwithstanding its importance, the QALY is not without limitations and may not capture elements that should be important in assessments. Consequently, ISPOR has placed emphasis on developing a framework that captures other metrics that can be used in evaluating health technologies and interventions. This informative session provided an Asian, global, and industry perspective on value assessment frameworks using metrics other than the QALY and addressed what value would be added and how it would improve decision making in the context of the Asia Pacific region. [Figure 1]











Figure 1. Session Speakers


The Controversial QALY
The use of the QALY to determine cost-effectiveness remains controversial around the world, as this single-dimensional instrument fails to capture other important elements of value. QALYs may capture only some of the relevant benefits but may miss other perspectives. Because decision making allocates limited healthcare resources, it is important to reflect the population's values and preferences. All speakers agreed that patient perspectives need to be central to decision making, as well as issues of equity. [Figure 2]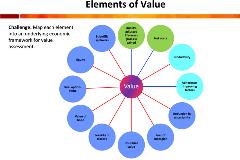 Figure 2: Elements of Value


Discussion on value assessment frameworks has been conducted in European Union countries and North America, but according to Eun-Young Bae, PhD, College of Pharmacy, Gyeongsang National University, Jinju, Republic of South Korea, discussion is rare in Asian countries. This is a centrally important topic from a societal, payer, industry, and patient perspective. In Asia, there is not enough research yet to understand what factors post-QALY should be included; research is now required through qualitative and quantitative processes. Panelists pointed out, though, that it is unlikely that a new single metric will be able to cover all situations.



Moving Beyond the QALY
When thinking about value assessment frameworks, it is important to consider unmet needs, health benefits, disease severity, rarity, cost-effectiveness, etc. Professor Bae discussed how it is important to reflect Korean's social values in the criteria for decision makers. In her work, she has found that these values are inconsistent with current practices and that the relationship is complex.
Surachat Ngorsuraches, PhD, Department of Health Outcomes Research and Policy, Auburn University, Harrison School of Pharmacy, Auburn, AL, USA, considered the QALY from a global perspective. In his presentation, Dr Ngorsuraches questioned whether there is enough capacity and resources to capture elements beyond QALYs? "There is a lot of research currently. Will it make new technologies more expensive?" he asked. According to Ngorsuraches, the bigger question that looms is what will happen if we fail to capture elements beyond QALYs?



"There is a lot of research currently. Will it make new technologies more expensive? What will happen if we fail to capture elements beyond QALYs?"
— Surachat Ngorsuraches, PhD
The final panelist, Christoph Glaetzer, Dipl-Kfm, Janssen Global Services, LLC, Raritan, NJ, USA, provided an industry perspective of the QALY measure. Glaetzer felt that alternative approaches should allow flexibility, specificity, and adaptability to fully capture investment needs and health consequences to support reimbursement and pricing decisions.
Consensus from panelists was that we do want to go beyond the QALY. Although the QALY is an important metric, we need to broaden our approach to measuring value. We need a better understanding of public opinion, to include citizens in the research process, and improve transparency in decision making.