ISPOR Conferences
Are HTA Drug Reimbursement Decisions Taking Too Long?

Martin Vu, MPH, BSc and Koen Degeling, PhD, MSc, BSc, Cancer Health Services Research, The University of Melbourne, Melbourne, Australia


Focusing on the Patient, but Protecting the Payer
Health technology assessment (HTA) is an active field that aims to understand the impact of health technologies to patients, health systems, and society more broadly. However, generating the evidence to assess the value-for-money of a particular drug, its potential budgetary impact, and its implications for the healthcare system if the drug is approved for reimbursement is a time-consuming and resource intensive process. The consequence of these financially driven decision approaches is that it causes delays in access to new and innovative drugs that can provide patients with valuable health gains. Moderated by Adrian Towse, MA, MPhil, Office of Health Economics, London, United Kingdom, this session focused on potential solutions to improve regulatory reimbursement processes in the interest of patients receiving the right treatment sooner, while still protecting payers from spending the limited resources available on low-value healthcare. [Figure 1]

Figure 1. Session speakers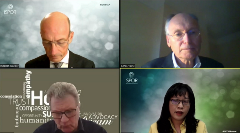 A Balancing Act
Christoph Glaetzer, Dipl-Kfm, Janssen, Raritan, NJ, USA, discussed some of the challenges HTA agencies face, both in terms of the methodology and the process component for value assessments. The more prominent methodological issues causing delays in reimbursement decisions are the structural uncertainties that may arise from model-based cost-effectiveness analyses and the need to scrutinize the clinical and statistical significance from these studies. Additionally, organizational processes and structures that consider how a drug is reviewed and under which conditions may also have an impact on time. Given the rigorous nature of financially driven decision tools used by HTA agencies, the amount of time that is required to review a dossier before a decision is made could have repercussions for patients, noted Richard Vines, CEO of Rare Cancers Australia, Bowral, New South Wales, Australia. Developing the cost-effectiveness evidence to satisfy the reimbursement requirements often comes at a cost of patients not receiving that promising treatment. The focus for regulatory agencies, according to Mr Vines, should be getting the right treatment to patients, which should not depend on financial negotiations.
"We need to stop thinking about the spreadsheets, the analysis, and the statistics—and start thinking about how we get that defibrillator to your friend when he is lying on the ground clinging to life."
—Richard Vines
Using Government Funds for Care
In many ways, the decision-making processes can be accelerated, and one of the factors that may drive timely decisions is a strong political determination. Raoh-Fang Jasmine Pwu, PhD, Ministry of Health and Welfare, Taipei, Taiwan provided an example from Taiwan, where the national government established a policy to eliminate hepatitis C in the country by 2025. In prioritizing patient access for hepatitis C treatments, separate funds were set aside in the national health budget. Strong political willingness was also used to drive price negotiation with manufacturers (which might not always be evident in other disease areas such as oncology), as was dedicating resources to use real-world data to plan and monitor hepatitis C treatments in Taiwan.
With the impact of COVID-19 on countries across the Asia Pacific region, governments are increasing their healthcare expenditure. HTA will have an increasingly important role to play in this region, but the balance will also include ensuring patients have the best access to treatments that they need.