Pharmacoeconomic Guidelines: Slovenia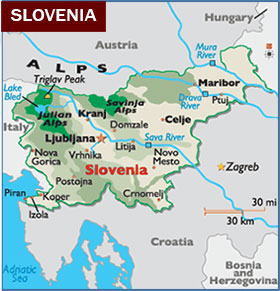 PE Guidelines
PE Guidelines Source:
Additional Information:
Information current as of Thursday, July 21, 2022
Key Features
Key Features

Type of Guidelines
PE Guidelines
Title and year of the document
Rules on Classification of Medicines on the List, accepted by the Health Insurance Institute of Slovenia on April 26, 2013.
Affiliation of authors
Health Insurance Institute of Slovenia
Purpose of the document
The purpose of the document is to define criteria for the preparation of an HTA study for the inclusion of pharmaceuticals in public financing (so called Positive List).
Standard reporting format included
Yes, included is Appendix 1, which is a list of necessary data that need to be included in the study.
Disclosure
In Article 12 of the Regulation it is defined that disclosure of the interests needs to be revealed.
Target audience of funding/ author's interests
The target audience is the submitter of the application for the funding of the pharmaceuticals from public finances as well as those who prepare economic analysis of the pharmaceuticals.
Perspective
The pharmacoeconomic analysis is performed from the perspective of health insurance; societal perspective can be performed as well, especially when a significant difference between the social aspects and aspects of health insurance are expected. In this case, both aspects must be shown separately.
Indication
Pharmacoeconomic data must include an approved therapeutic indication (one or more) for which the drug can be prescribed.
Target population
Determination of the population (by year, taking into account all known measures, such as restrictions on prescribing, stimulated demand, and side effects).
Subgroup analysis
No information on subgroup analysis is available.
Choice of comparator
The drug with the same therapeutic indication is used to determine the relative effectiveness. Other drugs in the therapeutic class can be included in comparison, especially drugs from the range of therapeutic guidelines and other commonly used drugs. Other medical treatments can be included in a comprehensive treatment of the drug. Generic and bio-similar drugs and combinations of classified drugs must be accompanied by an analysis of price comparisons on the basis of comparable doses and comparable clinical efficacy of treatment. Comparable form of drug means different pharmaceutical forms with comparable release and the same use.
Time horizon
The time horizon must be specified in economic analysis. Otherwise there is no demand on what should it be, but at least it should cover all the years by when the target volume of drug sale in the market is reached.
Assumptions required
No information available.
Preferred analytical technique
The pharmacoeconomic analysis must include treatment outcomes of other studies, presented by systematic literature review or meta-analysis. The following types of analysis can be used: Cost-Effectiveness Analysis (CEA), Cost-Utility Analysis (CUA), Cost-Minimization Analysis (CMA) and Cost Analysis.
Costs to be included
Direct health costs (total direct costs of drug and total direct costs of other health care procedures connected to changes in drug therapy) for all future years, by the year when the target volume of drug sale in the market is reached
Source of costs
The following reference sources are considered: data from professional and scientific publications, therapeutic guidelines, findings and assessments of reference professional associations, data and guidelines of the World Health Organization (WHO) and other institutions and bodies responsible for the prices of medicines and public funding, as well as data from other publicly available sources.
Modeling
If there is not enough real data, methods of modeling can be used for analysis.
Systematic review of evidences
Productivity loss and unrelated future costs due to prolonged survival are not mentioned.
Preference for effectiveness over efficacy
Effectiveness is preferred over efficacy (preference for real world data).
Preferred outcome measure
Preferred outcome is quality-adjusted life years (QALY); intermediate outcomes can be accepted, such as blood pressure, cholesterol, glycosylated hemoglobin, and hospitalization. The results should be presented as incremental cost-effectiveness ratio (ICER).
Preferred method to derive utility
No information available.
Equity issues stated
No information available.
Discounting costs
Discounting rates in pharmacoeconomic analysis are set from 3 to 5% and for sensitivity analysis from 0 to 8%.
Discounting outcomes
Pharmacoeconomic analysis must include discounting of costs and outcomes of treatment and an indication of the discount rate. Usually used discount rate is 3%.
Sensitivity analysis-parameters and range
No information available.
Sensitivity analysis-methods
No information available.
Presenting results
No information available.
Incremental analysis
The results should be presented as ICER.
Total costs vs effectiveness (cost/effectiveness ratio)
Not mentioned.
Portability of results (Generalizability)
No information available.
Financial impact analysis
Budget impact analysis (BIA) is performed from the aspect of the compulsory health insurance. Financial impacts must be shown for the first three years of funding from Health Insurance Fund.
Mandatory or recommended or voluntary
Mandatory - it is a regulation, published in Official Gazette of Slovenia.
Acknowledgement:
Jure Mikolic, MA Pharm, Pharmacy Manager, Department of Medicine, Health Insurance Institute Slovenia , Ljubljana, Slovenia