Pharmacoeconomic Guidelines: Italy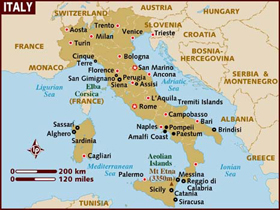 Published PE Recommendations
Published PE Recommendations Source:
Additional Information:
The guideline for Health Economic Evaluations is enclosed within the AIFA Submission Guideline (Section E and Appendix 2)
Source: Guidelines and procedures for submitting to AIFA applications for reimbursement and pricing by pharmaceutical companies. Year 2020, version 1.0. PDF
Information current as of Tuesday, July 26, 2022
Key Features
Key Features

Type of Guidelines
Published PE Recommendations
Title and year of the document
Guidelines for submitting Health Economic Evaluations to AIFA for pricing and reimbursement of medicines. Year 2020.
Affiliation of authors
Italian Medicines Agency
Purpose of the document
Guidelines for filling in the dossier to support the application for reimbursement and pricing of a medicine. The document includes also guidance for conducting and reporting economic evaluations and budget impact analyses in order to improve their quality, consistency and transparency.
Standard reporting format included
Yes, standard reporting templates are included in the document.
Disclosure
The disclosure of funding is not explicitly requested, however it is a requirement for formal reimbursement submissions.
Target audience of funding/ author's interests
Pharmaceutical companies submitting pricing and reimbursement applications to the Italian Medicines Agency
Perspective
Italian National Health Service (base case). A supplementary analysis can be provided using a broader societal perspective.
Indication
The authorized indication(s) of the product that is requested for reimbursement (ie. either the full licensed indication or a sub-group of the population covered by the marketing authorization)
Target population
Population of the reimbursement application
Subgroup analysis
Heterogeneity issues shoud be explored in sensitivity analyses, when relevant.
Choice of comparator
The preferred comparator(s) should be the Italian Standard of Care, whenever possible, or the best treatment strategies recommended by national or international guidelines. The exclusion of any relevant alternatives should be clearly stated and justified.
Time horizon
5 years, 10 years, Lifetime
Assumptions required
All the assumptions required should be clearly described and justified
Preferred analytical technique
Cost-effectiveness and/or cost-utility analyses.
Costs to be included
Health care costs from the Italian National Health Service perspective. Indirect costs and non-health care costs could be considered in a supplementary analysis from the societal perspective.
Source of costs
National costs relevant to the NHS (ie. National Tariffs or costing studies in the Italian context). Medicine costs should be based on ex-factory prices, net of mandatory reductions (Determinazioni AIFA 3 luglio 2006, Determinazione AIFA 27 settembre 2006).
Modeling
Yes. It is recommended that electronic models are submitted especially for pharmaceuticals which are candidate for the innovativeness status. Internal and external validity of the model should be checked and reported.
Systematic review of evidences
Not required
Preference for effectiveness over efficacy
Not stated
Preferred outcome measure
Not stated
Preferred method to derive utility
Methods to derive utilities should be clearly described. Whenever possible, Italian values should be used.
Equity issues stated
Not stated
Discounting costs
Annual discount rate of 3%, and between 0% and 5% in sensitivity analyses
Discounting outcomes
Annual discount rate of 3%, and between 0% and 5% in sensitivity analyses
Sensitivity analysis-parameters and range
All uncertain parameters should be included. Ranges of variation and distributions of the parameters should be clearly reported.
Sensitivity analysis-methods
Univariate deterministic sensitivity analyses and probabilistic sensitivity analysis for parameter uncertainty, supported by graphical representation. Scenario analyses are also recommended in some cases.
Presenting results
Total and incremental cost, total and incremental effectiveness and ICER. Moreover, total costs should be also reported for each type of resources and for each health states in the model.
Incremental analysis
Yes
Total costs vs effectiveness (cost/effectiveness ratio)
Yes
Portability of results (Generalizability)
The results should reflect the Italian health care setting.
Financial impact analysis
Yes
Mandatory or recommended or voluntary
Mandatory only for applications related to new medicinal products (never marketed before), orphan drugs and new therapeutic indications of patented products.
Acknowledgement:
Pierluigi Russo, Angelica Carletto, Federica Romano, Annalisa Sammarco, and Matteo Zanuzzi, Italian Medicines Agency highly contributed to the key feature form.