Pharmacoeconomic Guidelines: Denmark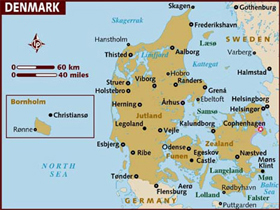 Published PE Recommendations
Additional Information:
Alban A, Gyldmark M, Pedersen AV, Søgaard J. The Danish Approach to Standards for Economic Evaluation Methodologies. Pharmacoeconomics. 1997 Dec;12(6):627-36.
Abstract in English

Key Features
Key Features

Type of Guidelines
Published PE Recommendations
Title and year of the document
The Danish Approach to Standards for Economic Evaluation Methodologies (Manuscript 1997)
Affiliation of authors
Danish Hospital Institute, University of Copenhagen, University of Odense
Purpose of the document
Provide guidelines for how health economic analyses should be scoped in relation to application for finansial subsidy
Standard reporting format included
Provided as a supplementary note
Disclosure
None declared
Target audience of funding/ author's interests
Individuals responsible for undertaking economic analysis of pharmaceuticals
Perspective
Social perspective
Indication
Not specified
Target population
It should be clearly defined which patients are expected to be treated with the analysed pharmaceutical
Subgroup analysis
Not specified
Choice of comparator
Not specified
Time horizon
All relevant cost and effects should be identified - no specific time frame formulated
Assumptions required
Not specified
Preferred analytical technique
Implicit CEA/CUA
Costs to be included
All relevant cost - direct, indirect and intangable. Indirect and intangable cost should be reported seprately, and valued on if it is considered relevant.
Source of costs
Randomised controlled trials, supplemented by long term consequences (models)
Modeling
Not specified
Systematic review of evidences
Not specified
Preference for effectiveness over efficacy
Not specified
Preferred outcome measure
Outcome measures relevant to specific treatement recommended (successfull treatments, time without symptoms or pain, life years, quality adjusted life years. Willingness to pay estimates should not be only outcomess but can be used as a supplement
Preferred method to derive utility
TTO or SG from a representative sample of the population
Equity issues stated
Not specified
Discounting costs
Should be done when there are effect and cost consequences over several years. Decisions on discount rate should be made in each analysis and could be focus for sensitivity analysis
Discounting outcomes
As for cost
Sensitivity analysis-parameters and range
Should be made to show robustness of analysis conclusion on changes in assumptions, valuation, cost, effect and discounting
Sensitivity analysis-methods
None specified
Presenting results
Recommended structure: 1: main results and resume; 2: Introduction; 3: Data material; 4: Analyses; 5: Results, conclusion and discussion; 6: References; 7: Appendix
Incremental analysis
Not specified
Total costs vs effectiveness (cost/effectiveness ratio)
Not specified
Portability of results (Generalizability)
Not specified
Financial impact analysis
Finansical consequences on the health budgets as a consequence of using the product should be provided
Mandatory or recommended or voluntary
Voluntary
Acknowledgement:
Alban A, Gyldmark M, Pedersen AV, Søgaard J. The Danish approach to standards for economic evaluation methodologies. Pharmacoeconomics. 1997 Dec;12(6):627-36.