Pharmacoeconomic Guidelines: Cuba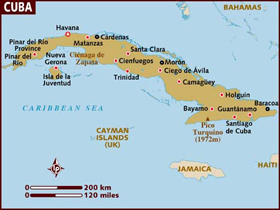 PE Guidelines
Methodological Guidelines for Health Economic Evaluation (2003)
PDF in Spanish
PE Guidelines Source:
Cuba Ministry of Health
Information current as of Tuesday, January 21, 2020
Key Features
Key Features

Type of Guidelines
PE Guidelines
Title and year of the document
Methodological Guidelines for Health Economic Evaluation (2003)
Affiliation of authors
Ministry of Public Health, Nevalat Project, National School of Public Health MA in Economics
Purpose of the document
Provide recommendations for the conduction of studies to yield transparent, comparable, valid and credible results and facilitate researchers that have less experience in the subject with information on how to complete an economic evaluation.
Standard reporting format included
Yes
Disclosure
Yes
Target audience of funding/ author's interests
To those who conduct PE evaluations or evaluate PE studies (decision-makers)
Perspective
Society, government, patient perspective
Indication
Approved Indication
Target population
Clearly specified
Subgroup analysis
When necessary
Choice of comparator
Most prevalent treatment, most used treatment
Time horizon
Yes, recommendations given.
Assumptions required
Yes
Preferred analytical technique
CBA, CEA, CMA, CUA
Costs to be included
All relevant cost data should be clearly identified and explained in details.
Source of costs
Must be referenced and identified to relate to the relevance of costs data (i.e. databases).
Modeling
Yes
Systematic review of evidences
Yes, encourage meta-analysis
Preference for effectiveness over efficacy
Yes, effectiveness must be a part of every and all studies.
Preferred outcome measure
Effectiveness
Preferred method to derive utility
N/A
Equity issues stated
Yes
Discounting costs
Yes, use rates recommended by specific governement agencies.
Discounting outcomes
Yes, rates explained.
Sensitivity analysis-parameters and range
For all uncertain parameters, a plausible range must be defined for each parameter.
Sensitivity analysis-methods
One-way, multi-way, probabilistic analysis when adequate.
Presenting results
The results should be presented in a detailed, clear and transparent manner, so that if possible apply the findings within the country as well as in other countries.
Incremental analysis
Yes
Total costs vs effectiveness (cost/effectiveness ratio)
Yes
Portability of results (Generalizability)
Yes
Financial impact analysis
Yes
Mandatory or recommended or voluntary
Recommended
Acknowledgement:
Dr. Ana María Gálvez González, The National School of Public Health ( ENSAP ), Havana, Cuba contributed to this form.