Pharmacoeconomic Guidelines: Colombia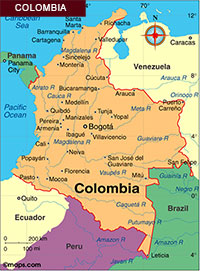 PE Guidelines
PE Guidelines Source:
Additional Information:
Information current as of Tuesday, July 19, 2022
Key Features
Key Features

Type of Guidelines
PE Guidelines
Title and year of the document
Manual para la elaboración de evaluaciones económicas en salud (2014) Guidelines for the Development of Health Economic Evaluations
Affiliation of authors
Instituto de Evaluación Tecnológica en Salud (IETS) Institute of Health Technology Assessment (IETS)
Purpose of the document
The purpose of these guidelines is to provide guidance on the methods for the economic evaluation of health care technologies in Colombia, especially as it relates to informing coverage and financing decisions for the Colombian Obligatory Health Care Plan. It describes key principles, preferred data sources and reporting recommendations for all organizations developing an economic evaluation in Colombia. It aims to reduce variability in methods and data sources to enhance reproducibility and transparency.
Standard reporting format included
Yes (included on page 8-9).
Disclosure
Yes.
Target audience of funding/ author's interests
Decision makers, researchers, universities, pharmaceutical industry.
Perspective
The health care system perspective.
Indication
Only indications approved in Colombia by the relevant authority, the National Institute of Drug and Food Monitoring (INVIMA).
Target population
It must be clearly stated, as well as outcomes related to each relevant subgroup, if necessary. It must also be discussed with relevant stakeholders, such as methodological and clinical experts, patients and caregivers, health professionals, relevant scientific associations and others, as indicated in the "IETS Methods on the Participatory Process".
Subgroup analysis
Yes
Choice of comparator
All relevant comparators must be identified as used in common practice in Colombia. The comparators must be discussed with and justified by relevant stakeholders, such as clinical experts as well as regulatory authorities.
Time horizon
It must be sufficiently long to reflect all important differences in costs or outcomes between the technologies being compared (more details available on p.15).
Assumptions required
Yes. They must be clearly reported and explained.
Preferred analytical technique
Cost-Utility Analysis, (CUA).
Costs to be included
Direct costs for the health care system should be considered. Indirect costs and direct non-medical costs should be excluded, such as productivity and other costs assumed by patients on the base case (more details available on p.15).
Source of costs
Official databases and Colombian tariff manuals. If necessary, cost information can be requested from insurers and providers (more details available on p.21-23).
Modeling
Yes. All assumptions must be clearly stated and discussed with relevant stakeholders (more details available on p. 24).
Systematic review of evidences
Yes. The source for each parameter of the model must be clearly stated.
Preference for effectiveness over efficacy
Yes.
Preferred outcome measure
QALY.
Preferred method to derive utility
EQ-5D using tariffs from a Latin American sample of the USA valuation study.
Equity issues stated
The QALY has the same weight.
Discounting costs
Base: 5%; SA: 0 - 12%
Discounting outcomes
Base: 5%; SA: 0 - 12%
Sensitivity analysis-parameters and range
One-way sensitivity analysis for the effectiveness and unit cost of the intervention, utility weights and discount rate. Probabilistic sensitivity analysis to assess overall uncertainty. Cost-effectiveness acceptability curves and scatterplot to present results.
Sensitivity analysis-methods
Deterministic Sensitivity Analysis and Probabilistic Sensitivity Analysis.
Presenting results
Yes. Using standard reporting format is recommended (as presented on p.27).
Incremental analysis
Yes.
Total costs vs effectiveness (cost/effectiveness ratio)
No.
Portability of results (Generalizability)
No.
Financial impact analysis
It is not required for the base case analysis. If a budget impact analysis is required, there are separate guidelines, available at http://www.iets.org.co/manuales.
Mandatory or recommended or voluntary
Recommended.
Acknowledgement:
Aurelio Mejía, MSc, Deputy Director of Health Technology Assessment, Institute of Health Technology Assessment, Bogota, Colombia and Mabel Moreno, MS, Senior Economist, Institute of Health Technology Assessment, Bogota, Colombia contributed to the key feature form.