Pharmacoeconomic Guidelines: Brazil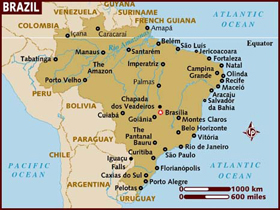 PE Guidelines
Methodological Guidelines: Economic Evaluation of Health Technologies (2014)
PDF in Portuguese
PE Guidelines Source:
Information current as of Monday, January 15, 2018
Key Features
Key Features

Type of Guidelines
PE Guidelines
Title and year of the document
Methodological Guidelines: Economic Evaluation of Health Technologies (2014)
Affiliation of authors
Universities, government.
Purpose of the document
Contribute to the standardization of the local studies in order to improve transparency, review and reproduction of them.
Standard reporting format included
Yes
Disclosure
Yes
Target audience of funding/ author's interests
Either those who conduct HE evaluation or those who evaluate such studies (decision makers)
Perspective
Preferably the one of the public payer. Societal perspective also possible
Indication
Approved indications
Target population
Clearly specified
Subgroup analysis
When either there is a group of similar alternatives or a variability in clinical practice among a subgroup of patients
Choice of comparator
Most prevalent treatment in the public system, most used treatment
Time horizon
It must have as a basis the natural history of the disease in order to capture all relevant costs and consequences
Assumptions required
Yes
Preferred analytical technique
Cost-consequence Analysis, CMA, CEA, CUA, CBA
Costs to be included
It depends on the perspective of the study: direct costs with/without indirect costs.
Source of costs
Government databases and other public databases when necessary
Modeling
Yes
Systematic review of evidences
Yes
Preference for effectiveness over efficacy
Yes. Efficacy has to be converted into effectiveness by means of appropriate methods. Details must be provided.
Preferred outcome measure
Effectiveness
Preferred method to derive utility
standard gamble, time trade-off, personal trade-off or visual analogue scale.
Equity issues stated
Yes
Discounting costs
Base case: 5% (0%-10% in S.A.)
Discounting outcomes
Base case: 5% (0%-10% in S.A.)
Sensitivity analysis-parameters and range
For all uncertain parameters, a plausible range must be defined for each parameter. A 2nd order Monte Carlo simulation to be used when applicable.
Sensitivity analysis-methods
One-way, multi-way, probabilistic analysis
Presenting results
The report has to be clear, detailed and transparent. A 3-page executive summary must be written in a context accessible to a non-technical reader.
Incremental analysis
Yes
Total costs vs effectiveness (cost/effectiveness ratio)
Yes
Portability of results (Generalizability)
Yes; details must be provided.
Financial impact analysis
Yes
Mandatory or recommended or voluntary
Recommended
Acknowledgement:
Mario Giorgio, Managing Director, Asigma, São Paulo, Brazil contributed to the key features form.