Pharmacoeconomic Guidelines: Austria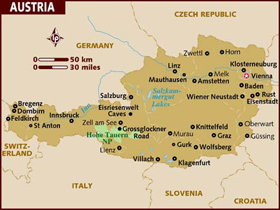 Published PE Recommendations
Additional Information:
Information current as of Tuesday, January 21, 2020
Key Features
Key Features

Type of Guidelines
Published PE Recommendations
Title and year of the document
Guidelines on Health Economic Evaluations (Concensus Paper 2006)
Affiliation of authors
Institute for Pharmaeconomic Research (IPF) in cooperation with an expert group
Purpose of the document
Providing recommendations for C/E studies and ensure a minimum standard of methodology and transparency
Standard reporting format included
No
Disclosure
Yes
Target audience of funding/ author's interests
Decision makers
Perspective
Apart from the societal perspective, other perspectives (e.g. health care system, social insurance,..) are possible
Indication
Yes
Target population
Be clearly specify
Subgroup analysis
Yes
Choice of comparator
Standard therapy, most frequent therapy or most effective therapy
Time horizon
Depends on research question
Assumptions required
Yes
Preferred analytical technique
CMA, CEA, CUA
Costs to be included
Costs relevant to the chosen perspective. Report indirect costs separately.
Source of costs
Latest unit prices, give references.
Modeling
Yes, requires details
Systematic review of evidences
Not stated
Preference for effectiveness over efficacy
Both acceptable
Preferred outcome measure
Depends on research question
Preferred method to derive utility
Should justify the selection
Equity issues stated
Yes
Discounting costs
5%; SA:(3%-10%)
Discounting outcomes
5%; SA:(3%-10%)
Sensitivity analysis-parameters and range
All key uncertain parameters, within a defined area, or probabilistic
Sensitivity analysis-methods
One-way, multi-way, may be probabilistic analysis
Presenting results
Must be reproduced transparently in disaggregated and aggregated form as for publication in peer reviewed journals
Incremental analysis
Yes
Total costs vs effectiveness (cost/effectiveness ratio)
Yes
Portability of results (Generalizability)
Yes; Studies must refer to the national context
Financial impact analysis
Possible
Mandatory or recommended or voluntary
Recommended
Acknowledgement:
Dr. Gottfried Endel, Head of HTA Department, Main Association of Austrian Social Security Institutions contributed to the key feature form.