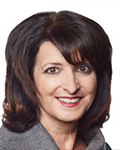 Jan Elias Hansen, PhD, is vice president of the Evidence for Access Unit within Genentech's US Medical Affairs. Her unit is staffed with researchers who are uniquely positioned and skilled to address both the value and quality drivers of access in the United States. These researchers are tasked to consider both value and quality evidence when they develop access strategies and tactics.
Jan is a seasoned executive with more than 25 years of experience in the health care and pharmaceutical industries. Jan's pharmacoeconomics and health outcomes expertise were acquired throughout her vast career experiences in patient-based research, health care consulting, sales strategy and execution, and in both global and US focused outcomes research. She has held positions with increasing leadership responsibility at several well-regarded companies, including PCS-Pharmaceutical Data Services (now CVS-Caremark), NDC Health, Wolters Kluwer Health, Glaxo Wellcome (now GlaxoSmithkline), and Allergan. Her professional accomplishments have been recognized by several professional organizations and resulted in numerous appointments, including: the University of Iowa College of Pharmacy Advisory Council, past Chair and current member of the University of Washington College of Pharmacy's Corporate Advisory Council, Board member (representing Genentech) of the National Pharmaceutical Council (NPC), member of the Drug Information Association (DIA) Advisory Council of North America, past NPC Corresponding Officer and Research Committee member (representing Allergan), current member of the Academy Health Institution Council, and Foundation of Managed Care Pharmacy (FMCP) Board of Trustee.
Jan is a licensed pharmacist and holds a PhD in pharmacy administration from the University of South Carolina at Columbia. She is also a speaker and guest lecturer on topics related to pharmacoeconomics and outcomes research. Jan's ultimate passion is "building;" she takes great pride in building organizations and fostering young, innovative-thinking, yet applied researchers. For Jan, there is no greater joy than watching these researchers flourish and making a difference to patients' lives.
ISPOR Vision Statement by Jan Elias Hansen, PhD
I am running to be an ISPOR Board Member because I am passionate about our field and believe I can serve to realize ISPOR's Strategic Plan for 2020. During my 25+ years in the health care and pharmaceutical industries, I have been committed to training the next generation of health economic and outcomes research (HEOR) scientists, and to ensuring that the research can be applied to improve decision making and patient health care access. In my career, I have acquired the ability to be an effective "connector and collaborator" in complex organizations with multiple stakeholders; this, in turn, assists me in ensuring that the research and the impact that our field has remains relevant and impactful. My hope is to further serve ISPOR with my collective experience.
ISPOR has been successful in demonstrating the relevance of health economics and outcomes research as a scientific field. It is impressive that ISPOR has been able to establish itself as a credible and enduring global professional research society in a relatively short period. Academic researchers, consultants, pharmaceutical and medical device industry colleagues, and students have a strong membership presence at ISPOR. It is notable that the FDA quotes ISPOR as a body with authority on what is constitutes good research practice for health care economic information.
My vision is for ISPOR to be a transformative agent in the health care delivery system, with the end goal of improving patients' health and experience. First, this will require proactively engaging with all of the players in the health care delivery system—reaching, connecting, teaching, and collaborating with patients, providers, payers, and decision makers to deliver transformative system solutions. Secondly, it will require collaborating with these players to develop leading edge science and technology to establish a framework for a learning health care system that could contribute in designing innovative and impactful applications such as value-based insurance, personalized medicine, and coordinated care.
I am proud to be a researcher and leader in this increasingly influential field, and would be honored to have an opportunity to actively participate in realizing ISPOR's Strategic Plan for 2020.