ISPOR 2020 Top 10 HEOR Trends Report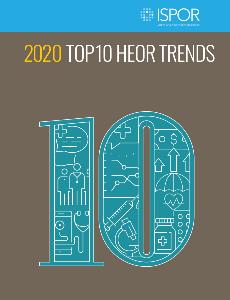 The influence of health economics and outcomes research (HEOR) in healthcare across the globe continues to grow as payers (both public and private) seek to provide the best possible health outcomes at affordable costs.
As the year 2020 comes into focus, many issues of interest to HEOR professionals continue to dominate the headlines. Rising to the top of the trends list is the impact of real-world evidence. It is notable that 5 of this year's 10 trends address the finances of healthcare in some form, including drug pricing, affordability of novel and curative therapies, overall healthcare spending, value-based alternative payment models, and price transparency for healthcare products and services. The Top 10 HEOR Trends list is identified by a survey of ISPOR members and curated by the Society's Health Science Policy Council.
2020 Top 10 HEOR Trends
A summary of the top 10 HEOR trends for 2020 can be seen in below and the full ISPOR 2020 Top 10 HEOR Trends report is available for download. The 2020 Top 10 HEOR Trends report is the third annual publication for this initiative.
1. Real-World Evidence
2. Drug Pricing
3. Novel Curative Therapies
4. Overall Healthcare Spending
5. Universal Health Coverage—Access and Equity
6. Value-Based Alternative Payment Models
7. Price Transparency
8. Digital Technologies
9. Aging Population
10. Precision Medicine
Note Regarding Chrome and PDF Downloads:
Chrome has a known issue regarding automatic download of PDFs into a Chrome browser window (vs downloading into the Adobe Acrobat/PDF application). If the PDF is not correctly downloading when using a Chrome browser, you can download in Chrome by changing your settings or by using an alternate browser type (eg, Internet Explorer, Firefox, etc). Instructions for changing your Chrome settings for PDF download can be found here.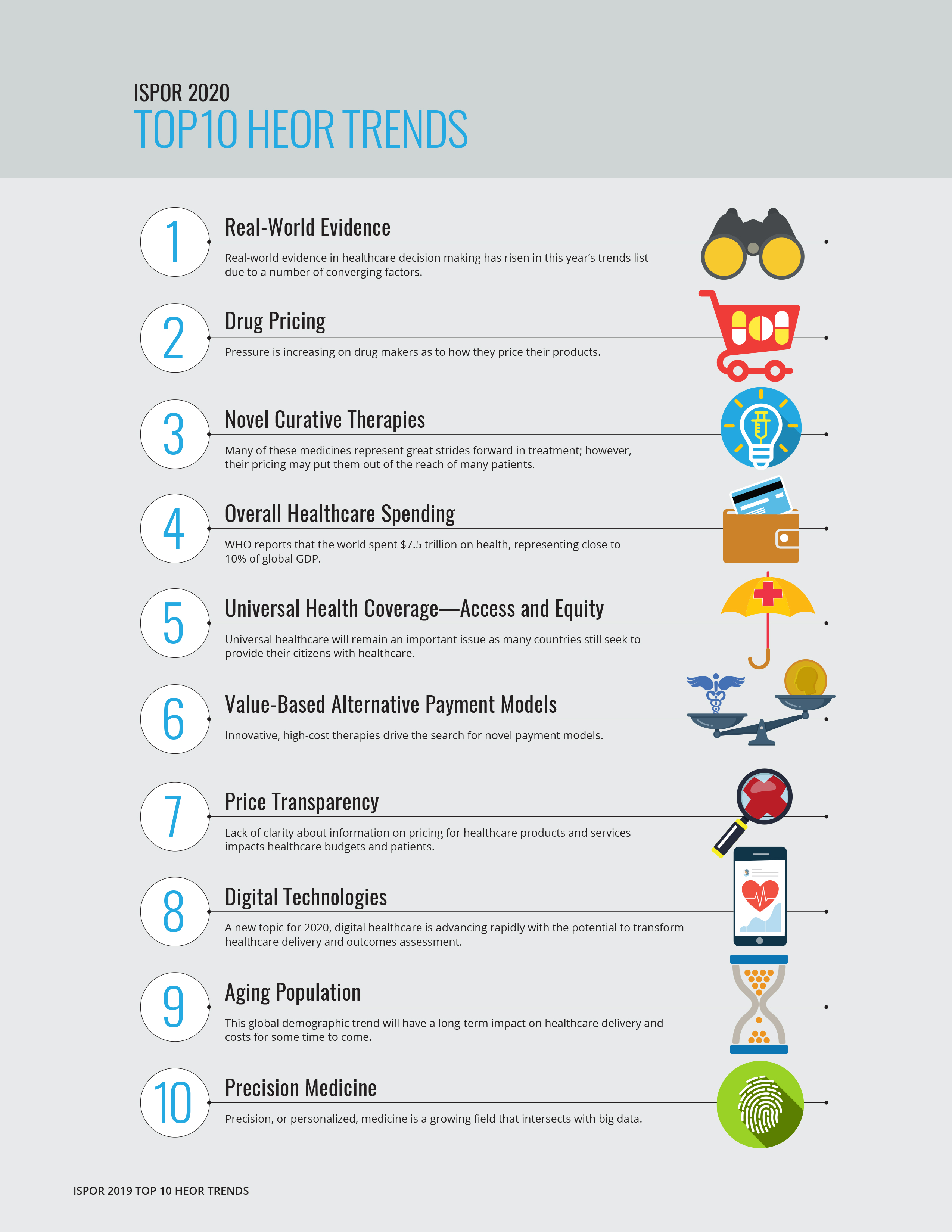 Developing the Top 10 HEOR Trends List
ISPOR—the professional society for health economics and outcomes research—is an international, multistakeholder, scientific and educational nonprofit organization that is recognized globally as the authority in HEOR and its use in decision making to improve health. ISPOR is the primary source for scientific conferences, peer-reviewed and MEDLINE®-indexed publications, good practices guidance, education, collaboration, and tools/resources in the field. As the leading professional society in HEOR, ISPOR is uniquely positioned to provide direction on trends in the field.
ISPOR's Health Science Policy Council, Chief Science Officer Richard J. Willke, PhD, and Associate Chief Science Officer Lucinda Orsini, DPM, MPH have led efforts in developing this list of the 2020 Top 10 HEOR Trends. The methodology for this initiative included a comprehensive exploration and collation of potential trends for consideration; careful review and vetting of the topics by the council; in-depth surveys of ISPOR's membership to provide feedback and rankings of the topics; and final review and discussion of the top 10 trends by the council. ISPOR members will continue to analyze and explore these trends throughout the year in conferences, summits, and working groups convening around the world.
Previous Top 10 HEOR Trends Reports
Subscribe to HEOR News and Events
Connect with the global community of healthcare stakeholders and stay informed on the latest and greatest happenings in the world of HEOR.