ISPOR 2018 Top 10 HEOR Trends Report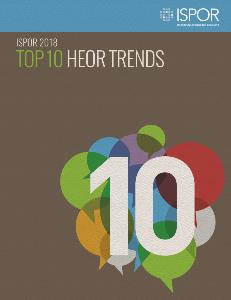 Interest in the field of health economics and outcomes research (HEOR) has grown exponentially as governments and other payers grapple with how to provide the best possible health outcomes at affordable costs. As HEOR continues to grow in importance and play an ever greater role in helping to inform healthcare decisions, now is the time to delve into the top trends that the Society's members see having the most influence over the coming year. As the leading global professional society in the field, ISPOR is uniquely positioned to leverage the thought leadership of its member experts and provide direction on where the field of HEOR is heading in what is a rapidly changing healthcare marketplace. The ISPOR 2018 Top 10 HEOR Trends is the inaugural publication for this initiative.
2018 Top 10 HEOR Trends
A summary of the top 10 HEOR trends for 2018 can be seen in below and the full Top 10 HEOR Trends report is available for download. The 2018 Top 10 HEOR Trends report is the inaugural publication for this initiative.
1. Drug pricing and spending
2. Innovative and curative therapies
3. Accelerated drug approvals
4. Universal health coverage
5. Aging population
6. mHealth
7. Diagnostics
8. Biosimilars
9. Preventive medicine
10. Disruptive innovators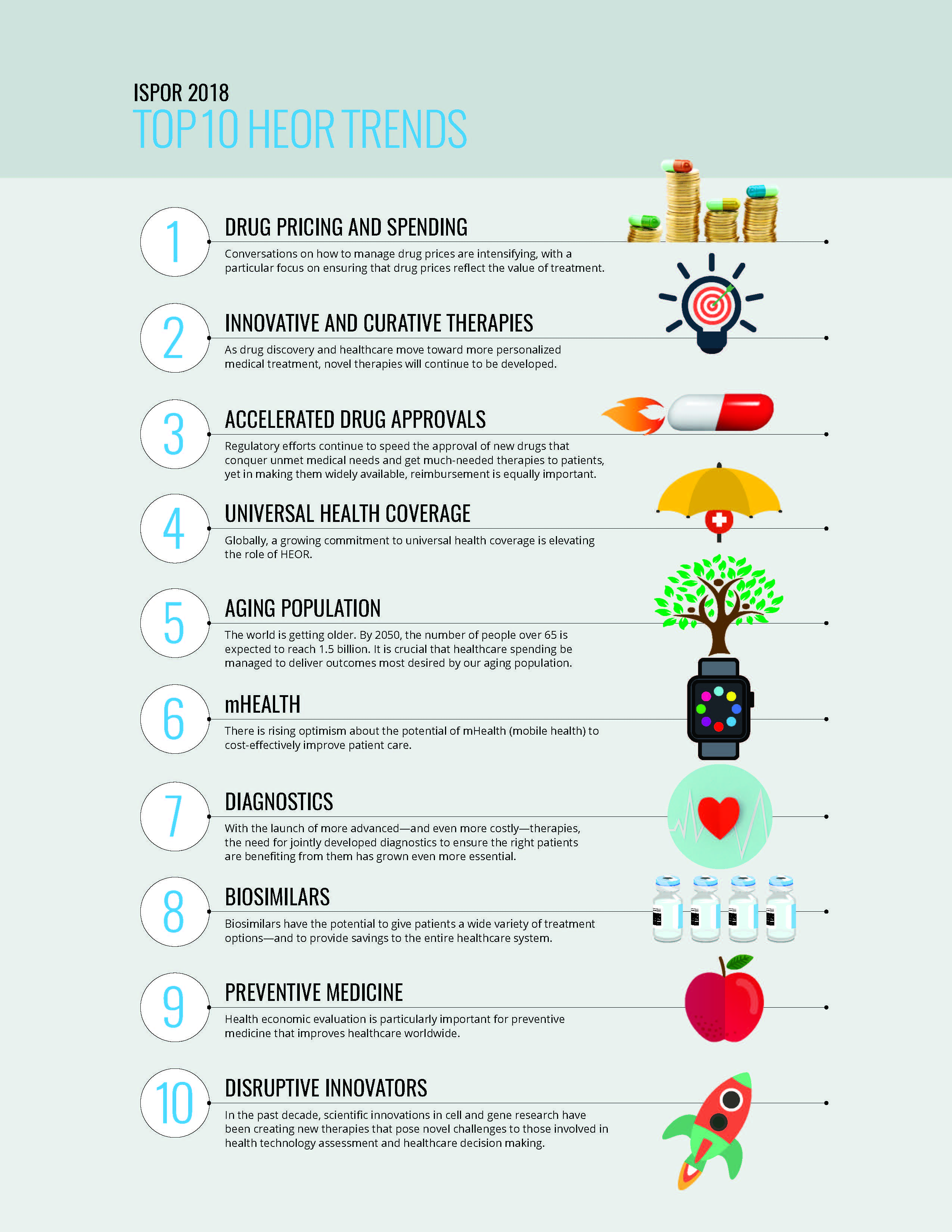 Developing the Top 10 HEOR Trends List
ISPOR's Health Science Policy Council played an integral role in the development of the Top 10 HEOR Trends initiative. The council serves as an advisory body to the Society's Board of Directors and helps guide ISPOR's focus on key research issues in HEOR. Methodology for this initiative included a comprehensive exploration and collation of potential trends for consideration; careful review and vetting of the topics by the council; in-depth surveys of ISPOR's thought leaders to provide feedback and rankings of the topics; and final discussion and selection of the top 10 trends by the council at the Society's ISPOR Europe 2017 conference in November 2017.
ISPOR members are actively engaged in many of these topics, as might be expected. These topics have been the focus of numerous publications and conference presentations, as well as some of the Society's task forces and special interest groups. We expect to see
continued, and probably heightened, work in these areas in 2018 and beyond.