ISPOR 2019 Top 10 HEOR Trends Report
Interest in the field of health economics and outcomes research (HEOR) has grown exponentially as governments and other payers grapple with how to provide the best possible health outcomes at affordable costs. 2019 is shaping up to be another significant year for HEOR, as payers and consumers balance the introduction of new, innovative health technologies, increasing healthcare costs, and the impact of healthcare decisions. ISPOR, the leading global professional society for HEOR, is continuing to monitor the trends that will affect decision makers in healthcare marketplaces around the world. For the second year, based on a survey of its members, the Society has identified the top 10 HEOR trends that will shape the field in the near future. Many of these trends were outlined in the 2018 trends report, but these concerns evolve and shift with time. This 2019 Top 10 HEOR Trends outlines these differences, as well as the new trends that have joined the list.
2019 Top 10 HEOR Trends
A summary of the top 10 HEOR trends for 2019 can be seen in below and the full ISPOR 2019 Top 10 HEOR Trends report is available for download. The 2019 Top 10 HEOR Trends report is the second annual publication for this initiative.
1. Drug spending and pricing
2. Universal health coverage and access equity
3. Real-world evidence
4. Aging population
5. Price transparency
6. Big data
7. Value assessment frameworks
8. Healthcare decision making in low-income countries
9. Personalized/precision medicine
10. Unhealthy behaviors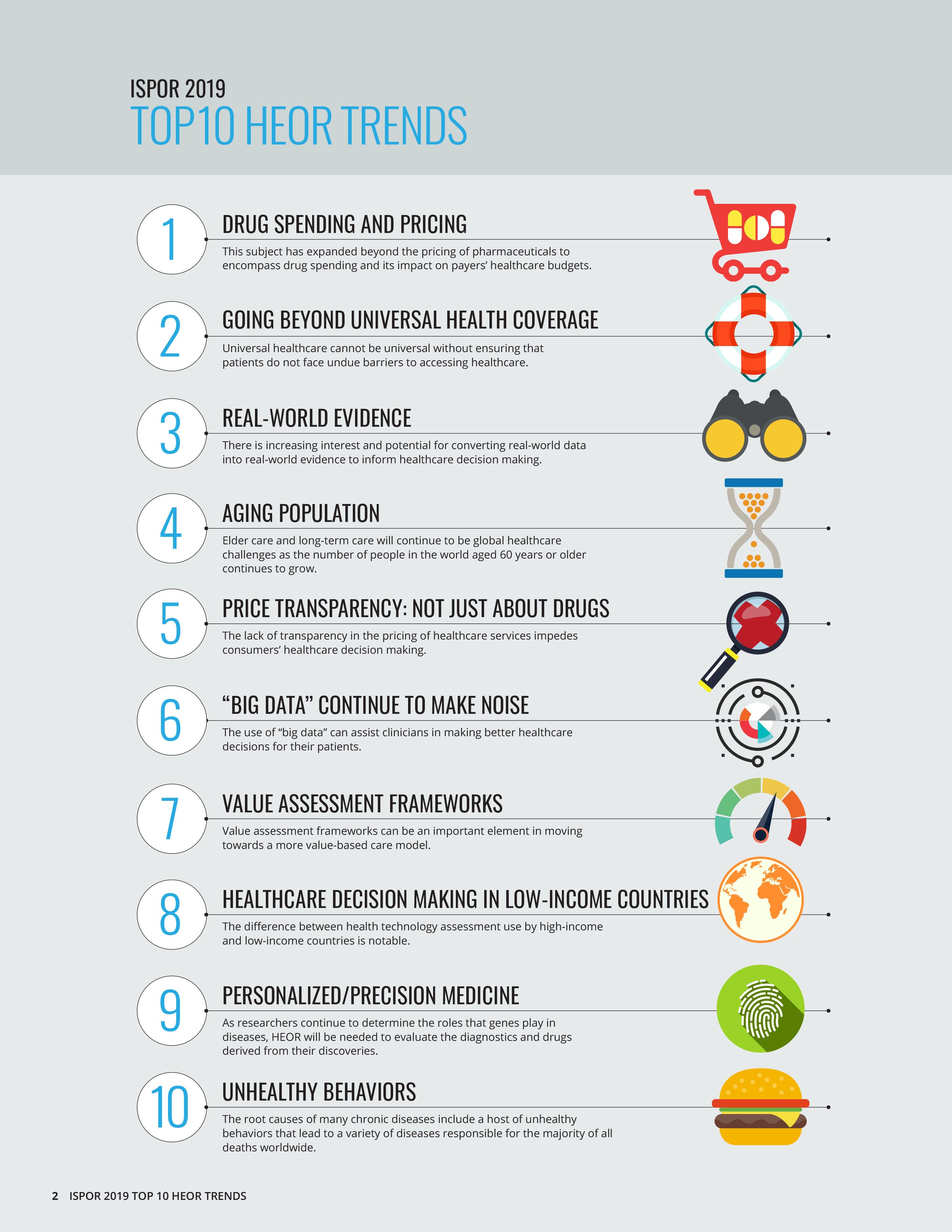 Developing the Top 10 HEOR Trends List
ISPOR's Health Science Policy Council played an integral role in the development of the Top 10 HEOR Trends initiative. The council serves as an advisory body to the Society's Board of Directors and helps guide ISPOR's focus on key research issues in HEOR. Methodology for this initiative included a comprehensive exploration and collation of potential trends for consideration; careful review and vetting of the topics by the council; in-depth surveys of ISPOR's membership to provide feedback and rankings of the topics; and final review and discussion of the top 10 trends by the council at its November 2018 meeting held at the Society's ISPOR Europe 2018 conference.
Previous Top 10 HEOR Trends Reports