"EVALUACIÓN DE TECNOLOGÍAS EN SALUD Y SU IMPACTO EN LA TOMA DE DECISIONES"
13 de Noviembre, Lima, Peru

El curos sera impartido por conferencistas internacionales y naciones. Mas informacion en isporperu@gmail.com.
---
ISPOR Latin America 2019
Data and Value in Healthcare: 2020 and Beyond
Held 12-14 September 2019 in Bogotá, Colombia
Learn More
---
News Across Latin America - Newsletter
¡El Capítulo ISPOR Perú les invita a unirse a ellos!

Vea el rotativo en el enlace más abajo.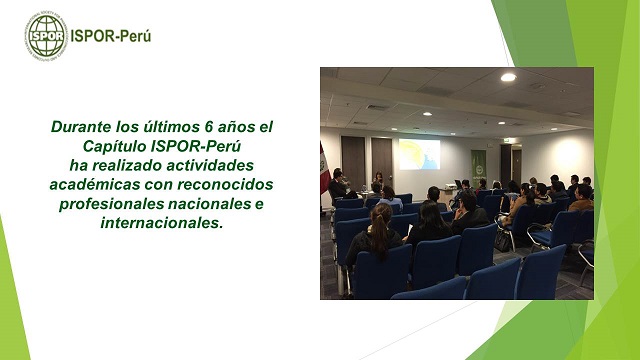 ¡Contáctenos en ispor.peru@gmail.com!
Rotativo del Capítulo ISPOR Perú
Conferencia anterior:
Presentación Dr. Diego Rosselli, "Manzanas bajitas: Ideas de publicación al alcance de la mano"
Conferencia anterior:
Presentación Dr. Victor Zamora, "La salud en el Perú ¿Dónde estamos y hacia dónde vamos?"
---
Contact Information

Peru Regional Chapter Office

Calle La Joya 122, Dpto 201
Urbanización Tambo de Monterrico
Santiago de Surco
Lima 33, Peru

Tel/fax: 051 950113353
Email
Chapter Leadership
| | |
| --- | --- |
| President/ Presidente | Jhony Alberto De la Cruz Vargas, MD, MS, DrPH |
| Vice President / Vice presidente | Alfonso Julian Gutiérrez Aguado, MD, MSPH |
| Past President / Presidente Anterior | Rosina Hinojosa Ramírez, MHE, MFin |
| Secretary / Secretaria | Edward Manuel Adriano Mezones Holguín |
| Treasurer / Tesorero | Arquímedes Mansuelo Gavino Gutiérrez |
| Director, Scientific Action / Vocal de acción científica | Dr. Pablo Iván Best Bandenay |
| Director, Institutional Relations / Vocal de relaciones institucionales | Eco. Nelly Rocio Mosquera Lovon |

Dr Manuel Espinoza, MSc, PhD, instructor internacional invitado para el taller especial de ETS presentado en noviembre de 2016 por el Capítulo ISPOR Perú.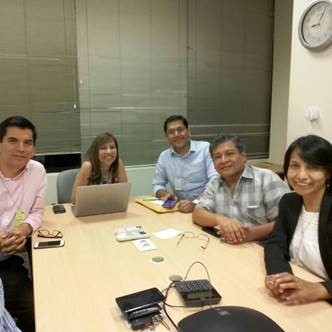 Executive Committee (2017-2018) of the ISPOR Peru Chapter continues to develop their academic activities with the participation of recognized national and international professionals.