Signal
Looking at the Downstream Value as Investment in Digital Health Increases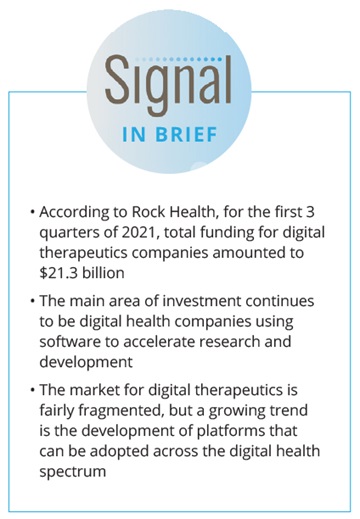 Digital therapeutics are an up-and-coming segment in healthcare, with the goal of many companies to achieve regulatory and payer approval with their interventions. At the top of the market is Pear Therapeutics, which went public in 2021 through a special purpose acquisition and has 3 US Food and Drug Administration-approved products: reSET®, for use as an adjuvant to standard outpatient therapy to treat patients with substance use disorder for stimulants, cannabis, cocaine, and alcohol; reSET-O®, for helping those with opioid use disorder stay in recovery programs; and Somryst®, for the treatment of chronic insomnia. Investors seem to believe in the company, with Pear's shares trading on the first Monday of 2022 more than 27% higher, despite no new corporate announcements.


" What we've seen, especially over the last 3 to 4 years, is this rapid acceleration in the investment behind businesses at the nexus of technology and healthcare." — Tom Cassels
But there are many startups in this space also trying to generate prescription digital therapeutics, and they have received a lot of investor attention. According to Rock Health, a venture capital firm that specializes in digital healthcare, for the first 3 quarters of 2021, total funding amounted to $21.3 billion across 541 deals, with an average deal size of $39.4 million. This compares to $14.6 billion in 2020, when investment in digital health surpassed $10 billion for the first time. The main area of investment continues to be digital health companies using software to accelerate research and development, delivering on-demand healthcare services, and supporting the treatment of disease. Like Pear, many of these startups are concentrating on complex mental and behavioral health support, including serious mental illness and substance use disorders. Companies receiving notable investments recently include NOCD, which connects patients to Exposure and Response Prevention-trained therapists ($33 million in September 2020); and Quit Genius, which is developing workplace-employed solutions for tobacco, vaping, opioid, and alcohol addictions ($65 million in July 2020).
"What we've seen, especially over the last 3 to 4 years, is this rapid acceleration in the investment behind these businesses at the nexus of technology and healthcare," says Tom Cassels, President and General Manager of Rock Health's Advisory business. "Along with that investment, we've also seen a significant uptick in the adoption of consumer of tools that are used for self-management and care management."
Cassels describes the marketplace for digital therapeutics and digital health as "fairly fragmented." He states, "One of the things that is becoming more and more of a trend is the development of platforms that encompass multiple use cases for technology in healthcare that we at Rock Health call 'the platform wars'." Cassels adds, "I also would say that the trend that we've seen is likely to continue accelerating."
While investors expect a return on the dollars, what is the "return" for those downstream in the healthcare continuum who have to evaluate the value that digital therapeutics have to offer to patients, clinicians, and payers? And how can investors direct their efforts in more innovative ways to unlock more value in the system?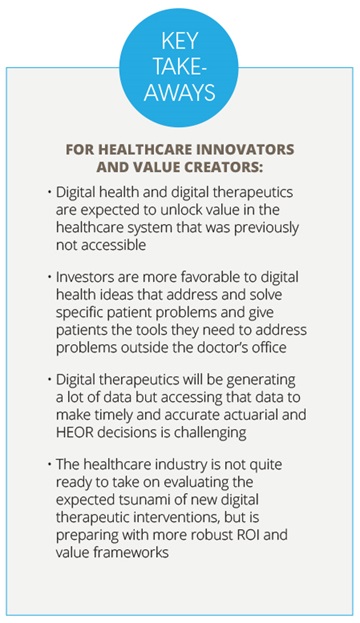 Digital Therapeutics and Determining Value
Alyssa Jaffee is a partner at 7wireVentures where she focuses on investments in digital healthcare and technology-enabled services that empower consumers to be better stewards of their health. Jaffee says, "Digital health enables the unlocking of a lot of value that the healthcare system wasn't able to unlock historically."
7wireVentures actually invested in No-Compulsion-Disorder (NOCD)for very concrete reasons of value, according to Jaffee. NOCD not only addresses the patient access challenges in finding a mental health provider by enabling teletherapy, it provides patients with wraparound tools they need outside of therapy sessions to address their triggers and a community of like-minded individuals. NOCD "actually brings your therapy to where you are and ultimately helps to improve outcomes," Jaffee says. While she acknowledges that digital therapy cannot totally replace in-office therapy, she envisions it becoming more like a banking model, where users can deposit checks by phone apps, but can also walk into an office if needed.



" Payers are particularly unique decision makers that often can give a startup or an incumbent credit for higher-quality care if it also potentially reduces the need for care."
— Vineeta Agarwala
Vineeta Agarwala, MD, PhD, a general partner at Andreessen Horowitz, leads investments for the firm's bio fund across therapeutics, diagnostics, and digital health, with a focus on companies that are leveraging unique datasets to improve drug development and patient care delivery. As a still-practicing physician, Agarwala has found herself referring patients to websites to get the care that is more difficult to access within the boundaries of a large healthcare system, such as cognitive behavioral therapy for a patient with cancer or for someone experiencing sleep disorder problems.
One thing that she has noticed with digital health companies is that they are pushing the boundaries of the definition of the payer from more than just insurance companies, or Medicare and Medicaid, to patients as well, who are now paying more than $500 billion in out-of-pocket costs every year. "The payer is a really interesting decision maker in our ecosystem because they have to be somewhat rational," Agarwala says. "There used to be—especially in the provider community—this view that the payer is the enemy and the payer is blocking the ability to deliver care because they're just trying to save cost. The payer is the only entity that you know, but there's churn, and patients aren't on the same plan forever, and they are incented, to some extent, to think about long-term cost of care. And so payers are particularly unique decision makers that often can give a startup or an incumbent credit for higher-quality care if it also potentially reduces the need for care." She points out that a company like NOCD can prove its downstream value by showing that well-treated OCD is easier and less expensive to manage than untreated OCD over many years.
The Challenges of Digital Health Data and Regulation
One of the things that digital health companies are doing is generating a lot of data about patients, but Jaffee and Agarwala say making that data actionable for health economics and outcomes research (HEOR) is another challenge.
"I do not want to make light of how difficult it is to actually take these data, particularly thinking about preventive healthcare, which is longitudinal data," Jaffee says. While she has seen progress with third-party companies working with digital health companies and taking an actuarial stance to analyzing the data and presenting the results in a more real-time, accurate way, "I would say we're not even midway through the mountain at this point."
Another thing to keep in mind, Agarwala states, is that part of the "tsunami" of digital health investment "is actually largely untethered to very specific regulatory pathways." This means some of the digital health innovation that is being funded is not subject to all of the same regulations that a new drug, diagnostic test, or medical device would be. On the one hand, for example, services that would help connect a patient to care would not necessarily have to be tied to a regulatory pathway—but this could become a bottleneck for these innovations to some extent, as payers, health systems, providers, independent clinics, and patients will have the autonomy to make decisions about whether to use, adopt, and pay for these solutions.
And while some of these innovations will undergo regulatory review, the question is whether the system as it stands at present can actually handle the flood of innovation for evaluation. "No, [it's] probably not completely ready for the extent to which we now have the capacity to create those kinds of interventions," Agarwala says. "But is the system kind of gearing and priming for readiness? I would say absolutely." And the return on investment frameworks and value frameworks that have been instituted in the last few years will mature and get better and more accurate, she adds.


" Digital health enables the unlocking of a lot of value that the healthcare system wasn't able to unlock historically." — Alyssa Jaffee
The Value of Digital Health and ISPOR
Cassels, Agarwala, and Jaffee discussed the highlights, possible implications, and learnings from investment activity in digital health companies at ISPOR's fourth installment in the Signal series, "Venture Capital Investment: Upstream Decision Making on Value in Healthcare." The speakers examined how innovation in healthcare—from therapies to research on the best care protocols—is funded before concrete solutions come to the market, and how that paradigm can change.
ISPOR started the Signal program to bring a broader understanding of innovation (beyond product innovation), with the goal of putting these issues front and center for the HEOR community. Each episode in the series is a self-contained installment and not dependent on the previous episodes. However, all of them are connected by an intent to look at the concept of innovation and experience with it from different groups of healthcare stakeholders, building foresight into how these innovations might impact healthcare decision making in the next decade.
The Signal Series episode, "The New Science of Cause and Effect: Causal Revolution Applied," welcomed Judea Pearl, professor of computer science and director of the Cognitive Systems Laboratory, Samueli School of Engineering, UCLA, Los Angeles, CA, USA, the world-renowned computer scientist and philosopher, who made a presentation on how causal models interact with data and work in scientific applications today, and discussed the challenges with regard to application and opportunities of modern computing tools in HEOR. We will cover this episode more in-depth in a future edition of Value & Outcomes Spotlight.
Read more about past Signal events in Value & Outcomes Spotlight
• ISPOR Generates a Signal for Transmitting Innovation
• From Measuring Costs to Measuring Outcomes: Revamping Healthcare at a System Level
• Beyond Cost-Effectiveness: Defining and Mapping Out Innovation at NICE
For more information and to register

About the author
Christiane Truelove is a freelance medical writer based in Bristol, PA.