COVID-19 en México.
Selenia Gómez
ISPOR México Chapter
Tres días posteriores a la declaración del brote de coronavirus como pandemia global por la OMS, la Secretaría de Salud en México anunció las medidas de mitigación a través de la Jornada Nacional de Sana Distancia con el objetivo de disminuir anticipadamente la transmisión comunitaria de COVID-19. Esta estrategia ha considerado durante el periodo del 14 de marzo al 30 de abril, disposiciones relativas a la difusión de medidas de higiene, protección y cuidado de adultos mayores y otros grupos de riesgo, suspensión de actividades escolares, repliegue familiar en casa, reprogramación de eventos de concentración masiva y suspensión de labores del Gobierno Federal, exceptuando a los sectores de Salud, Seguridad y Energía.
En este marco, el Consejo de Salubridad General reconoció el 19 de marzo a la epidemia como enfermedad grave de atención prioritaria, instalándose en sesión permanente. Bajo un panorama nacional de 367 casos confirmados y 4 defunciones para el día 23, México alcanzaba la Fase 2, enfatizando en las disposiciones relativas a la difusión de medidas de higiene, protección y cuidado de adultos mayores y otros grupos de riesgo.
En ultimas actualizaciones el día 30 de marzo la situación fue declarada una emergencia sanitaria por causa de fuerza mayor, a la epidemia de enfermedad generada por el virus SARS-CoV2 (COVID-19), ordenando la suspensión inmediata de todas las actividades no esenciales. Como acción extraordinaria se integran al Consejo de Salubridad General otras instancias del gobierno, entre las que destacan la Secretaría de la Defensa Nacional, Marina y Gobernación, etc.
El gobierno también puso a disposición de los ciudadanos la aplicación móvil COVID-19MX disponible para iOS y Android. Esta aplicación permite a los usuarios hacerse un autoexamen y consultar información sobre síntomas, así como acceder a atención médica. Mas detalles de la app y descarga aquí
Para ponerse en contacto con el capítulo, por favor envié un correo aquí. Para acceder a información de carácter oficial, puede visitar: coronavirus.gob.mx
Desarrollo de Salud digital en México.
México avanza de manera acelerada en el desarrollo de Salud digital, la tecnología tendrá un rol principal en el acceso a la salud de l@s Mexican@s. Se tienen varios ejemplos de desarrollo entre ellos: el certificado electrónico de nacimiento que opera ya en 21 de los 32 estados del país, la cartilla electrónica de vacunación que funciona en 20 estados y en donde se tiene registro superior al millón de niños menores de 5 años, existe ya un sistema de enfermedades crónicas que opera en los 32 estados del país alcanzando las 12 mil unidades de salud, contamos con la plataforma para registro y pago de enfermedades que generan gastos catastróficos del seguro popular, así mismo existen sistemas con expediente electrónico en prácticamente todas las instituciones de salud del país, hay también sistemas de dispensación y farmacovigilancia en algunos hospitales federales, sin embargo los sistemas anteriormente comentados aún no están conectados entre sí ya que las plataformas de cada institución son diferentes lo que dificulta la interrelación y creación de big-data.
El inminente desarrollo de la tecnología incrementa la viabilidad del Digital Health envolvente en muy poco tiempo, con lo que un horizonte de más y mejor acceso a la salud es ya es una realidad presente en México.

Latest Advances of HEOR and Health Policy of Mexico
The Government of Mexico creates by decree the decentralized body, with legal personality and its own patrimony, called Health Institute for Wellbeing, grouped in the sector coordinated by the Ministry of Health. Its purpose is to provide and guarantee, in the terms provided in the present decree, the provision of healthcare services and free medicines to the population lacking social security, as well as promoting in coordination with the Ministry of Health, actions aimed at achieving an adequate integration and articulation of the National Health System.
In Mexico, a novel system of acquisitions of supplies for health is adopted, called "Integral Strategy of the New National System of Public Procurement," where the best international practices in public contracting are sought, mainly using "purchasing agency models" centralized "in a public entity outside the substantive areas with different levels of governance (OECD).
The Ministry of Health in the company of members of the scientific community, specialists in infectious diseases, implemented a more effective antiretroviral treatment for people living with HIV, especially in those who have resistance to traditional medicines. With the new scheme decreases the number of drugs and their price, the purchases made a savings of 57%, equivalent to $1700 million pesos (approximately $89 million dollars US, which allows increasing coverage and access to health.
The General Health Council directs the preparation of the National Compendium of Medicines, which is in a process of revision and purification with the use of solid criteria and according to the reality of the country. The fundamental objective is to offer the Mexican population effective, safe, and quality medicines. In addition, the cost-effectiveness for the National Health System must be guaranteed.
The ISPOR Chapter of Mexico continues with the development of its academic activities and promotion and excellence in the evaluation of health technologies and good practices in health economics. As an example, an academic session was held in April 2019 with the theme "The economic impact of chronic diseases from diagnosis to effective treatment", with regard to the strategy called as code infarction, said academic event took place in the facilities of AMGEN Laboratories with an attendance of 120 people. The attendance to the ISPOR 2019 conference in New Orleans, LA, USA gathered the attendance of 28 members of the Mexican delegation. More than 50 members of the Mexican Chapter are expected to attend ISPOR Latin America 2019 in Bogotá, Colombia.
In the month of June, the session "Innovation as an essential part of society" will be held, organized in conjunction with the science commission of the Chamber of Deputies. At this session an attendance of at least 150 people is expected, which will be transmitted via streaming. The chapter maintains daily activity on social networks through Twitter and Facebook and a new channel on YouTube. In the area of ​​affiliation the number of members has increased, during the March event 426 were reached and it is expected that before the end of this year the 500 will be exceeded.
The chapter's president Dr César A. Cruz Santiago received from the Mexican Academy of Surgery, the promotion to Titular Academician being the first president of our guild to achieve this distinction. Congratulations to Dr Cruz for this great recognition.

ISPOR Mexico Chapter Celebrated to 6th Annual Seminar



ISPOR Mexico Chapter celebrated its 6th annual seminar in Mexico City, Mexico this March 14-16, 2019. The seminar focused on "Health Economics: A Tool Towards Universalization and Access Equity." This event brought together key stakeholders from Mexico and Latin America with the participation of Nancy J. Devlin, PhD, ISPOR President-Elect.

---
6º Seminario "Economía de la Salud: Una Herramienta hacia la Universalización y Equidad en el Acceso"
ISPOR Capítulo México, comprometido con la promoción, desarrollo, asesoría y capacitación en materia de economía de la salud y resultados en salud, llevó a cabo el 6º Seminario "Economía de la Salud: Una Herramienta hacia la Universalización y Equidad en el Acceso".
A consecuencia de cambios políticos en el país y el impacto que tienen en el sistema de salud, creemos que era de suma importancia abordar temas relevantes. El seminario tuvo el objetivo de desarrollar intercambios académicos con los tomadores de decisión, academia e industria con el fin de colaborar a mejorar el acceso a servicios de salud con calidad en México.
Con la participación de Nancy J. Devlin, PhD, 2018-2019 presidenta electa de ISPOR y Directora de Investigación en la Oficina de la Economía de la Salud en Londres, Inglaterra del Reino Unido, además de otros prestigiados ponentes internacionales y nacionales, dieron la bienvenida a más de 400 personas.
---
Mexico Chapter Recognized with Outstanding Regional Chapter Award

Congratulations to the Mexico Chapter! The new ISPOR Outstanding Regional Chapter Award program recognizes exceptional contribution and leadership of regional chapters in advancing the Society's mission in its global regions. The award is offered in 3 categories based on chapter membership size: small, medium, large. ISPOR staff assess chapter contributions by applying eligibility and selection criteria based on a review of information available from chapter annual reports, chapter contributions to the Society's publications, and participation in the Society's activities throughout the year.
The 2018 ISPOR Outstanding Regional Chapter Award was presented to the Colombia Chapter, Mexico Chapter, and Russia St Petersburg Chapter. Congratulations is due to this year's recipients for their exceptional contribution and leadership in advancing the Society's mission in its global regions. The interview with the chapter awardees can be found in the December issue of Value & Outcomes Spotlight in the section "ISPOR Central—ISPOR Speaks."

The winners are from left to right: (center) César Alberto Cruz Santiago, MD, PhD, ISPOR Mexico Chapter; (center) Diego Rosselli, MD, Med, MHP, ISPOR Colombia Chapter; (center) Alexey Kolbin, MD, PhD, ISPOR Russia St Petersburg Chapter. All are receiving the ISPOR Regional Chapter Award from presenters Federico Augustovski, MD, MSc, PhD and Mahmoud Diaa Elmahdawy, PharmD, during ISPOR Europe 2018 in Barcelona, Spain.
About the Award

Chapter contributions were assessed by applying eligibility and selection criteria based on information gathered from submitted Chapter Annual Reports and chapter input to ISPOR publications and activities throughout the year. The award consists of a trophy, USD $1,000 per winning chapter (available as a credit against the winning chapter's future educational events), an interview in Value & Outcomes Spotlight, and a complimentary ISPOR Europe conference registration for the chapter delegate who accepts the award on behalf of the chapter. Additional information on the award can be found here.

---
ISPOR Latin America 2019
12-14 September 2019 | Bogotá, Colombia
Data and Value in Healthcare: 2020 and Beyond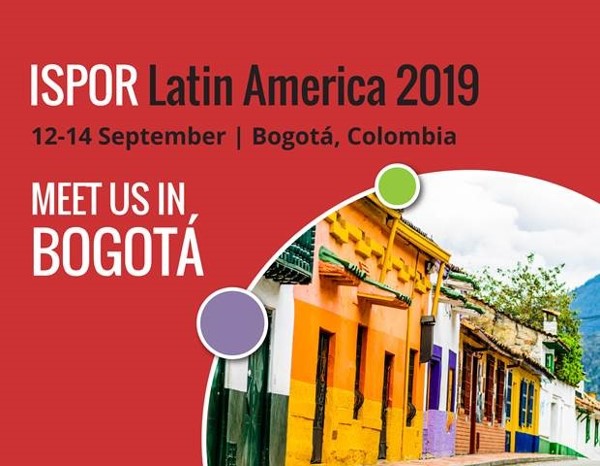 ---

Actividad académica del Capítulo ISPOR México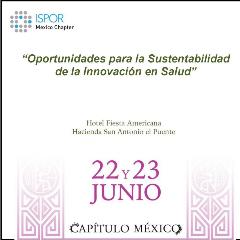 ISPOR Capítulo México llevó a cabo el seminario "Oportunidades para la sustentabilidad de la innovación en salud", el 22 y 23 de junio en el estado de Morelos. El evento estuvo dirigido a tomadores de decisiones de diversas instituciones públicas de salud en México.

Resumen de las reuniones mensuales del Capítulo ISPOR México

Programa del 5o seminario del Capítulo ISPOR México, el 8-10 de marzo de 2018
---
News Across Latin America - Newsletter

News Across Latin America Latest Issue
---
Contact Information
Mexico Regional Chapter
Torres Quintero #237
Col. Barrio San Miguel, Iztapalapa
Mexico City, Mexico CP 09360
Tel/fax: + 52 55 26 36 29 46
Chapter Leadership
| | |
| --- | --- |
| President / Presidente | CésarAlberto Cruz Santiago, MD, PhD |
| Past-President / Presidenta Anterior | Rosa María Galindo-Suárez, MHE |
| Secretary / Secretario | Alberto Salazar-Ramírez, MHE |
| Treasurer / Tesorero | Jesús Avendaño, MD |
| Director / Vocal | Mónica Alva Esqueda, MSc |
Links / Resources
ISPOR Mexico Chapter Webpage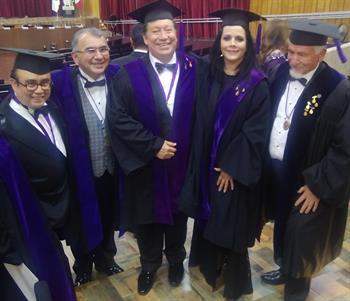 Felicitaciones al Dr César A. Cruz Santiago por recibir por parte de la Academia Mexicana de Cirugía, la promoción a Académico Titular.
César Alberto Cruz-Santiago, MD, PhD, President, ISPOR Mexico Chapter