ISPOR Conferences
Poster Session Recap: Diabetes/Endocrine/Metabolic Disorders
Anna Hung, PharmD, PhD, MS, Duke University School of Medicine, Durham, NC, USA

This poster session showcased studies using a variety of methods, but all focused on diabetes.
Cost-Effectiveness Analysis of Empagliflozin Versus Albiglutide Among Individuals with Type 2 Diabetes in the US
Presenter: Alaa Alshehri, University of Florida, Gainesville, FL, USA
Summary: Cost-effectiveness study comparing empagliflozin versus albiglutide for type 2 diabetes using a 1-year time horizon and US payer perspective (Figure 1). Tree-based model that included cardiovascular death; hospitalization for heart failure, nonfatal myocardial infarction, and nonfatal stroke; and complication risks. Used published literature to inform these model parameters. Key finding was that the incremental cost-effectiveness ratio was $37,721/QALY, suggesting empagliflozin was cost-effective compared to albiglutide.



Figure 1. Decision tree model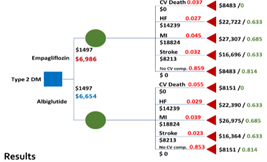 Early Treatment Modification for Type 2 Diabetes in a US Real-World Population: Impact on Glycemic Control, Diabetic Complications, and Healthcare Utilization
Presenter: Chioma Uzoigwe, Novo Nordisk Inc, Plainsboro, NJ, USA
Summary: Retrospective cohort study evaluating 28,529 patients with type 2 diabetes using the Optum® Clinformatics® Data Mart Database to examine prevalence of early treatment modification and estimate impact on glycemic control, diabetic complications, and healthcare utilization. Found that 59% of patients received early treatment modification, and that HbA1c levels decreased in the early treatment group (compared to the delayed treatment group). There were also fewer complications and outpatient visits in the early treatment group.
Implications of Utilizing Survey Versus Administrative Claims Data to Evaluate the Cost of Diabetes Among Medicare Beneficiaries With Cancer: A Methods Study
Presenter: Cassidi McDaniel, Auburn University Harrison School of Pharmacy, Auburn, AL, USA
Summary: Serial cross-sectional study using Medicare Current Beneficiary Survey (MCBS) data examining congruency of diabetes cost estimates based on survey versus administrative claims data from MCBS. Found significant discrepancies between cost estimates when using survey versus claims data from MCBS.
Impact of Telehealth Use During the COVID-19 Pandemic on Glycemic Control and Other Biomarkers Among Type 2 Diabetes Patients
Presenter: Yixue Shao, Tulane University School of Public Health and Tropical Medicine, New Orleans, LA, USA
Summary: Retrospective study applying propensity scores to electronic health records from the Research Action for Health Network (REACHnet) database to examine the effects of using telehealth during the pandemic on diabetes care in Louisiana. Patients who received telehealth had a greater reduction in HBA1c, LDL, and body mass index than those who did not.
Contrasting 3 HbA1c Progression Equations Using the IQVIA Core Diabetes Model
Presenter: Mafalda Ramos, IQVIA, Porto Salvo, Portugal
Summary: Assessment of impact on duration to treatment escalation when applying different HbA1c progression equations in the IQVIA Core Diabetes Model v9.5Plus. Found that the time to reach the HbA1c threshold of 7.5% was 4, 10, and 3 years for the UKPDS68, SweNDR, and UKPDS90 progression equations, respectively (Figure 2).


Figure 2. Lifelong HbA1c progression curve