ISPOR Conferences
International Collaboration in Response to the Global COVID-19 Pandemic
Ingrid Cox, MD, MSc, Dip, University of Tasmania, Hobart, Australia; and Martin Vu, MPH, BSc, Cancer Health Services Research, The University of Melbourne, Melbourne, Australia
The coronavirus pandemic has immobilized entire countries and has fueled innovation worldwide in a race towards effective treatments and prevention strategies. Given the rapidly evolving nature of this current pandemic, international cooperation and collaboration have become more crucial than ever to advance measures to curb the pandemic. The International Coalition of Medicines Regulatory Authorities (ICMRA), established in 2012, has been at the forefront of global collaborative efforts and brings together key regulators from every region of the world, including agencies such as the US Food and Drug Administration (FDA), European Medicines Agency (EMA), and the European Commission, to facilitate access to safe, effective, high-quality products. This session (Figure 1) focused on joint efforts by these national regulatory agencies and included a special emphasis on common challenges in facilitating the development, review, and availability of COVID-19 vaccines; collaborating on observational research; and the implications for HEOR researchers.


Figure 1. Panelists (clockwise): Pierre Meulien, Ian Hudson, Peter Marks, and Agnes Saint-Raymond.






An International Call to Action
Strong international scientific and regulatory collaboration is needed to ensure effective production for new vaccines, tests, and treatments for COVID-19. Agnes Saint-Raymond, MD, European Medicines Agency, Amsterdam, The Netherlands, elaborated on several opportunities using existing international initiatives in order to tackle current demands and healthcare challenges from this pandemic. In response to this ongoing public health crisis, the EMA has worked alongside the ICMRA, which serves as a forum to develop strategic coordination among medicine regulators. The ICMRA was immediately proactive to the pandemic and had a clear focus for regulatory convergence in the interest of ensuring patient access to safe and effective medical products while maintaining high scientific standards for the evaluation and safety monitoring or treatments and vaccines. These activities include conducting collaborative trials across multiple sites, establishing clinically meaningful trial endpoints, standardizing measures of disease severity, understanding risk factors and appropriate trial comparators, selecting priority products, and improving retention of participants in placebo-controlled trials. Saint-Raymond emphasized that international collaboration does not end after technology approval with pharmacovigilance activities such as vaccine safety and monitoring using observational studies and real-world evidence established from the onset.
"The work of collaboration does not stop at the time of approval."

—Agnes Saint-Raymond, MD

Responding to Emerging Health Policy Challenges
Peter Marks, MD, PhD, US Food and Drug Administration, Silver Spring, MD, USA, provided an overview of the work of the FDA during the pandemic, stating first and foremost that, "Our experiences have included a tremendous number of challenges. Traditional ways of doing things are not possible."

The FDA has taken a 2-pronged approach, working nationally with partners to develop vaccine development plans ensuring safety and efficacy within short timelines, as well as working internationally with regulatory partners worldwide and the World Health Organization (WHO) to promote convergence, expedite product development, and minimize time to availability. However, one of the main challenges was changing the policy and regulatory landscape from the status quo prepandemic to policies and standards that would guarantee safety and efficacy of products within expedited timelines, especially related to vaccine development. To assist with this process, the FDA developed 2 guidance documents: 1) Development and Licensure of Vaccines to Prevent COVID-19, and 2) Emergency Use Authorization for Vaccines to Prevent COVID-19.

These 2 documents focused on minimum requirements for safety, efficacy, and quality during product development. Some of the special considerations developed for clinical trials of vaccines included establishing a minimum efficacy of at least 50% greater than placebo and a minimum participant follow-up of 2 months following the final dose of the vaccine series. Other challenges experienced by the agency included scale up and production of products, including personal protection equipment and shortages and dependence.

Public–Private Partnerships Is Essential
Scientific collaboration between public and private sector organizations holds many benefits in finding transformative solutions to strengthen participation in clinical trials, drive patient access to healthcare, and improve patient health outcomes while ensuring a sustainable healthcare system during this pandemic and beyond. An example of this public–private partnership acting to progress research against COVID-19 is the Innovative Medicines Initiative (IMI), which represents a significant long-term commitment between the European Commission and the European Federation of Pharmaceutical Industries and Associations (EFPIA) of more than €5 billion over the period of 2008-2020. According to Pierre Meulien, PhD, IMI, Brussels, Belgium, the IMI is a multisectoral, neutral platform where various stakeholders (eg, regulators, HTA bodies, payers, and researchers) engage in open collaboration across shared challenges in areas of unmet medical needs. One of the projects (Figure 2) led by the IMI include the ZAPI project that investigates anti-SARS-CoV-2-neutralizing antibodies to tackle COVID-19 and was originally built upon results from research for MERS-CoV. Another project included the European Health Data Evidence Network (EHDEN) and was established to harmonize real-world clinical data and develop a wider research network in Europe. Early in the pandemic, EHDEN alongside with the Observational Health Data Sciences and Informatics (OHDSI) program, organized the "study-a-thon" that brought together large-scale health data across 30 different countries to inform healthcare decision making during the pandemic, including the assessment of the safety of hydroxychloroquine.

Figure 2. COVID-19-related programs conducted by the Innovative Medicines Initiative.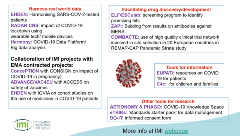 Moving Forward With International Collaborations
In their concluding remarks, the panelists focused on how the collaboration would be maintained post COVID-19. Panelists agreed that international collaboration has been helpful to individual agencies as it avoids duplication of efforts and supports the sharing of best practices. They also agreed that the current pace would be difficult to maintain, but with adjusted timelines, it would be possible and should be made routine. Importantly, lessons learned and good practices should be discussed and documented, especially the unprecedented partnerships across private and public sectors that can be replicated for other public health emergencies. Data sharing and transparency by making information publicly available is critical to maintain successful scientific collaboration and cooperation in this pandemic and the future.