ISPOR News
CHEERS 2022 Video Playlist: Topping the Charts in HEOR


Zeba M. Khan, RPh, PhD
conducted an in-depth video interview with the Co-Chairs of the CHEERS 2022 Task Force Report,
Don Husereau, BScPharm, MSc
(University of Ottawa) and
Michael F. Drummond, MCom, DPhil
(University of York) to delve into how our readers and various HEOR stakeholders can use and apply the new CHEERS reporting standards in their work.
The videos in this section are presented in "bite-sized" pieces that provide key insights into what CHEERS is, who is the intended audience for these guidelines, and how this critical update can help improve healthcare decisions. This CHEERS 2022 video playlist will likely top the HEOR charts for years to come.

What is CHEERS?
The first CHEERS report was published back in 2013 and has become one of ISPOR's most highly cited Good Practices Reports. In short, CHEERS is an attempt to take reporting guidance that had existed in various forms and consolidate it into one useful guidance document that takes into account the latest thinking of how economic evaluations should be reported.

What precipitated this update?
There have been developments in the field of economic evaluation since 2013. Specific areas in particular that contributed to the update include: (1) the way that value is being characterized; (2) the growth of distributional cost effectiveness analysis, growing the use of these studies in decision-making settings; (3) an increased interest in transparency in research and in incorporating patients and the general public in the developments in health services research.

Why should Value & Outcomes Spotlight readers care?
Clearly the main audience is still the people that produce these studies, because if they don't report them correctly then we all lose out no matter what our perspective is. Economic evaluations, although they're often conducted and reported by specialists, have implications for everybody. CHEERS is designed to make sure that all the information that's there to help us understand is presented—but in a structured way—so that we can make quick sense of what a study says and what it doesn't say.


Who is this guidance intended for and will it help improve healthcare decisions?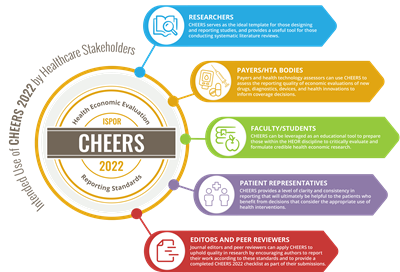 What is ISPOR doing to help audiences apply CHEERS?
As a starting point, the explanation elaboration report was published in the January 2022 issue of
Value in Health
. There is also a new resource page on the ISPOR website (https://ispor.org/cheers) where people can find summaries, tutorials, templates, user guides, etc.
What would you like our Value & Outcomes Spotlight readers to do to advance the adoption and use of the CHEERS standards?
It's great to have this opportunity to speak to the readers of
Value & Outcomes Spotlight
because they're such a diverse group of people. I think we'd like to say to them all, "Think about what CHEERS means to you and how you can use it." If it's not touching all the buttons for you, give us some feedback and we maybe could develop some extra resources to support the diffusion of CHEERS.