HEOR Articles
Bridging the Talent Gap: Evolving Approaches and Embracing Opportunities
Saurabh Kumar, MBA, MD, Global Scientific Services, Haryana, India; Pramil Tiwari, PhD, Department of Pharmacy Practice, National Institute of Pharmaceutical Education and Research, Punjab, India; Sanjiv K Saxena, MD, MSc, Value and Access, CONEXTS, Novartis Healthcare Pvt Ltd, Telangana, India; Louise Parmenter, MSc, PhD, Real World Solutions, IQVIA, Reading, UK
Introduction
The relevance of health economics and outcomes research (HEOR) to healthcare continues to increase, driving the need for talent with specific skills as described in the ISPOR HEOR competency framework.1 However, lack of skilled professionals around the world may hamper the availability of evidence and insights for decision making. It can take many months to hire and train an HEOR professional with the duration increasing in line with the required specialization and experience. The HEOR field has been further impacted by the global talent shortage post-COVID-19. Talent shortages are anticipated to continue as the demand on HEOR professionals expands into new healthcare technologies and big data.
Insights From Other Life Sciences Disciplines
HEOR is not the first discipline to meet the talent challenge. Strong growth of the life sciences pharmaceutical industry since the late twentieth century required new ways of working to access skilled talent, consistently meet increased regulatory standards, and manage costs. Clinical data management (CDM) was one of the first areas to shift to a new model due to the ability to standardize working processes, operate at scale, and centralize data. New partnerships between pharmaceutical companies and service organizations emerged to centralize tasks. Sponsor companies sought partners to take advantage of access to sizeable, skilled talent pools in cost-effective locations such as India and China.
The large-scale adoption of electronic data capture and global interconnectivity have increased the benefits of the centralization of CDM to the extent that it is now unusual to have big clinical data operations teams situated in North America or Europe. Sponsors have built in-house teams, insourced talent from third parties, or outsourced to clinical research organizations who have their own centralized teams.
There are similarities and differences between HEOR and CDM that drive delivery and sourcing practices (Table 1). The similarities between these 2 disciplines are now driving a comparable evolution in the delivery and sourcing of HEOR work.
Table 1. Similarities and differences between HEOR and CDM.

Sourcing and Delivery Model Options
Companies have 2 broad choices when considering how to deliver HEOR:
1. To deliver with in-house resources, insource, or outsource from a third party.
2. To centralize or decentralize work.
To deliver with in-house resources, insource, or outsource from a third party?
The question of whether a company hires its own in-house resources or insources/outsources work to a third party is a related but separate decision to that of centralization with benefits and challenges. Outsourcing in HEOR is common. An online survey of researchers and suppliers in HEOR, real-world evidence, and related areas found that 41.5% of 157 respondents contracted almost all (76-100%) of their work and another third contracted one-half to three-fourths of their work.2 A large proportion of HEOR outsourcing has been to small consulting firms with niche specialization to meet local and technical needs. Niche players will continue to play an essential role alongside scaled HEOR service providers. Benefits and challenges of difference sourcing strategies are shown in Table 2.
Table 2. Benefits and challenges of different sourcing strategies.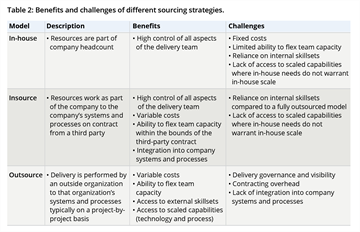 To centralize or decentralize?
The question of whether to centralize or decentralize work spans industries and continues to be a topic of debate in boardrooms around the globe.
Since the early 2000s, growing cost pressures, shortage of local talent alongside increased global connectivity, and availability of technology is driving more use of centralized teams in the HEOR space. Multinational company affiliates are operating in more complex local environments requiring more spend on evidence development, evidence dissemination, and implementation science. Global HEOR teams want greater consistency, quality, and value from local spend. These trends are driving the centralization of certain HEOR tasks such as literature review, medical and scientific writing, and pharmacoeconomic modeling into larger teams of functional delivery specialists. The benefits for HEOR are consistent with those in other life science areas where skilled talent and high productivity are essential (Table 3). The trend is anticipated to continue as life science companies and their service providers establish scaled and specialized HEOR delivery teams.
Table 3. Key considerations to determine whether to centralize or decentralize tasks.

Distributed workforce model
The centralization of tasks inevitably drives a distributed workforce model where those commissioning the work are geographically distant from those delivering the tasks, often with time zone differences. Technology has been a key enabler for distributed working. In the early days, technology use was limited to email, teleconference, and video conference, alongside document management tools for version control. Today, collaboration technologies offer an efficient platform to run cross-functional product teams, which includes members from development, medical, and commercial functions, making it easy to execute a decentralized workforce model. Technology platforms also enable the running of advisory boards proficiently with regulators and payers to generate relevant insights for drug development.
With the advancement of platform functionality, virtual product launches and interactions with healthcare professionals by medical and sales teams, once traditionally conducted only through face-to-face meetings, have become an acceptable approach.
More evidence-generation work is being shifted to outsourcing business services partners, and increasingly to partners offering relevant technology. Technology companies are evolving solutions to run team interactions, leadership forums, and workshops alongside automation, analytics, and artificial intelligence. Such solutions are providing healthcare businesses an opportunity to optimize processes, run performance analytics, and take informed decisions to enhance operations. Supportive technologies such as literature review platforms are enabling stronger virtual collaboration. Companies are combining technology and HEOR domain expertise to offer end-to-end HEOR solutions.
The emergence of COVID-19 has seen companies adapting to the changing demands of doing business. This agility ranged from scaling up virtual hiring to leveraging a distributed workforce delivery model for project execution.
The shift of HEOR talent to new geographies
As the demand to submit evidence for reimbursement approvals at optimal price has become more stringent, organizations have started to look for HEOR talent in new markets, such as India. The benefits include cost advantage, scalability, and opportunities to optimize operations. India stands out for the high volume of science and technology graduates alongside a proven track record in building centralized teams in fields such as clinical data management.
The move of work to India commenced with HEOR evidence generation to understand clinical, epidemiological, and economic evidence in various disease areas. This shift was soon followed by work in areas of pricing and market access. Over time, organizations to which HEOR work was centralized have been able to scale up their operations and optimize their processes. They moved up the value chain by developing new skills in their teams and adopting technology. For example, literature review, patient-reported outcomes, statistical pooling of evidence through direct and indirect comparisons, writing reimbursement dossiers for various markets, and economic modelling.
Today, strategic work is being shifted from company headquarters to central and distributed teams. For example, roles such as Global Product Director positions, with the responsibility to shape product strategy for reimbursement approval at optimal price. The effort to upskill talent and the use of advanced technology has made this possible.
Developing Talent
The development of HEOR talent typically begins with academic training, supplemented by in-house HEOR courses (pharmaceutical companies, service providers), augmented by hands-on experience, and supported by professional bodies such as ISPOR.
ISPOR's role in developing talent
ISPOR is a key enabler for the growth of HEOR talent around the world through the expansion of ISPOR chapters. Multiple small ISPOR chapters have been established at a country, province, or academic institution level. Opportunities exist to strengthen connection into ISPOR, and the maintenance of standards through the creation of guidelines or minimal standard accreditation checklists for smaller chapters of ISPOR. These measures, together with mandatory linkages to global ISPOR chapters, would strengthen collaboration, consistency, and scientific rigor.
Global academic training
Many graduate and postgraduate programs are offering training in HEOR around the world. Students in a health economics program learn about using economic principles to determine the best way to allocate healthcare resources. Health economics content is available within programs entitled Public Health, Health Administration, Health Policy, Economics, Epidemiology, and Pharmacy at both degree and masters levels.
The United States and Europe have included HEOR as part of the academic curricula since the 1990s. A survey on the adoption of HEOR into the US academic curricula showed that 100% of pharmacy schools provided education in HEOR, with an average of nearly 20 to 35 hours of training during the course.3 A 2002 study of European countries found that almost 64% of pharmacy schools had HEOR as part of their curricula.4 Some academic institutes such as the University of York and the London School of Economics in the United Kingdom now have certification courses in HEOR.
Academic training in India
Over the past decade, HEOR has begun to be included in academic curricula in countries beyond the United States and Europe. India has been an area of focus. The first driver has been the search for HEOR talent in India by global pharmaceutical companies that are aware of the large scientific talent pool. Graduates were known to have a good understanding of healthcare, an ability to understand and perform systematic reviews and meta-analyses, and an understanding of pharmacovigilance. Centralized working models had been successfully implemented in other areas of healthcare research. The second driver has been the establishment of an India health technology assessment (HTA) body in 2017 focused on performing economic studies for reimbursement in healthcare programs.
"The question of whether a company hires its own in-house resources or insources/outsources work to a third party is a related but separate decision to that of centralization with benefits and challenges."
As the market needs changed so did the curricula and training at pharmacy schools in India. Students and academicians started to focus more on paper submissions, systematic literature review studies, health economic analysis, meta-analysis, and more to develop HEOR skills. In line with the trend in the western world, universities in India have started to provide graduate and postgraduate programs in the HEOR domain.
Concurrently, at the country level, the India ISPOR chapter formed in 2012. Leaders from the pharmaceutical industry came together to promote HEOR training through the institution as the "India chapter of ISPOR."
Budding HEOR professionals have been able to plug the HEOR competency gap leveraging the experience of experts at the India ISPOR chapter. Additionally, the continuity of student-driven initiatives on such chapters has helped to train young learners in various skills involved in the HEOR domain. Teaching of evidence-based medicine ranging from effective search strategies, drug development process, observational studies, statistical tools and the applications thereof, systematic reviews/meta-analysis, and clinical biostatistics to postgraduate students of pharmacy practice gave them an edge compared to those who did not study this in the classroom.
"Increased complexity of data, analytics, technology, and domain expertise will lead to an evolution of HEOR competencies."
These interactions not only improved technical skills, but also improved communication and teamwork.
Rajiv Ahlawat, PhD, a beneficiary of an ISPOR student travel grant and founding president of the student chapter at a premier institution, attended 2 annual meetings of ISPOR. He recalls, "ISPOR resources including courses, webinars, and workshops helped me in learning HEOR skills. I learned different skills, including leadership skills, soft skills, and event management via the ISPOR student chapter. Moreover, ISPOR helped in making connections and provide a platform to participate in national and international events."
Ishfaq Rashid, a doctoral student who spearheaded the student chapter of ISPOR for 2 years, says, "I have been associated with my ISPOR student chapter 6 years. Before that, I wasn't as knowledgeable about the HEOR domain. The credit to developing my competency in HEOR goes to my participation in the activities of the student chapter and I have chosen this as a career option. The ISPOR student chapter has helped me to improve my leadership qualities, oration, and event management skills, through my conducting webinars, workshops, etc. In a country like India, the support from ISPOR to students helps to develop HEOR personnel. Overall, ISPOR has had a strong positive impact in my professional development."
Experience From Industry-Academia Collaboration in India
As the demand for HEOR talent outpaced supply, industry and academia collaborations emerged to fill the supply-demand gap. The pharmaceutical industry started to collaborate with the ISPOR India chapter to support HEOR talent development and initiated webinars and short courses. Between 2014-2019, the India student chapter organized events including, but not limited to, critical appraisal of research papers, pharmacoeconomics and outcomes research, HTA, and healthcare financing in India. At all such events, participation from students and teachers was significant. These events strengthened linkage between the industry and academia, opened up internships, and ultimately employment opportunities.
Adapting to the Future of HEOR
The scope and complexity of HEOR are growing. Healthcare decision makers need HEOR as they consider drug spending and pricing, real-world evidence, and value assessment. Increased complexity of data, analytics, technology, and domain expertise will lead to an evolution of HEOR competencies. These changes could intensify the talent gap between academic curricula and industry needs.
Organizations will adapt. Companies will adopt efficiencies in business practices to optimize cost and processes while managing risks. The boundaries of what is traditionally delivered at headquarters and local countries will blur. The "distributed workforce model" will become a more widely accepted solution as companies adopt to new ways of working. Technology will enable organizations to harness the power of more connected global teams. Virtual rotations that provide experiential learning will enable organizations to leverage the benefits of a richer talent pool. This will shift more strategic work away from headquarters, especially to a distributed workforce powered by analytic capabilities and technology. The boundaries of workflows that have traditionally been split between headquarters and country operations will become less clear. Companies will centralize more work in dedicated teams for certainty of talent supply, simplicity, and cost. Strengthened virtual working models will enable distributed teams.
While the changing working environment offers many opportunities, virtual ways of working have their own challenges, from hiring and onboarding to employee engagement and retention. This has led organizations to evaluate and strengthen processes including technical and soft-skill training programs. Countries such as India will continue to strengthen academic programs, taking advantage of the increased volume of HEOR work being performed in India.
Closing Thoughts
While the talent gap is an issue in HEOR today, we can be optimistic. Organizations conducting HEOR are developing new ways of working, underpinned by technology, process, and training. Professional bodies such as ISPOR are providing connections, training, and standards to ensure continued ethical conduct and quality. Academic institutions around the world, including new geographies such as India, are strengthening their curricula. And most importantly, HEOR talent is embracing the opportunities to work in this dynamic and evolving area.
References
1. Pizzi L, Onukwugha E, Corey R, Albarmawi H, Murray J. Competencies for Professionals in HealthEconomics and Outcomes Research: The ISPOR Health Economics and Outcomes Research Competencies Framework. Value Health. 2020;23(9):1120-1127.
2. Peeples P, Carter J, Stevenson C. HEOR and RWE sourcing and procurement challenges and opportunities: a benchmarking survey. Value Health. PNS228. 2019;22(5):S324-S325.
3. Makhinova T, Rascati K. Pharmacoeconomics education in US colleges and schools of pharmacy. Am J Pharm Educ. 2013;77(7):145. doi:10.5688/ajpe777145.
4. Gafà M, Bilbija S, Martinova A, Bates I. Pharmacoeconomics: A view of EPSA member countries on issues related to awareness of the topic and the undergraduate curriculum. Pharmacy Education. 2002;2(4):171-175.
doi:10.1080/1560221021000061850.