Figure 9. The Device Approval Process by the US Food and Drug Administration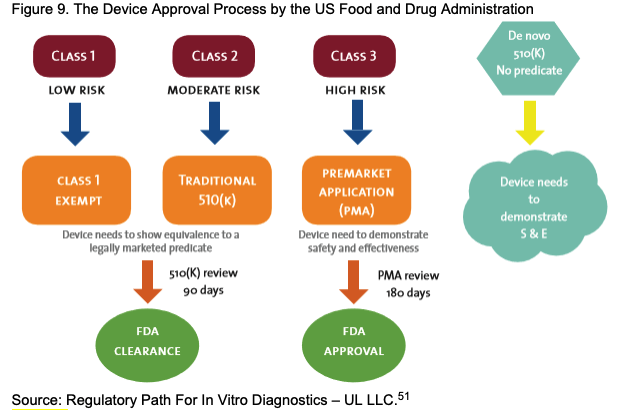 Humanitarian Device Exemption (HDE)
Humanitarian-use devices are classified as benefiting patients by treating or diagnosing a disease or condition that affects fewer than 8000 people in the United States per year. The HDE must demonstrate that there are no similar, legally approved devices on the market and that there is no other way to bring a humanitarian-use device to market.52 Additional criteria for a HDE include incentives for development of medical devices for pediatric populations.
Breakthrough Devices Program
As part of the 21st Century Cures Act, a new device approval pathway was established, the Breakthrough Devices Program Pathway. This is a volunteer program for certain devices or device-led combination products that provide a more effective treatment or diagnosis of life-threatening or irreversibly debilitating diseases or conditions.53 Prior to marketing submission to the FDA, a request for Breakthrough Devices Designation may be submitted. This pathway offers the opportunity to receive prioritized review of the submission and interaction with FDA experts to address topics and issues as they arise through the premarket review phase. Any product seeking Breakthrough Device Program classification must meet 2 criteria53:
The device must provide a more effective treatment or diagnosis of life-threatening or irreversibly debilitating human disease or condition

The device must meet at least one of the following:

Represents a breakthrough technology

No approved or cleared alternatives exist

Offers significant advantages over existing approved or cleared alternatives

Device availability is in the best interest of patients

Reimbursement and Pricing Approval Process
The need to reduce healthcare expenditures while improving health outcomes means that fulfilling a medical need is no longer sufficient for new medical devices to ensure reimbursement. Reimbursement planning for medical devices must consider the specific context in which they will be applied, and focuses on 3 pillars of reimbursement: coverage, coding, and payment, all of which are described below.54
Coverage
CMS, private payers, and hospital facilities across the country rely on medical billing coding for device use. Coding facilitates payment so without a code, procedures and devices are not reimbursed at the hospital or healthcare provider level. Codes are different based on the type and location of service (inpatient versus outpatient). Determining how a device fits into the current landscape and the appropriate codes to use may be difficult and can impact levels of reimbursement (see Reimbursement of Medical Device Based on Context of Application, below). Options include creating a new code, obtaining an add-on-code for additional payments on an existing procedure, or grouping within an existing procedural code.54 Add-on codes with separate payment potential include those offered through the following CMS programs55,56:
New Technology Add-on Payment (NTAP) for medical devices provided in the inpatient setting

Pass-Through Payment for medical devices provided in the outpatient/ ambulatory care setting

It is important to note that these add-on codes/payments are typically temporary—lasting about 3 years when granted—and unless the medical device is used in most inpatient stays or outpatient procedures for which the add-on applies, the payment rate that will apply at the end of this period is generally insufficient to cover the cost of the new device in the context of the applicable inpatient stay or outpatient procedure payment.
It is the responsibility of the device manufacturer to determine billing codes, which means that medical billing expertise is often necessary for substantial reimbursement. A few of the billing code types and their practice settings are described below in Table 1, all of which are maintained by CMS and the American Medical Association (AMA).
Table 1. US Healthcare Codes for Inpatient and Outpatient Devices and Diagnostics
| | | |
| --- | --- | --- |
| Code and Issuer | Setting | Description |
| Diagnosis Related Group (DRG) – CMS | Inpatient billing only | Encapsulates all hospital services and associated costs incurred during a stay, except physician charges (CPT codes). One DRG is used per admission and would encapsulate device use through grouping with a procedure |
| Level I Healthcare Common Procedure Coding System (HCPCS) aka CPT Code – AMA | Billing for procedures and services performed by healthcare professionals | Physicians bill with CPT codes in both inpatient and outpatient facilities. With this code, billing is through the physician versus the facility |
| Level II Healthcare Common Procedure Coding System (HCPCS) – CMS | Used for products, supplies, and services supplied outside the physician's office | C codes – items and services for outpatient use, pass-through devices, drugs and biologicals, new technology. and other services |
| Hospital Outpatient Prospective Payment System (HOPPS) aka APC codes – CMS | Used for procedures performed in hospital outpatient facilities | Ambulatory payment classification (APC) used by facilities to bill for outpatient procedures and services |