Market Access Seminar
October 2, 2019, Bratislava, Slovakia
The seminar discussed access to and shortage of medicines for the Slovak patients. Chapter leaders: Maria Bucek-Psenkova, Dominik Tomek and Martin Visnansky presented their views on the recent pricing and reimbursement policy changes, introduced by the Slovak Ministry of Health. Speakers included representatives of several important stakeholders, including health insurance funds, wholesalers, public pharmacies chamber, pharma industry and patients' advocacy groups. The round-table discussion which included several political representatives provided an opportunity to exchange views on health and drug policies and possible improvements towards more effective and efficient utilization of medicinal products in Slovakia.
---
Possibilities of Access to Innovative Oncology Treatment in Slovakia
April 24, 2018, Bratislava, Slovakia
More than 40 participants (regulators, payers, consultants, industry, academy and students)
3 international speakers
Great discussions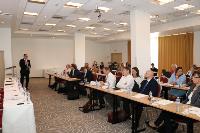 ---
ISPOR Slovak Chapter Participation in a One-Day Scientific Conference
May, 2017

Trends in Pharmacoeconomics and Health Technolgy Assessment and Their Use in Drug and Health Policy

The one-day scientific conference "Pharmacoeconomics in Slovakia XXXIII" - "Trends in Pharamcoeconomics and Health Technology Assessment and their use in Drug and Health Policy", was held in May 24, 2017 in Bratislava, Slovakia.

The conference fulfilled its ambition to reflect on the situation in the field of drug policy and incentives from WHO, EU and Slovak Republic in pharmacoeconomics and health technology assessment, on the trends and perspectives of possible implementation in practice.

It was divided into 3 sections:

Trends in Pharmacoeconomics and health Technology Assessment
News from Drug Policy
Diabetology in Present Time and its Perspective in Cinical Practice, Pharmacoeconomics and HTA
The conference was organized by Slovak Society for Pharmacoeconomics (SSFE) and WHO Bureau fro Slovakia, and with the participation of ISPOR Chapter Slovakia, Faculty of Health Care of Trencin University and Institute of Pharmacology of Slovak Medical University.We are very glad that we have welcomed the representatives of Ministry of Health as speakers and also several other institutional speakers from Health Insurance Funds, Slovak Medical University, Patient's Association. We assumed that the conference had high quality and that the content was greatly beneficial for all participants.All presented lectures are published on the website of WHO Bureau in slovakia (www.who.sk) a few days after the conference.There were more than 100 participants registered, 16 lectures were presented in total. (Report from ISPOR Slovakia Chapter).
---
ISPOR 19th Annual European Congress
29 October-2 November 2016, Austria Center Vienna, Vienna, Austria

Great Participation of ISPOR Slovakia Chapter at the Vienna Congress!


ISPOR Slovakia Chapter Activities at the Vienna Congress.

ISPOR 19th Annual European Congress in Vienna, Austria brought together under 5000 attendees from 89 countries of the world; congress featured nearly 2,500 presentations and included decision-makers, government officials, leading researchers and experts, academicians, students, pharmacists, public and private payers, HTA bodies, patients, patient advocates and many other stakeholders.

EMEA chapters showed great enthusiasm in organizing eminent meetings presenting interesting and urgent topics for the discussion, attracting numerous audience.

ISPOR Global Networks acknowledge a notable participation of ISPOR Slovakia Chapter Activities at the Vienna Congress: CEE Network Executive and Working Committee meetings, CEE Network Reception, plenary sessions, poster and podium presentations, issue panels, etc.

ISPOR Slovakia conducted a very constructive meeting discussing many exciting topics of great interest

ISPOR Slovakia Chapter Meeting Summary
---
ISPOR Good Practices for Outcomes Research Report: Translated into Slovak!

Budget Impact Analysis – Principles of Good Practice: Report of the ISPOR 2012 Budget Impact Analysis Good Practice II TaskForce1
Budget Impact Analysis Article
---
Educational Seminar

Methodological Requirements for Budget Impact Analysis (BIA)

The seminar, which took place on February 25th, 2015, in Bratislava, addressed all aspects of the preparation for BIA: legislative and methodological requirements in Slovakia, including requirements for calculation of costs and identifying the target population for treatment. More than 50 attendees from different work areas (academia, payers, students, industry representatives, health care providers) participated in this seminar. In addition to theoretical lectures, practical examples of BIA modelling were performed. Representative of health authority discussed the payer view and requirements on BIA. Participation in the seminar was accredited by the Slovak Accreditation Council for Continuing Medical Education.
---
Contact Information
Slovakia Regional Chapter Office

Trnavská cesta 70
821 02, Bratislava, The Slovak Republic

Tel/fax: + 421 2 50117348
Email
Chapter Leadership
| | |
| --- | --- |
| President | Maria Bucek Psenkova, Dr, MPH |
| President-Elect | Lucia Hlavinkova, MD, PhD |
| Past-President | Martin Visnansky, PharmD, MBA, PhD, MSc (HTA) |
| Treasurer | Stanislava Mackovicova, Ing |
| Director, Project Management | Martina Ondrusova, Dr, PhD, MPH, Assoc Prof |
| Director, HTA Methodology | Marek Psota, Mgr, PhD |
ISPOR Slovakia Chapter Past President, Martin Visnansky speaking at the seminar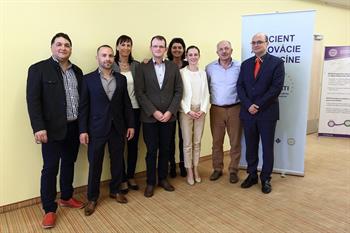 ISPOR Slovakia Chapter during the Educational Seminar, April, 2017, Bratislava, Slovakia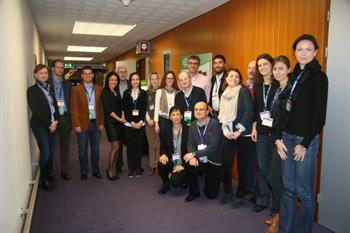 Members of ISPOR Slovakia Chapter Meeting at ISPOR 17th Annual European Congress, Amsterdam 2014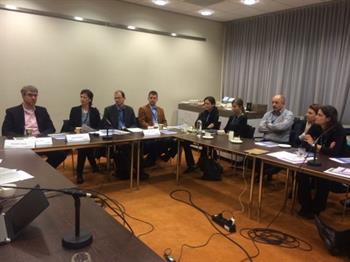 Prof. Zoltan Kalo (ISPOR CEE Network Executive Committee Chair) attending the ISPOR Slovakia Chapter meeting, Amsterdam 2014