Chapter Activities

Health Technology Assessment (HTA) and Health Economics in Uganda

A collaboration between ISPOR Uganda Chapter and Departments of Pharmacy, Global Health and Health Services, University of Washington

The "HTA & Health Economics in Uganda" workshop was held on August 4-5, 2015 in the Research Department of the Infectious Diseases Institute, Makerere University in Kampala. Participants addressed the following questions:

Is Uganda ready to establish a formal HTA body at a central level? If not, when will Uganda be ready?
Where should a body be located in the government? How independent should it be?
What are the potential applications of HTA for evidence bases policy development in Uganda?
What factors are conducive to introducing HTA in Uganda and what are the barriers?
What should the government disinvest and invest in , what selection criteria should be used? What are the possible barriers in the disinvestment? Who should be involved: stakeholders and target users?
---
Training Sessions by ISPOR Uganda Chapter

Cost-effectiveness Research in Resource Limited Settings

The sessions were held in Infectious Diseases Institute, Makerere University College of Health Sciences:
1:00pm-2:00pm Guest Lecture by Dr. Andreas Kuznik, Director, Global Health Economics and Outcomes Research, Pfizer, New York, NY, USA
2:30pm-4:00pm Training Session: Introduction to Markov Modeling by Dr. Kuznik

For follow up materials, please contact: isporuganda@gmail.com
---
ISPOR 16th Annual European Congress, Dublin, Ireland, November 2013

Inaugural ISPOR Uganda Chapter Meeting

Agenda
---
Contact Information
ISPOR Uganda Regional Chapter Office

Infectious Diseases Institute, Makerere University College of Health Sciences
P. O. Box 22418
Kampala, Uganda

Tel/fax: +256-414-307226
E-mail: isporuganda@gmail.com
Chapter Leadership
| | |
| --- | --- |
| President | Mohammed Lamorde, MBBS, MRCP, PhD |
| President-Elect | Doris Kwesiga, MSc |
| Secretary | Agnes Gabriella Nyabigambo, MSc |
| Treasurer | Mark Ssennono, MSc |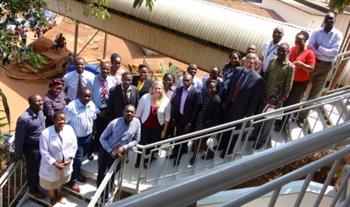 Participants of the HTA & HEOR workshop in Kampala, August 2015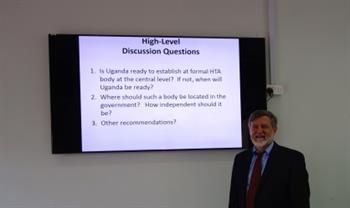 Prof. Lou Garrison led presentations on HTA & HEOR with Dr. Joseph Babigumira
Dr. Lamorde and ISPOR Founding Executive Director Dr. Marilyn Dix Smith at ISPOR 16th European Congress