Chapter Activities
News from ISPOR Chile Chapter

On Sunday, September 17, 2017, the Chapter organized a meeting which showcased a variety of HEOR topics for discussion. Over 40 Chapters were on hand to participate.

As of October 1, 2017, the Chapter welcomed new leadership with sincere thanks expressed towards past Chapter leaders.
---
Seminar- Incorporating Health Inequality Impacts into Economic Evaluation in Health Research

Seminario- Incorporando el análisis de impacto en desigualdad en evaluaciones económicas en salud

Location: Public Health Institute of Chile, Santiago, Chile
Date: 30 September 2014

The ISPOR Chile Chapter, in collaboration with the Chile Epidemiology Society (Socephi) and the Chile Health Society (Sochisal) invited Dr. Richard Cookson of the Centre for Health Economics at York University to speak on the subject of health inequalities impact analysis at the Auditorium of the Public Health Institute of Chile.

El Capítulo ISPOR de Chile en colaboración con la Sociedad Chilena de Epidemiología (Sochepi) y la Sociedad Chilena de Salubridad (Sochisal) invitaron al académico Dr. Richard Cookson del Centro de Economía de la Salud de la Universidad de York para dictar un seminario sobre el análisis de impacto en desigualdad en el auditórium del Instituto de Salud Pública de Chile.
News Across Latin America - Newsletter

News Across Latin America Latest Issue
---
Contact Information

ISPOR Chile Regional Chapter Office
Marcoleta 434 Santiago Centro Santiago 833-0073 CHILE

Tel/fax: +56 (2) 354 3038 / +56 (2) 633 1840
E-mail
Chapter Leadership
| | |
| --- | --- |
| President/ Presidenta | Camila Quirland, PharmD, Msc |
| President-Elect / Presidente Electo | Rony Lenz, MA |
| Past-President / Presidente Anterior | Manual Espinoza, MD, MSc, PhD |
| Secretary / Secretaria | Viviana Jara, MHA |
| Treasurer / Tesorero | Alberto Munoz, MA |
| Director / Directora | Magda Gutierrez, DDS, MSc |
| Director/ Directoria | Marcela Jiron, PharmD, MSc, PhD |
ISPOR Latin America 2019
12-14 September 2019 | Bogotá, Colombia
Data and Value in Healthcare: 2020 and Beyond
ISPOR Chile Chapter welcomes new leadership with Camila Quirland, PharmD, MSc, as Chapter President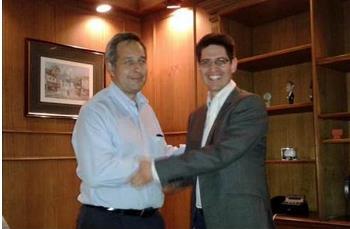 Rony Lenz, MA, ISPOR Chile Chapter President-Elect (left) and Manuel Espinoza, MD, MSc, PhD, Past President (right)