Chapter Activities
ISPOR Armenia Chapter Anniversary Meeting, 4 October 2017, Yerevan, Armenia

Implementation of Health Technology Assessment in Armenia and in Eurasian Economic Union Countries

ISPOR Armenia Chapter has conducted a meeting with the occasion of the celebration of five years of its creation on 4 October 2017 in Yerevan, Armenia.The topic of the meeting was: "The Implementation of Health Technology Assessment in Armenia and in the Eurasian Economic Union Countries". More than 30 attendees enjoyed the presentations of foreign and national speakers.

Dr. Lusine Abrahamyan, Assistant Professor, Clinical Epidemiologist from the University of Toronto made a presentation about intervention study designs and the introduction to Health Technology Assessment (HTA).

Anush Perikhanyan, President of the ISPOR Armenia Chapter, Yerevan State Medical University; Dr. Karapet Davtyan, Director of Tubersulosis Research and Prevention Center NGO and Project Manager for National Armenian SORT IT (Structured Operational Research and Training Initiative); Anastas Aghazaryan, Expert of the Center for National Accounts of Healthcare, National Institute of Healthcare named after S. Avdalbekyan of the Ministry of Health of Armenia and Dr. Narine R. Mirzoyan, Head of Clinical Trials Department and of Department of Clinical Pharmacology of the Scientific Center of Drug and Medical Technologies Expertise (SCDMTE) have been the national presenters at the meeting.
---
Publications

ISPOR Armenia Chapter Published 18 Articles in Armenian and CIS Scientific Jornals...

ISPOR Armenia Chapter Published 18 articles in major Armenian journals and various scientific journals of Commonwealth Independent States (CIS). Margarita Beglaryan, PhD, ISPOR Chapter member published a book "Customers Behavior in Pharmaceutical Market of Armenia".
---
ISPOR Armenia Chapter Successfully Conducted Training in HTA at the Yerevan State Medical University

Workshop "Application of Electronic Data Aimed at Healthcare Economy Assessment"

Workshop on Application of Electronic Data Aimed at Healthcare Economy Assessment " was held in YSMU at the end of January, 2016.The workshop has been organized in the frames of "Healthcare Technology Assessment Development in Armenia" by the ISPOR Armenia Chapter headed by their President, Anush Perikhanyan, who made a very interesting and knowledgable presentation about "General Introduction to Health Technology Assessment (HTA); she has recently attended the ISPOR HTA Training Program in Zagreb, Croatia and was sharing her learnings with the audience.

The meeting has been attended by the professionals, academia, decision makers,researchers and postgraduate students from Armenia. The workshop has been welcomed by Dr. Mikayel Narimanyan, Rector of YSMU. In particular, he mentioned the following: " This workshop is very important as we have the opportunity to figure out about the new approaces in key fields of our acrtivities such as pharmacology, pharmacyadministration, pharmaceutical economy. A sa doctor and a clinician, I often deal with issues such as what right that should be efficient, safe and accessible. This issue in particular is actual for those doctors who work in the primary field since they are the first to prescribe the medicine and itis of a vital importance that they are always properly informed what is going on in the medicine market."

Dr. Marta Simonyan, Senior Lecturer, Drug Management Department, YSMU, introduced the activities and major initiatives of ISPOR Organization, spoke about the ISPOR European Congress in Milan, Italy and updated the attendees on the upcoming activities of ISPOR Armenia Chapter.

Nadia Kvizhinadze, President of ISPOR Georgia Chapter was among the international guests at the workshop and shared the experiences of innovations and appllications of HTA in Georgia. Dr. Tigran Arzumanov, HTA specialist from Switzerland presented a very interesting lecture about curent eHealth state and trends andfuture aoolications of EHR networks in patient care, drug development and healthcare business. His lecture has been received with a great enthusiasm by the attendees.

Dr. Vahram Ghushchyan, American university of Armenia offered a very interesting speech about electronic health records and patient care improvement; use of EHR in comparative effectiveness research, he also presented some good examples of EHRs use: "Comparative Clinical Effectiveness and Drug Toxicity with Hydrochlorothiazide and Chlorthalidone Using Two Potency Ratios ina Managed Care Population".

All the presentations and discussions during the workshop have been considered very useful, up to date and knowledgable for the educational programs of the higher educational institutions, policy and decision makers, pharmacologists and scientists in Armenia.
---
Contact Information
ISPOR Armenia Regional Chapter Office

Yerevan State Medical University
Department of Pharmaceutical Management
2 Koryun Street
0025 Yerevan, Armenia

Tel/fax: +374 10 566 46 40; Fax: +374 10 582532
Email
Chapter Leadership
| | |
| --- | --- |
| President | Vahram Ghushchyan, PhD |
| President-Elect | Ara Amirjanyan, MPharm, MPH |
| Secretary/Treasurer | Garnik Karapetyan, PhD |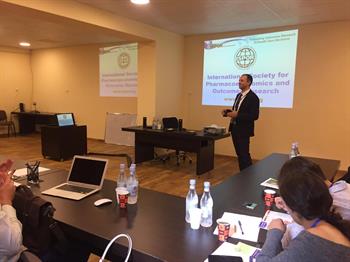 Dr Karapet Davtyan, presenting about the healthcare system challenges in Armenia during the ISPOR Armenia Chapter Meeting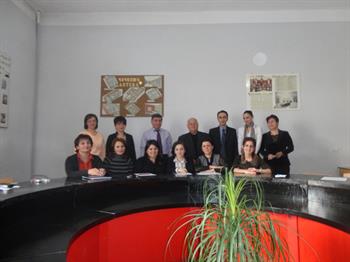 ISPOR Armenia Chapter Leadership Meeting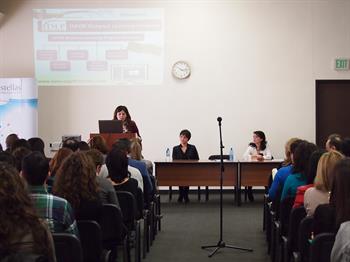 Anush Perikhanyan, ISPOR Armenia Chapter President is Conducting a Training Course