"Advances in the Institutionalization of Health Technology Assessment in Argentina"
In Argentina, since the creation in 2009 of the Coordinating Unit for the Evaluation and Execution of Health Technologies (UCEETS), within the orbit of the then Ministry of Health, the debate on the evaluation of health technologies (ETS) has been in the agenda of the decision makers of the health system. At the same time, entities that carry out ETS activities have been created and developed, both in the public and private spheres.
In recent years in the Latin American region, clear progress has been observed in the institutionalization of the STD, especially since 2012 when the Member States of the Pan American Health Organization (PAHO) approved the resolution on "Evaluation and incorporation of health technologies in health systems in the Region ", which invited member countries to promote the creation of decision-making processes for the incorporation of health technologies based on ETS. In this context, in Argentina since 2015, the current national administration has constituted as a central objective of its health policy the creation of a National Health Technology Assessment Agency (AGNET). However, despite the time elapsed,
However, there have been advances that must be emphasized. On the one hand, since the beginning of 2018, a project to create an AGNET has been sent to the legislature as a decentralized and autarchic organization, with the aim of providing an explicit, objective and transparent framework for health technology coverage policies; which is currently being debated in the Senate of the Nation. On the other hand, and until the legislative debate on the creation of AGNET was finalized, a National Health Technology Assessment Commission (CONETEC) was created within the scope of the Ministry of Health. The CONETEC has the competences to conduct health technology assessments in order to issue recommendations on their appropriate use, opportunity and way of incorporation for their financing and / or coverage.
Participations of ISPOR Argentina Chapter in seminars and congresses during 2018



In October we participated in the INTERNATIONAL SEMINAR ON EVALUATION OF SANITARY TECHNOLOGIES at the Argentine Catholic University (UCA) organized by the ICEM Foundation with the collaboration of Novartis. This event was attended by Andrea Alcaraz, President-elect of the chapter, and María Natalia Albaytero, Treasurer of the same. This meeting counted on the dissertation of Dr. Josep María Argimon, Director of the Catalan Health Institute of the Government of Catalonia, Spain.
At the beginning of November, Javier Valverde, member of the board of directors, attended the UPDATE OF THE ESTIMATION OF THE NECESSARY EXPENDITURE TO GUARANTEE THE ARGENTINE ASSISTANCE COVERAGE. This was the fourth update of the value of the Compulsory Medical Program (PMO) organized by the ISALUD University together with the objective of knowing the value of the benefit basket and assessing the financing capacity of the agents obliged to provide it to their members .
ISPOR Chapter Argentina was also present, through its President-elect, Andrea Alcaraz and the Chapter Secretary, Maria Gabriela Fernandez, at the "X MEETING OF THE NETWORK OF EVALUATION OF TECHNOLOGIES IN HEALTH OF THE AMERICAS (RedETSA): Evaluation of Technologies Sanitary and policies for an effective and equitable access to medicines ", which took place in November in Buenos Aires. It was the first time that Argentina hosted RedETSA meeting. The Secretary of the Government of Health of the Nation, Adolfo Rubinstein, inaugurated the event accompanied by leading figures from the Latin American health field.
---
Marcando 10 años de aniversario...
El Capítulo ISPOR Argentina celebró un evento en marzo del año en curso, 2018 , en la Pontificia Universidad Católica Argentina (UCA). Se realizará una mesa de discusión sobre la actual resolución 370-E/2017 de la Superintendencia de Servicios de Salud (SSS) que abre el inicio de la Evaluación de Tecnologías Sanitarias en la seguridad social de Argentina. Representantes de entre los productores, financiadores, tomadores de decisión, y la academia fueron invitados a participar en esta reunión importante.
---
ISPOR Latin America 2019
12-14 September 2019 | Bogotá, Colombia
Data and Value in Healthcare: 2020 and Beyond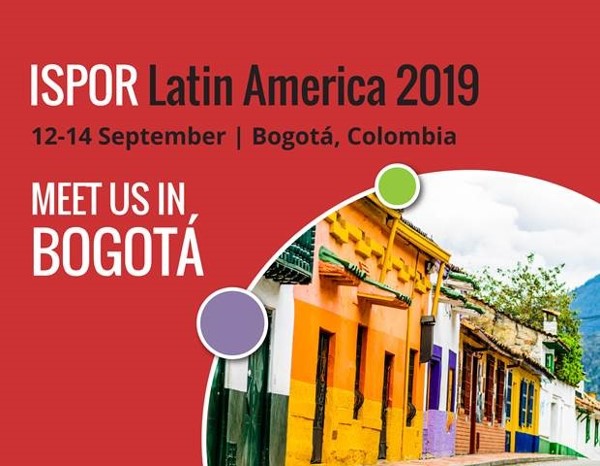 Compartimos las disertaciones que presentaron integrantes del capítulo en destacados eventos y conferencias:
Durante el primer semestre del 2017, integrantes del Capítulo Argentina disertaron sobre diferentes temas tales como "Real World Evidence" y "Evaluación de Tecnologías Sanitarias (ETS)". En estas reuniones estuvieron involucrados decisores sanitarios argentinos y otros actores principales. Estos encuentros científicos/académicos tuvieron como objetivo facilitar políticas de acceso a las nuevas tecnologías orientadas a los pacientes.

Durante la segunda jornada de la Academia de Expertos Embajadores de Sustentabilidad celebrada en la Universidad Torcuato Di Tella, la presidenta anterior del Capítulo ISPOR Argentina, Mariana Glancszpigel, Actuario, disertó sobre "Datos y evidencias del mundo real: ¿por qué su avance?".

Médicos de distintas especialidades, financiadores, jueces y camaristas de distintas regiones de la República Argentina acudieron a la jornada y aprovecharon las herramientas disponibles para optimizar su trabajo diario y generar una red de contactos que permita favorecer la sustentabilidad del sistema de salud.

El Dr. Javier Valverde, integrante del directorio del Capítulo ISPOR Argentina e invitado por la Academia de Intercambio y Estudios Judiciales en el marco del Programa de Capacitación Judicial, disertó sobre "Derechos del paciente y regulación de medicamentos", destinado exclusivamente a los magistrados de América Latina.
---
Argentina Health Policy News

National Agency of Health Technology Assessment soon to be created in Argentina

NOTICIAS

En Argentina está próxima a crearse la Agencia Nacional de Evaluación de Tecnologías Sanitarias (AGNET).
La Superintendencia de Servicios de Salud (SSS) ha creado el "Observatorio de Precios de Medicamentos de Alto Costo".
En mayo de 2017, se publicó una normativa que regula la incorporación de nuevas tecnologías sanitarias al Programa Médico Obligatorio (PMO) de la República Argentina.
Haga clic aquí para ver el "Observatorio de precios" por la Superintendencia de Servicios de Salud
---
News Across Latin America - Newsletter
Want to stay up-to-date with the latest in HEOR in Latin America?

News Across Latin America Latest Issue
---
Contact Information
Argentina Regional Chapter
Quesada 1764 piso 3 Dpto A
C1429CNF
Ciudad Autónoma de Buenos Aires, Argentina

Chapter Leadership
President / President

Andrea Alcaraz, MD, MSc


President-Elect / President-elect

María Gabriela Fernández, PharmD


Past President / Past President

Jorge Elgart, BEc, MSc


Secretary / Secretary

Javier Valverde, PharmD


Treasurer / Treasurer

Natalia Albaytero

,

DMD

Director

Mariana Glancszpigel, Actuario


Director

Graciela Luraschi, PharmD, MSc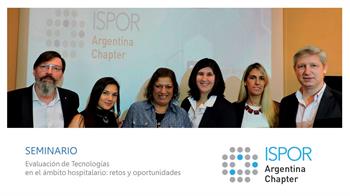 Junta Directiva del Capítulo Argentina actual (izquierda a derecha): Javier Valverde, PharmD (vocal), María Gabriela Fernández, PharmD (secretaria), Dra. Graciela Demirdjian, Coordinadora de la Unidad de ETS del Hospital Garrahan; Andrea Alcaraz, MD, MSc (presidenta electa); Natalia Albaytero, DMD (tesorera); y Jorge Elgart, MD, MSc (presidente).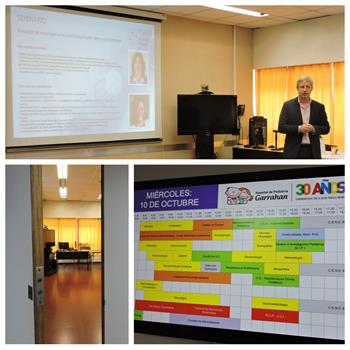 Jorge Elgart, MD, MSc, Presidente del Capítulo Argentina, disertando durante el seminario.
Las doctoras Andrea Alcaraz y Graciela Demirdjian disertando delante de un auditorio atento durante el seminario.