Chapter Activities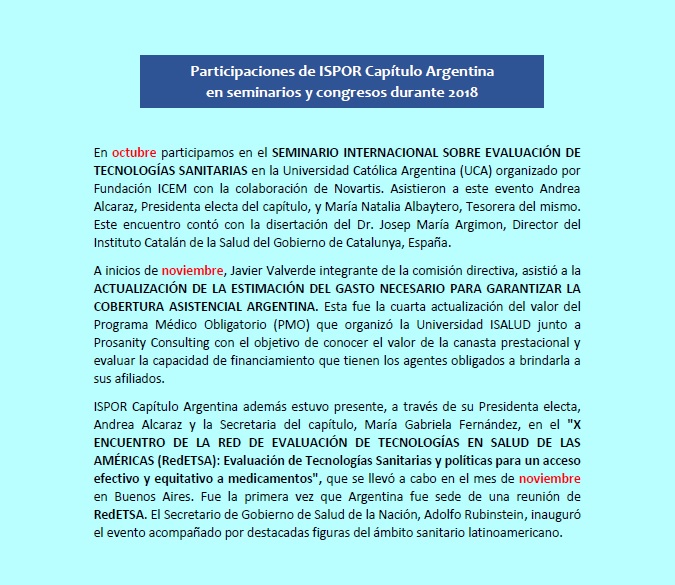 ******
Marcando 10 años de aniversario...
El Capítulo ISPOR Argentina celebró un evento en marzo del año en curso, 2018, en la Pontificia Universidad Católica Argentina (UCA). Se realizará una mesa de discusión sobre la actual resolución 370-E/2017 de la Superintendencia de Servicios de Salud (SSS) que abre el inicio de la Evaluación de Tecnologías Sanitarias en la seguridad social de Argentina. Representantes de entre los productores, financiadores, tomadores de decisión, y la academia fueron invitados a participar en esta reunión importante.
******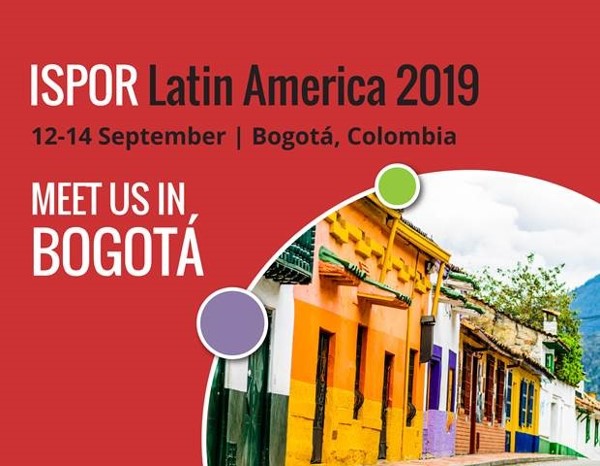 Abstract Submission Opens: 1 December 2018
Abstract Submission Deadline: 13 March 2019
******
Compartimos las disertaciones que presentaron integrantes del capítulo en destacados eventos y conferencias:
Durante el primer semestre del 2017, integrantes del Capítulo Argentina disertaron sobre diferentes temas tales como "Real World Evidence" y "Evaluación de Tecnologías Sanitarias (ETS)". En estas reuniones estuvieron involucrados decisores sanitarios argentinos y otros actores principales. Estos encuentros científicos/académicos tuvieron como objetivo facilitar políticas de acceso a las nuevas tecnologías orientadas a los pacientes.

Durante la segunda jornada de la Academia de Expertos Embajadores de Sustentabilidad celebrada en la Universidad Torcuato Di Tella, la presidenta anterior del Capítulo ISPOR Argentina, Mariana Glancszpigel, Actuario, disertó sobre "Datos y evidencias del mundo real: ¿por qué su avance?".

Médicos de distintas especialidades, financiadores, jueces y camaristas de distintas regiones de la República Argentina acudieron a la jornada y aprovecharon las herramientas disponibles para optimizar su trabajo diario y generar una red de contactos que permita favorecer la sustentabilidad del sistema de salud.

El Dr. Javier Valverde, integrante del directorio del Capítulo ISPOR Argentina e invitado por la Academia de Intercambio y Estudios Judiciales en el marco del Programa de Capacitación Judicial, disertó sobre "Derechos del paciente y regulación de medicamentos", destinado exclusivamente a los magistrados de América Latina.
---
Argentina Health Policy News

National Agency of Health Technology Assessment (AGNET) soon to be created in Argentina

NOTICIAS

En Argentina está próxima a crearse la Agencia Nacional de Evaluación de Tecnologías Sanitarias (AGNET).
La Superintendencia de Servicios de Salud (SSS) ha creado el "Observatorio de Precios de Medicamentos de Alto Costo".
En mayo de 2017, se publicó una normativa que regula la incorporación de nuevas tecnologías sanitarias al Programa Médico Obligatorio (PMO) de la República Argentina.
Haga clic aquí para ver el "Observatorio de precios" por la Superintendencia de Servicios de Salud
---
News Across Latin America - Newsletter
Want to stay up-to-date with the latest in HEOR in Latin America?

News Across Latin America Latest Issue
---
Contact Information
Quesada 1764 piso 3 Dpto. A
C1429CNF
Ciudad Autónoma de Buenos Aires, Argentina

Chapter Leadership
President / Presidente

Jorge Elgart

, MD, MSc

President-Elect / Presidenta electa
Andrea Alcaraz, MD, MSc
Past President / Presidente anterior

Lucas Naj

ú

n Dubos

, MD, MSc, MBA
Secretary / Secretaria

Mar

Í

a Gabriela Fern

á

ndez

, PharmD
Treasurer / Tesorera

Natalia Albaytero

, DMD
Director
Javier Ra

ú

l Valverde, PharmD
Director
Joaqu

Í

n Caporale, MSc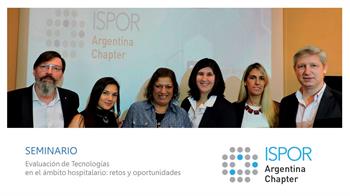 Junta Directiva del Capítulo Argentina actual (izquierda a derecha): Javier Valverde, PharmD (vocal), María Gabriela Fernández, PharmD (secretaria), Dra. Graciela Demirdjian, Coordinadora de la Unidad de ETS del Hospital Garrahan; Andrea Alcaraz, MD, MSc (presidenta electa); Natalia Albaytero, DMD (tesorera); y Jorge Elgart, MD, MSc (presidente).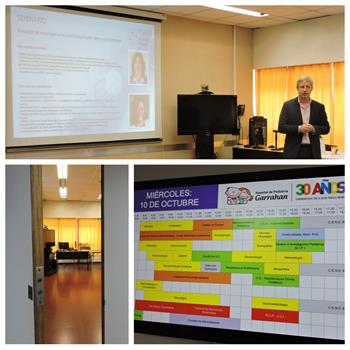 Jorge Elgart, MD, MSc, Presidente del Capítulo Argentina, disertando durante el seminario.
Las doctoras Andrea Alcaraz y Graciela Demirdjian disertando delante de un auditorio atento durante el seminario.