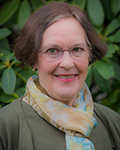 Beth Devine, PhD, PharmD, MBA is professor and graduate program director, The Comparative Heath Outcomes, Policy and Economics (CHOICE) Institute, School of Pharmacy, University of Washington (UW). She holds adjunct appointments in Health Services and Biomedical Informatics and is a member of the Institute for Public Health Genetics and the Plein Center for Geriatric Pharmacy Research. Trained in health services research as well as health economics and outcomes research (HEOR), Dr Devine's research interests intersect the disciplines of comparative effectiveness research (CER) using real-world evidence, patient-centered outcomes research, and precision medicine in the context of clinical informatics. She has expertise in evidence synthesis and has conducted numerous systematic reviews and network meta-analyses in the Bayesian and frequentist frameworks in therapeutic areas as diverse as immunotherapeutics, sickle cell disease, deprescribing in older adults, and health information exchange. Recent research contributions specifically include estimating the economic value of improving medication safety using electronic prescribing as well as the value to learning health systems of developing clinical decision support alerts to promote the uptake of pharmacogenomic biomarker-guided prescribing.

As graduate program director for The CHOICE Institute, director of the UW-AbbVie (legacy Allergan) Fellowship Program, director of the UW CHOICE Graduate Certificate Program in CER, and an associate director of the UW AHRQ T32 training grant in Health Services Research, Dr Devine has taught and mentored many PharmD and graduate students. She is the chapter advisor for the UW ISPOR Student Chapter and a member of the Faculty Advisory Council.

A member of ISPOR since 1999, Dr Devine's contributions include serving a member of the ISPOR Task Force on Indirect Treatment Comparisons (2009-2011), providing a workshop on the same topic at the 3rd Annual Latin American Conference (2011), and delivering a webinar for the Student Network (2016). With expertise in health technology assessment (HTA), she served as an ISPOR faculty member leading the Three-Day International Training Program in HTA, Princeton, NJ (2018). She is a long-time scientific reviewer for Value in Health, task force reports, workshops, and abstract submissions.

Dr Devine is an assistant director of the AHRQ-funded Pacific Northwest Evidence-Based Practice Center, an elected member of the Society for Research Synthesis Methodology, and a member of the AcademyHealth Methods and Data Council. From 2013-2018 she was a member of the PhRMA Foundation's CER Advisory Panel, co-leading 2 national invitational conferences that provided a discussion forum to design curricular advances for patient-centered CER (2014, 2017).

Dr Devine earned her PhD in health services research from UW, PharmD from University of the Pacific, and MBA from the University of San Francisco. She completed a post-doctoral fellowship in HEOR with UW and Roche Pharma Business. Prior to joining the faculty at UW, she was an advanced practice (prescribing) clinical pharmacist and pharmaceutical HTA lead at UCSF, during which time she served a term as president of the California Society of Health-System Pharmacists, earning their Lifetime Achievement Award for her leadership role in advancing the scope of practice for California pharmacists through legislation.

Vision Statement by Beth Devine, PhD, PharmD, MBA
Having been a member of ISPOR since 1999, I am energized by our remarkable collective growth, and by how we have improved the science of HEOR, helping our field to come into its own globally. This progress is testimony to the effective leadership that our members and staff have provided over the years. I am eager to apply my experience and expertise to continue this tradition as we address the foremost healthcare issues of our time.

Demographics are shifting, globally. Life expectancies are increasing; the proportion of those over 60 years of age will rise by 56% by 2030, from 901 million to 1.4 billion. Some countries are making strides in collectively funding their healthcare systems, while others lag. Innovative treatments with curative potential are coming to market, yet, estimating the value of these therapies is fraught with complexity and uncertainty. Issues of equity and access are under ever-increasing scrutiny in the context of the global pandemic. Correspondingly, we we have realized the importance of providing timely, even rapid, evaluations of potential public health interventions. Addressing aggregate affordability has become an even more pressing priority.
Developing solutions to these problems requires the skills and expertise of the talented ISPOR members who represent our many related disciplines. The ecosystem of HEOR is complex and rapidly evolving. The availability of big data derived from the transformation of data collected from all types of digital technologies has given rise to the discipline of data science. The field of precision medicine offers the opportunity to tailor therapies to those best positioned to respond. The emergence of curative therapies is testing both our health systems and our conventional frameworks for value assessment. Patient participation is integral to our work and to achieving meaningful outcomes. ISPOR members are directly addressing these issues, as we develop new methods, establish good research practices, and guide health policy.

Having accomplished the foundational goals of the 2016-2019 Strategic Plan, our Strategic Plan Update 2024 now guides our long-term strategic priorities, codified in 4 Strategic Pillars: 1) utilize our resources to educate, communicate and lead; 2) promote use of sound HEOR research practices; 3) engage stakeholders who touch our collective professional lives, and 4) lead and mentor junior members of the HEOR profession. As an educator, I am especially dedicated to providing opportunities for junior investigators, advocating for career paths that ensure a robust pipeline of diverse, future, scientist leaders.

If elected, I will be guided by ISPOR's Organizational Values and will strive to ensure we use sound science, hold ourselves to high professional standards, embrace diversity, and pursue excellence while recognizing the importance of the complementarity of ISPOR members and high-quality staff in the success of the organization. We are an organization of over 20,000 members in 110+ countries. As the global leaders in the HEOR space, in collaborating we can achieve much. ISPOR has an exemplary 25-year track record on this front, and I would be honored to serve as a member of the Board of Directors leadership team.