Jens Grueger, PhD, MSc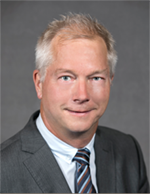 Jens Grueger is a Director and Partner at the Boston Consulting Group advising life sciences companies on pricing and market access. He is an Affiliate Professor of Health Economics at the CHOICE Institute, University of Washington School of Pharmacy and is ISPOR's 2019-2020 President-Elect

Previously, Jens had a distinguished career in the pharmaceutical industry. He was Senior Vice President and Head of Global Access for F. Hoffmann-La Roche (2011-2019). Jens was Vice President and Head of Global Market Access Primary Care at Pfizer (2009-2011), Head of Global Pricing & Health Economics at Novartis (1999-2009), and Director of Health Economics at the German affiliate of SmithKline Beecham Pharma (1994-1997). He founded Diversified Health Systems, an internet-based disease management services start-up (1997-1999).

Jens holds a MSc in Medical Statistics and Theoretical Medicine and a PhD in Mathematical Statistics from the Technical University of Dortmund, Germany and has authored more than 40 publications.