Summit Venue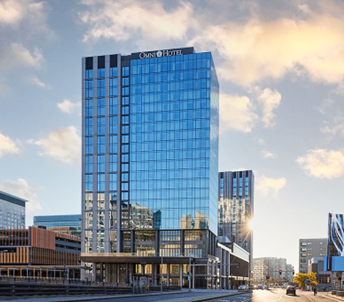 Omni Boston Hotel at the Seaport
450 Summer Street, Boston, MA 02210
Omni Boston Hotel at the Seaport is located in the center of the bustling Seaport District, across the street from the Boston Convention and Exhibition Center. Boston's geographical location makes it an ideal and easy gateway for attendees traveling either nationally or internationally. The BCEC is also surrounded by several hotels, making the commute to/from the event each day quick and convenient. Whether it's by car, train, or bus, getting to and from the Omni Boston Hotel and BCEC couldn't be easier!

Boston Logan International Airport (BOS) is approximately 10-minutes from the Omni Boston Hotel, and 15-minutes from downtown Boston with several airport and public transportation options to downtown, the Seaport district, and suburban locations.
Hotel Accommodations
As a co-located event at ISPOR 2023, RWE Summit attendees have access to the full list of hotels within the ISPOR 2023 hotel program. ISPOR has secured several hotels within the ISPOR 2023 hotel program at preferred rates. The hotel program includes a variation of hotel brands located near the Boston Convention & Exhibition Center and Downtown Boston.
View Hotels & Book Reservations

Health & Safety
ISPOR is committed to the health and well-being of our attendees. We are closely monitoring the local and CDC guidance and working with the Omni Boston at the Seaport hotel safety professionals to develop and execute our health and safety plan. Our health and safety plan will be updated with further details as necessary. Please visit our RWE Summit website for the most up-to-date health and safety information, registered conference attendees will receive important updates via email.
Attendance Protocols 
While ISPOR encourages all registrants to be fully vaccinated before attending the ISPOR 2023 conference, proof of vaccination or a negative COVID-19 test result is not required for entry into the conference. We encourage you to take a COVID test before attending the conference, if you test positive or are experiencing symptoms before or during the Conference, we request that you do not attend to protect the health of other attendees.   
 Masks 
The Boston Public Health Commission (BPHC) strongly recommends wearing a mask while indoors, including when using public transportation, in government buildings, and in crowded outdoor venues. Masking is especially important for those who are at higher risk for severe illness, such as people who are not fully vaccinated, seniors, and those who are immunocompromised. Wearing a well-fitting mask minimizes your likelihood of contracting and spreading the virus.
For more information click here.
External Health & Safety Resources
Centers for Disease Control and Prevention
U.S Department of State Travel Rules and Regulations