ISPOR's Strategic Plan:
Guiding the Society Into the Future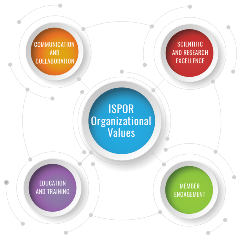 As a contemporary organization, ISPOR understands the importance of careful reflection and reinvention. Toward that goal, the Society routinely reviews and refines its governance, operations, and business approaches to continuously improve the value of membership.
The Society considers its Strategic Plan as a "living document"—something that is regularly evaluated to ensure ISPOR is well positioned and well informed to remain a responsive, effective leader in the field. These and other initiatives are underway in support of ISPOR's Strategic Plan 2024.
The following key initiatives are helping to shape the "new" ISPOR toward our goal of enhancing member value through continuous improvement.
Governance Initiative
ISPOR recently completed a comprehensive review of the Society's structure, policies, and procedures to facilitate agile decision making that invites input from all stakeholders and member groups. The recent introduction of new councils, such as the Global Engagement Council, helps ensure that the voice of all ISPOR regional members, chapters, and local governance are considered and reflected in our reports and conferences. The new Patient Council serves as the home for patient engagement activity, and a new Education Council will align educational programs to create synergy and foster greater information sharing worldwide.
Research and Scientific Excellence
ISPOR is restructuring its Health Science Policy Council to engage more members to play an active role in shaping the Society's content development strategies. Every ISPOR council, committee, and group is now represented and actively contributing to the Health Science Policy Council's various committees. Additionally, the Health Science Policy Council is resourced (with both volunteers and staff) to respond to public calls for comment and to assist other ISPOR groups in strengthening our scientific programs and conferences.
"All Meetings" Assessment
ISPOR's goal is to produce the most influential conferences for health economics and outcomes research. In 2016, the All Meetings Assessment Initiative implemented its own continuous quality improvement program to regularly evaluate feedback from attendees and to critically assess the performance of plenaries sessions and scientific content to ensure that ISPOR conferences and summits remain highly valued and well attended.
Systems and Infrastructure
ISPOR is making thoughtful investments in information technology to strengthen its responsiveness to our members. These new systems will allow us to offer online member engagement activities and tools, and will allow volunteers to customize their member experience. Delivery of these new systems will roll out throughout 2018-2019.
Communications and Branding
ISPOR recently revamped its communications and branding platforms, including the launch of an updated logo and brand to better reflect its membership and the Society's leadership position in the field. With more than 20,000 members in 120+ countries, ISPOR is reaching across disciplines and across borders with more vibrant and relevant communication approaches to reach and engage a global audience of HEOR professionals. For more information, view our award-winning video that outlines ISPOR's new branding strategy.