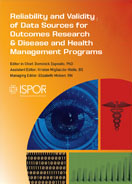 Publication May 2013
This handbook provides an overview of the sources of data for conducting 'real-world' outcomes research. The reader will learn how to use and assess the reliability and validity of electronic health records, medical charts, claims and medication databases, alternative population-based data sources, and patient-reported outcomes, as well as other self-reported data.
Each section describes the challenges to using different data sources and how to overcome them. Methods used to conduct outcomes research and approaches for experimental and retrospective research designs are described with examples from practice.
The ISPOR Health and Disease Management Special Interest Group developed this handbook as resource to improve the evidence base in health care studies with the ultimate goal of better patient outcomes and lower health care costs.
The citation is:
Esposito D, ed. Reliability and Validity of Data Sources for Outcomes Research & Disease and Health Management Programs. Lawrenceville, NJ: ISPOR, 2013.
Section 1: Claims Databases
Section 2: Electronic Health Records
Section 3: Patient Reported Outcomes
Section 4: Alternative, Population-Based Data Sources
Section 5: Statistical Approaches and Methods
Editor-in-Chief:
Dominick Esposito, PhD, Deputy Director, Center on Health Care Effectiveness and Senior Economist, Mathematica Policy Research, Inc., Princeton, NJ, USA
Assistant Editor:
Kristen Migliaccio-Walle, Associate Director, Global Value Strategies, Xcenda, Palm Harbor, FL, USA
Managing Editor:
Elizabeth Molsen, RN, Director, Scientific & Health Policy Initiatives, ISPOR, Lawrenceville, NJ
Section Editors:
Part 1: Claims Databases
Renée J.G. Arnold, PharmD, RPh, Principal, IMS Health, New York, NY, USA; Adjunct Associate Professor, Department of Community and Preventive Medicine, Mount Sinai School of Medicine, New York, New York, USA; Adjunct Full Professor, Div. of Social and Administrative Sciences, Arnold and Marie Schwartz College of Pharmacy, Long Island University, Brooklyn, NY, USA
Iftekhar Kalsekar PhD, Director, Health Services, US Medical, Bristol-Myers Squibb, Plainsboro, NJ, USA
Part 2: Electronic Health Records
Ryung Suh MD, MPH, MBA, Assistant Professor, Georgetown University, Washington, DC, USA
Carla Zema PhD, Assistant Professor, St. Vincent College, Latrobe, PA, USA
Part 3: Patient Reported Outcomes
Robin Turpin PhD, Senior Director, Global Health Economics, Baxter Health­care, Deerfield, IL, USA
Lisa Mucha PhD, Associate Director, Pfizer, Inc., Collegeville, PA, USA
Anandi Law PhD, Associate Professor, College of Pharmacy, Western Uni­versity of Health Sciences, Pomona, CA, USA
Part 4: Alternative, Population-Based Data Sources
Christopher Frei, PharmD, MSc, Assistant Professor, College of Pharmacy, University of Texas at San Antonio, San Antonio, TX, USA
Part 5: Statistical Approaches for HDM Program Evaluation
Joel Hay, PhD, Professor, Pharmaceutical Economics & Policy, University of Southern California, Calabasas, CA, USA
Authors:
Section 1: Sanjeev Balu PhD, MBA; Mireya Diaz PhD; Tao Fan PhD, MS; Lisa Mucha PhD; Bijal Shah PhD; Heidi Waters MS, MBA
Section 2: Jaspal Ahluwalia MD, MPH; Farrokh Alemi PhD; Andrew Einhorn, MS Brent R. Gibson MD, MPH; Sam Ho, MD, Sarah Johnson; Edward Kim MD, MBA; Jason Ormsby, PhD, MBA, MHSA, Rachel Shapiro, MPP Steven R. Simon, MD, MPH
Section 3: Ljubica Besker MD, PhD; Mark Bounthavong PharmD; Larry Goldberg MD, MBA; Teresa Hartman MLS; I-Chan Huang PhD, MSc; Sue Jennings MAEd, MPH, PhD; Anandi Law PhD; Lisa Mucha PhD; Jayashri Sankaranarayanan PhD, MS; Jane Speight CPsychol, AFBPsS, FRSM; Gergana Zlateva PhD
Section 4: Renee G. Arnold RPh, PharmD; Christopher Blanchette PhD, MS, MA; William Crown PhD; Tammy Curtice PharmD, MS; Frank Ernst RPh, MS, PharmD; Teresa Hartman MLS; Mariam Hassan DrPH; Krista Payne MEd; Hans Petersen MS; Dennis W. Raisch RPh, PhD; Jayashri Sankaranarayanan PhD, MS
Section 5: Joanna Campbell PhD; Rahul Jain PhD; Chenghui Li PhD; Roger Luo PhD; Nalin Payakachat MSc, PhD; Pedro Plans Rubio MD, MSc, MBA; Ashish Parekh MS; Hans Petersen MS; Ebere Onukwugha PhD; Qayyim Said PhD