Chapter Activities
ISPOR Uzbekistan Chapter Held a Meeting and Seminar in Spring 2019
The ISPOR Uzbekistan Chapter had a meeting that featured presentations from various healthcare stakeholders including chapter leadership and healthcare providers such as an endocrinologist and ophthalmologist to share insights into the country's health system.
Meeting participants pictured above
ISPOR Welcomes Uzbekistan Chapter to the ISPOR Regional Chapters' Family!

Congratulations to the ISPOR Uzbekistan Chapter! The formation of another ISPOR Chapter in the Central Asia!

ISPOR Board of Directors Approved the Formation of the ISPOR Uzbekistan Chapter!

ISPOR International Development Team (Asia, Africa, Europe, and Oceania) is happy to acknowledge that the ISPOR Board of Directors unanimously approved the formation of ISPOR Uzbekistan Chapter with congratulations and many thanks to Professor Nizom Davurovich Suyunov, President of the ISPOR Uzbekistan Chapter for the leading mission in its creation! ISPOR Uzbekistan Chapter is welcome to the ISPOR family of Chapters!

For developing pharmacoeconomics and outcomes research as well as Health Technology Assessment (HTA) nationwide in such a remote Central Asian country as Uzbekistan!

Professor Suyunov has recently attended the HTA Traning Program in Astana, Kazakhstan as well as the ISPOR HTA Asia net Roundtable and is ready to join the force together with ISPOR Kazakhstan, Kyrgyzstan, Tadjikistan chapters to further development and application of PEOR in Central Asia as well as to increase the participation of Uzbekistan Chapter members at ISPOR Asia-Pacific conferences and ISPOR International Meetings a nd Congresses.

This Chapter will serve as a bridge in bringing together country researchers, health care practitioners, and decision-makers interested in health technology assessment , pharmacoeconomics, members of pharmaceutical medical device/diagnostics industry, academia and act as a key resource;at a local level in providing an opportunity for the Republic of Uzbekistan to become more familiar with the activities of ISPOR, as well as participate in its activities.

ISPOR's presence through ISPOR Uzbekistan Chapter will provide the opportunity to spread knowledge about health economics and outcomes research; health technology assistance.

ISPOR Uzbekistan Chapter under the leadership of Professor Suyunov is very enthusiastic about the planned upcoming Activities of the chapter:

Promote the dissemination of ISPOR information about the mission and objectives of the organization among policy makers and health specialists on all levels;

Provide the Round tables and Workshops on HTA skills training for all interested health specialists inviting colleagues from ISPOR Kazakhstan, Kyrgyzstan, and Tajikistan Chapters;

Work on the collaboration of the ISPOR Chapters in Central Asia under the umbrella of Asia Consortium; Implement the principles of evidence based medicine and HTA in process of National practice clinical guidelines development;

Train of young researchers basics of pharmacoeconomics/health economics and international research approaches.

Work on the formation of the Young professional's team and Student Chapter;

Conduct educational sessions on HTA principles for medical students of the Department of Management of Pharmacy in Tashkent Pharmaceutical Institute and Tashkent State Medical University;

Attend and actively participate in ISPOR Asia-Pacific Conferences, as well as in ISPOR International meetings.

Professor Suyunov has been actively participating sending his articles to the "News Across Asia" and "Value in Health Regional Issue
---
Contact Information
Uzbekistan Regional Chapter Office

Department of Pharmaceutical Business Organization
Tashkent Pharmaceutical Institute
Room 80, Building 2, Oybeck 45
Tashkent, Uzbekistan 100015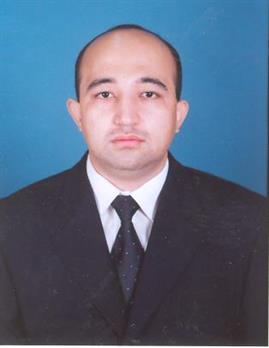 Professor Nizom Davurovich Suyunov, President of the ISPOR Uzbekistan Chapter