The Chapter Collaborates on Certificate in Evidence Based Medicine

28-29 September 2019, Dubai, UAE
The Chapter is participating in this newly offered certificate in efforts to develop research skills in the UAE and the region. For details about the certificate program and registration, please access the Chapter Report.
Also, to help promoting further HEOR training and education in the region, the Chapter has recently conducted a Research Methodology Survey that focused around three main themes: participants' demographics and education, experience in research, and areas of interest and what types of trainings and education topics are important. The goal of the survey is to understand the knowledge, attitudes and experiences of different stakeholders in the region. The survey is still in progress, for preliminary results, please access
here
.
---
Chapter Activities
ISPOR United Arab Emirates Chapter Meeting - March 13, 2018

Habtoor Grand Resort - Dubai, UAE

The meeting focused on discussing current and upcoming chapter activities and was attended by 28 chapter members. Further topics included: draft of UAE Pharmacoeconomic Guidelines, professional development for students and young professionals, and starting an ISPOR Students Chapter.
---
GCC Pharmacoeconomics Forum, 27 - 28 September 2017, Dubai, UAE

Education on Health Economics and Challenges Concerning Healthcare Funding for Pharmaceutical Innovation and Access

SR ISPOR United Arab Emirates Chapter and MONAH have organized the GCC Pharmacoeconomics Forum that was held 27-28 September 2017 at the Conrad Hotel Dubai in Dubai, UAE.

The rapid growth of pharmaceutical expenditure has led to an increased interest in the economic evaluation of healthcare interventions. Currently pharmacoeconomics is used in a wide range of areas, eg, drug registration, formulary management, to define drug policy, development of treatment guidelines, controlling drug expenditure, purchasing negotiation, pricing in the pharmaceutical industry, to justify reimbursement decisions, and in the individual patient treatment decisions.

The forum brought together decision makers, regulatory authorities, payers, healthcare providers, healthcare professionals, health insurance companies, pharmaceutical companies, and academia in the GCC Region.

The forum covered the following subject areas: education on pharmacoeconomics and outcomes research techniques and methodologies, the use of pharmacoeconomics in international settings, pricing of medicines and medicinal products, rational and efficient utilization of healthcare resources, Current experiences, future opportunities and challenges in advancing health economics and outcomes research in GCC.

International speakers included: Prof Lieven Annemans (Belgium), Prof Olivier Chassany (France), Prof Salah Mahmoud (Canada), Dr Ross McLean (USA), Dr Christine Leopold (USA), among the others. Dr Amin Al Amiri, Fahad Al Dossari, Dr Ola Al Ahdab, Dr Mubarak Al Ameri, Dr Sahar Abu Omar, Dr Abdulaziz Al Saggabi, Dr Salah Al Awaidy, Dr Abdallah Al Sabah, Dr Yacoub Hadad, Dr Sherif Mahmoud, and Mr Mairza Qouneh represented the GCC region.

---
ISPOR 19th Annual International Meeting, Montreal, QC, Canada, May-June 2014

ISPOR United Arab Emirates Chapter Activities at the Meeting

ISPOR United Arab Emirates Chapter presented presented in:


ISPOR Arabic Network Forum: Capacity Building in Pharmacoeconomics in the Arabic-Speaking Countries: Challenges and Opportunities in Education and Training
In addition the chapter attended the ISPOR Arabic Network Meeting that discussed the upcoming initiatives for a regional collaboration with ISPOR chapters in Western Asia and North Africa. In addition, chapter members attended a joint ISPOR Africa and Arabic Networks Reception.

Form more information visit:
ISPOR Arabic Network
ISPOR Arabic Network Forum Released Presentations
---
Participation of ISPOR Arabic Network Leadership Meeting

At ISPOR 18th Annual International Meeting

Attended ISPOR Arabic Network Leadership Meeting during ISPOR 18th Annual International Meeting, New Orleans, LA, USA, Tuesday, May 21, 2013, Sheraton New Orleans.
---
Contact Information
ISPOR United Arab Emirates Regional Chapter Office
PO Box 44171
Abu Dhabi, UAE

Tel +9712-6520563
Thank you for visiting the ISPOR United Arab Emirates Chapter webpage. Do you have questions about chapter's activities or would like to become a chapter member? Please contact ISPOR United Arab Emirates Chapter here to discuss your interest and find out how to join the chapter. We also encourage you to visit the ISPOR website to learn more about the Society and how to participate in its communities. If you are interested in joining the global ISPOR organization, receiving news updates, and many more benefits of ISPOR membership, please access Join Now.
Chapter Leadership
| Chapter Position | Name |
| --- | --- |
| President | Ola Ghaleb Al Ahdab, PhD Pharm |
| Treasurer | Abobakr AbaSaeed, PhD Pharm |
| Director | Osama Mohamed Ibrahim, PhD Clinical Pharm |
| Director | Mubarak Nasser Al Ameri, PhD |
| Director | Kasem Akhras, Pharm D |
| Director | Mohamed Tannira, MSc Pharm |
| Director | Saeed Noibi, BSc Pharm |
| Secretary | Rasha Ali, MSc Pharm |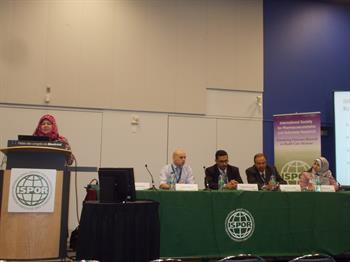 Dr Ola Al Ahdab Albannay presenting at the ISPOR Arabic Network Forum, Montreal, Canada, 2014.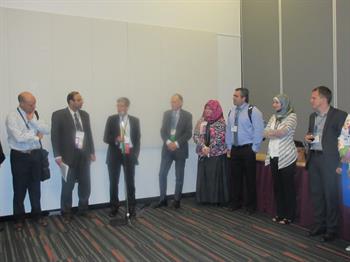 ISPOR Arabic Network and ISPOR Africa Networks Reception, Montreal, Canada, 2014.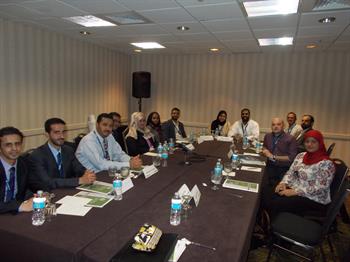 ISPOR Arabic Network Leadership Meeting, New Orleans, LA, USA, May 2013.