Chapter Activities
Participation of ISPOR Arabic Network Leadership Meeting

ISPOR 18th Annual International Meeting

Attended ISPOR Arabic Network Leadership Meeting at ISPOR 18th Annual International Meeting, Sheraton New Orleans, LA, USA, Tuesday, May 21, 2013,

Agenda
---
2013 ISPOR Arabic Network Forum

Health Care Data in the Arabic - Speaking Countries: Challenges in Collecting, Sharing, and Applying

ISPOR Arabic Network Forum: "Health Care Data in the Arabic - Speaking Countries: Challenges in Collecting, Sharing, and Applying." Presentations included speakers from: ISPOR Egypt, Qatar, Saudi Arabia and United Arab Emirates Regional Chapter, 2013
---
Health Economics Workshop

Organized by ISPOR Saudi Arabia Chapter

Health Economics Workshop: Presenting speakers included: Dr. Lieven Annemans, Professor of Health Economics, Ghent University and Brussels University and Dr. Peter J. Lin MD CCFP, the past - Medical Director of University of Toronto, Health and Wellness Center and the Director of Primary Care Initiatives in the Canadian Heart Research Center.
April 4th, 2013
Riyadh Marriott Hotel
Riyadh, Saudi Arabia
April 5th, 2013
Jeddah Movenpick Hotel
Jeddah, Saudi Arabia
---
Making Efforts on Developing Pharmacoeconomic Guidelines

Current Activity for The Chapter

The Chapter is currently engaged in efforts on developing Pharmacoeconomic guidelines for Saudi Arabia and to convince relevant government officials to mandate the guidelines use by drug companies for their pharmaceutical dossier submissions to facilitate pharmaceutical pricing & reimbursement decisions.
---
Contact Information
ISPOR Saudi Arabia Regional Chapter Office

ISPOR-Saudi Arabia (c/o Drug Policy & Economics Center), National Guard Health Affairs
P.O. Box 22490
Riyadh , Kingdom of Saudi Arabia 11426

Tel/fax: +966-1-2520088 ext: 43826, 43310
E-mail: dpec@ngha.med.sa
Chapter Leadership
| | |
| --- | --- |
| President | Suliman Alghnam, MHA, PhD |
| President-Elect | Hana Al-Abdulkarim, M.S, |
| Secretary | Mai Alsaq'aby, M.S |
Abdulaziz H. Al-Saggabi (left) presenting at the ISPOR Arabic Network Forum, New Orleans, May 2013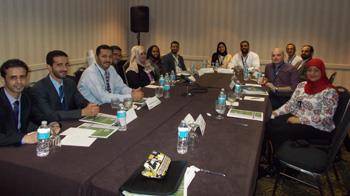 ISPOR Arabic Network Leadership Meeting, New Orleans, May 2013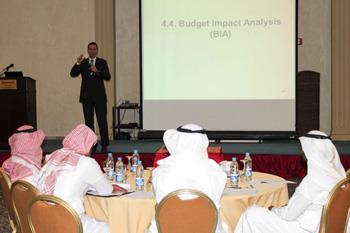 Dr. Lieven Annemans presenting during a workshop in Saudi Arabia.