ISPOR Educational Webinar: Open to All
Value Translation from Bench to Market: How to Proactively Address US Access Hurdles for Highly Innovative Therapies

Tuesday, October 15, 2019
10:00AM EDT | 3:00PM BST | 4:00PM CEST- 1 hour in duration
Click here for time zone conversion
Speakers:
Paul Gallagher, MBA, BA
Larry Hsu, MD
Roman Casciano, MSc
Robert Paglia, RPh, MBA
The global market access landscape is shifting as demands on the certainty of real-world value and performance are increasing. The disruption is arguably most apparent in the US, where drug pricing is now at the top of the political agenda, defining the 2020 presidential campaign as well as countless federal and state policy proposals. In the meantime, private payers have significantly enhanced access controls over prescribed therapies. The share of commercially insured beneficiaries with a benefit design of four (or more) tiers has increased to 51%, a nearly three-fold surge since 2011. Leading pharmacy benefit managers (PBMs) continue to increase the number of drugs excluded each year, readily touching once sacrosanct categories such as rare diseases. This seminar will present unpublished survey research and real-world cases to support access and HEOR leaders who are increasingly expected to translate value and evidence strategies from early stage development to ultimate success in this environment. Faculty will discuss strategies to bridge scientific evidence development with an understanding of distribution, contracting, and patient affordability factors that impact commercial valuation, such as Gross-to-Net margins. The contributions from different stakeholders will unveil the core elements of a successful value identification, creation, and communication approach in the light of ever more important and complex forces that shape US patient access.
Brought to you by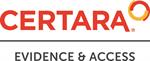 Learning Objectives:
Describe the key trends in the evolving US market access landscape and Identify hurdles in payment, coding and coverage
Cultivate early processes to develop critical evidence and realize full-value of potential US commercialization
Understand stakeholder perspectives on how to build a powerful evidence-based target product profile
Appreciate major access-related transactional costs that can decrease your gross sales during the US commercialization process
This webinar is open to All ISPOR Members and Non-members.
Discussion Leader:
Roman Casciano, MSc
SVP and General Manager
Certara Evidence & Access
Presenters:
Paul Gallagher, MBA
Vice President
US Access Strategy
Certara Evidence & Access
Larry Hsu, MD
Medical Director
Blue Cross Blue Shield of Hawaii
Robert Paglia, RPh, MBA
Head of Market Access
Servier Pharmaceutic
Please note: On the day of the scheduled webinar, the first 500 registered participants will be accepted into the webinar. For those who are unable to attend, or would like to review the webinar at a later date, the full-length webinar recording will be made available at the ISPOR Educational Webinar Series webpage approximately 2 weeks after the scheduled Webinar.
Reservations are on a first-come, first-served basis for all ISPOR members.