Venue & Hotel Information
Venue & Hotel Information
The ISPOR Warsaw 2019 Regional Meeting will be held on 27-28 March 2019 at the Airport Hotel Okecie.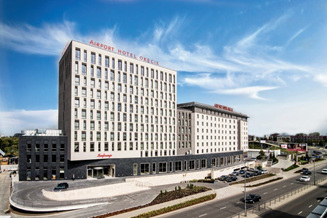 Airport Hotel Okecie
Workers' Defense Committee (Komitetu Obrony Robotników) 24
02-148 Warsaw, Poland
In the heart of the business part of Warsaw, Airport Hotel Okęcie pulsates with elegance and intelligent energy. It is an expression of modern hospitality by combining state-of-the-art solutions with a fondness for home warmth, hospitality, excellent cuisine and attentive service.
The location close to the Chopin Airport and expressways as well as convenient access to the center of Warsaw make the hotel a great base for travel, a professional conference and business center, and a place suitable for celebrating important moments.
Getting To Airport Hotel Okecie
From: Warsaw Chopin Airport
Distance from Airport: 5 Minute Taxi Ride
Complimentary Hotel Airport Shuttle
The hotel offers free 24-hour shuttle bus service from Airport Hotel Okęcie to Chopin Airport, as well as from the airport to the hotel.
Transfer from the hotel to the airport:
Shuttle bus runs every half hour, according to the timetable, around the clock.
Transfer from the airport to the hotel:
It takes place according to the needs of guests, on a telephone call, 24 hours a day. Call: +48 22 456 80 00 .
Waiting time at the designated Airport Hotel Okęcie station up to 15 min. Dedicated station is located at the Arrivals level at entrance no. 2
Hotel Parking
Parking is located in the underground garage and outside car park. An earlier reservation of parking spaces is not necessary. You can park your car yourself, according to your preferences. The parking fee is charged upon check-out. Please contact the hotel front desk directly for current pricing.
Booking Information
Book your hotel accommodations early and enjoy the convenience of staying right at Airport Hotel Okecie. Accommodations are available on a first come, first served basis. Book now to secure 10% off the "Price of the Day"! In order to receive the special rate, you must use booking code ISPOR WARSAW 2019.
Group Bookings
Group reservations for 10 or more rooms will be handled with separate contracts and separate regulations. Please contact Airport Hotel Okecie's reservation department at Rezerwacja@airporthotel.pl for further information.
Booking and Payment of Individual Hotel Reservation
Reservations made online will require full payment in order to confirm the hotel reservation. Please note that the beneficiary which will appear on your credit card statement for this payment is Koncept 2000+ Sp. z o.o. Sp.k. Alternatively, bank transfer for the entire accommodation amount can be made by 11.01.2019 and made out to Koncept 2000+ Sp. z o.o. Sp.k., mentioning ISPOR WARSAW 2019. Please do not forget to indicate your first and last name on the payment.
Bank Details:
Bank Account Name: Koncept 2000+ Sp. z o.o. Sp.k.
IBAN Number: PL 25 1090 1056 0000 0001 3526 9490
Bank Account Number: 25 1090 1056 0000 0001 3526 9490
Swift Code: WBKPPLPP
Bank Name: Santander
Branch name: Santander
Reference: ISPOR WARSAW 2019
Please make sure all bank fees are covered by the submitting account and that the payment is free of charge for the receiver account. Please mention your first and last name and "ISPOR WARSAW 2019″ on the bank transfer.
Payment by bank transfer is only possible until 11 January 2019.
Cancellation and Change of Individual Hotel Reservation
All changes and cancellations must be sent in writing via email at rezerwacja@airporthotel.pl Please note that hotels will not accept any changes or cancellations.
For cancellations after 11 January 2019, no refunds will be possible.
For further assistance, please contact the Reservations Department:
ISPOR Warsaw 2019
Airport Hotel Okecie
Email: Rezerwacja@airporthotel.pl
Tel.: +48 22 456 80 00