Venue & Hotel Information
Venue & Hotel Information
Book your room by 15 August 2019
Headquarters Hotel – The Hilton Bogotá Corferias
The Hilton Bogota Corferias is the headquarters hotel with rates starting at US$139+taxes per night and is just a 5-minute walk from the convention Center. The hotel is conveniently located 15 minutes (10km) from El Dorado International Airport, near to the Agora Bogota Convention Centre where the conference will take place, and near the main cultural attractions of the city.
Book Your Hotel Accommodation before 15 August and Benefit from the Best Rates and Room Selections available to conference attendees.
Group Bookings
For small group bookings up to 10 rooms, please choose the Hilton Bogota Corferias, the Headquarters Hotel directly via the "Hotel Booking" button and proceed via the website.
Group reservations for 10 or more rooms will be handled with separate contracts and separate regulations. Please contact James Gallego, ISPOR booking agent for further information.
Booking and Payment of Individual Hotel Reservation
The hotel requires a credit card to guarantee the reservation and will charge the full amount of the reservation on your credit card.
Cancellation and Change of Individual Hotel Reservation
All cancellations and changes must be sent in writing to the ISPOR Housing Agent James Gallego. Housing Agent. Please note that hotels will not accept any changes or cancellations directly.
Hilton Bogota Corferias, the Headquarters Hotel Cancelation Policy: Cancellations received within 21 days to the arrival day and/or no-shows, will be charged the full length of stay.
Important Alert
Please be aware of third parties selling fictitious room reservations. These companies may mislead event participants by representing themselves as the official congress accommodation provider and may use a range of tactics to deceive including usage of the ISPOR logo. In some cases, event participants have been led to believe that they had made a reservation, only to arrive at the event to find that no reservation has been made and their credit cards may have been charged.
ESA Latin America is the only housing partner authorized by ISPOR. ISPOR does not recommend using any other supplier and to be cautious when disclosing personal information to third parties.
The ISPOR Latin America 2019 Conference will be held on 12-14 September 2019 at the Ágora Bogotá International Convention Centre.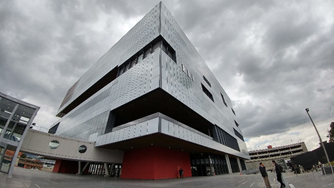 Ágora Bogotá International Convention Centre
Ac. 24 #38-47
Bogotá, Colombia
Located just 15 minutes from the airport and 25 minutes from the City's Downtown, the Ágora Bogotá International Convention Centre is a convenient location for meetings, conferences, and trade shows. With nearly 65,000 square meters of space, the Convention Center offers ample space for every conference need.
ISPOR Registration will be located in the Main Lobby (Piso 1) of the Convention Center.
The Plenary Sessions will be held in Rooms T-W (Piso 5) of the Convention Center.
The Exhibit – Poster Hall will be in Rooms Q-S and X-Z (Piso 5) of the Convention Center.
Click here to take a Virtual Tour of the Ágora Bogotá International Convention Centre
Getting to The Convention Center

By Air
The El Dorado Luis Carlos Galan Sarmiento International airport, Latin America's second largest passenger airport, is conveniently located in nearby Fontibon, a short 20 minutes away from the Ágora Bogotá Convention Centre. The area is easily accessible with more than 700 direct international flights a week, from 23 airlines, and with direct connections to more than 25 countries.

By Rail
The Transmilenio is Bogotá's mass transit system with 12 main routes along major roads.
The stations closest to Agora Bogotá are: CAD,on Av. NQS, opposite Catastro and Corferias, which is on Av. 26 three blocks Exhibition Centre.

By Taxi
Taxi's are available via mobile app including: UBER, Tappsi, Easy Taxi or Smart Taxi; or at the following numbers (please note, taxis accept cash only):

Radio Taxi: +57 (1) 288 8888
Taxi Real: +57 (1) 333 3333
Taxatélite: +57 (1) 222 2222
Taxis Libres: +57 (1) 311 1111
Taxi Express: +57 (1) 411 1111

Parking at the Convention Center
Ágora has a parking lot with capacity for 1000 vehicles and 300 bicycles in two basements, with access through Calle 25 # 33-60. It has two access ramps from the two adjacent streets, races 38 and 40. This parking lot has 12 access talanqueras that work for both departures and entrances. Parking fees are approximately fee of 25,000COP-30,000COP (Approx. 10USD) per day.