About Copenhagen
Practical Information
Language: Danish
Currency: Danish Krone
Time Zone: Central European Time (CET)

Electrical Voltage: Denmark, like most other European countries, has 220-volt AC, 50Hz current and uses two-pin continental plugs. If you visit from the UK and Ireland, you will need an adaptor for electric appliances, whereas North Americans need a transformer in order to use their 110/125V appliances.
Telephone Country Code: From abroad dial +45, and there are no area codes.
Weather: Denmark is in the North Temperate Zone and has an average temperature of 7.7˚C (46˚F). February tends to be the coldest month, with average temperatures of 0.0˚C (32˚F), whereas August tends to be the hottest month with average temperatures of 15.7˚C (60˚F), reaching over 25˚C (77˚F) on the warmest days.
Getting Around Copenhagen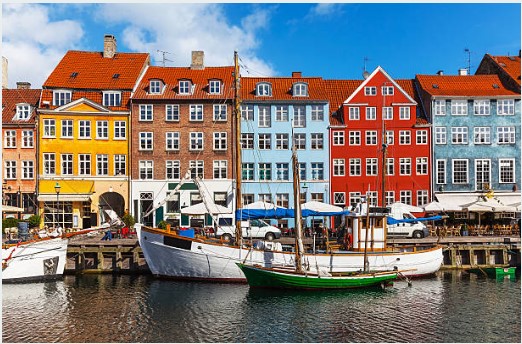 Copenhagen is an easily accessible city where walking and bicycling are welcomed. The city has several areas of distinctive charm, and several Michelin-starred restaurants. Nørrebro and Vesterbro are the city's trendiest areas, with modern designer shops, eateries and bars. Østerbro and Frederiksberg boast a multitude of parks and gardens. Christianshavn is romantic, with cobbled streets and canals, while the City Centre is the original heart of Copenhagen, with the most famous attractions.
Getting Around The City
Copenhagen's infrastructure offers world-class efficiency. Whether by metro, cab, bike or on foot, the city is easy to navigate and enjoy. Learn more here.
Tourist Attractions
From art museums to an amusement park to the beauty of the canal homes, Copenhagen has something for everyone.
Tivoli
This theme park, with its lush garden-like setting, features rides, dining, historic architecture, concerts and more. Details here.
The Little Mermaid
The sculpture of the little mermaid was presented as a gift to the City of Copenhagen on 23 August 1913. Since that time, the site has become a tourist must see destination. Learn more here.
New Harbor (Nyhavn)
One-time home of Hans Christian Andersen, Nyhavn is perhaps the most photographed area of Copenhagen with its side-by-side colorful homes, cobblestone streets, canals, shops and restaurants. Visitors to Copenhagen will want to end the day in this beautiful, harbor setting. More here.
Castles
Choose from Kronborg Castle, renowned for the setting of Shakespeare's "Hamlet"; to Rosenborg Castle, which houses some of Denmark's largest cultural treasures; to Frederiksborg Palace, situated on three islets; and others.
Learn more about the castles of Copenhagen, and other tourist sites here.