Venue Information
ISPOR 2023 will be held May 7-10, 2023 at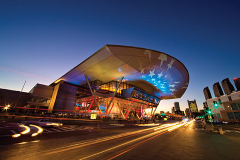 Boston Convention & Exhibition Center
415 Summer Street
Boston, Massachusetts, 02210
United States

The BCEC is at the forefront of the meeting industry being one of the most technologically advanced convention facilities in the world. The Convention center provides industry-leading technology, flexibility, and service to ensure a remarkable event. The beauty and symbolism of the building's modern, glass-lined interior is reflected throughout the 2.1 million square feet of space. The 40,020-square-foot Grand Ballroom overlooks the Boston Seaport, offering breathtaking views. And with 516,000 square feet of column-free, contiguous exhibit space, and 82 meeting rooms, the BCEC has the functionality to accommodate your event, your way.

Getting There:

The Boston Convention & Exhibition Center, also known as BCEC is just 2.9 miles from Logan International Airport with the fastest airport to convention center travel time in the country. Boston's geographical location makes it an ideal and easy gateway for attendees traveling either nationally or internationally. The BCEC is also surrounded by several hotels, making the commute to/from the event each day quick and convenient. Whether it's by car, train, or bus, getting to and from the BCEC couldn't be easier!

Boston Logan International Airport (BOS) is approximately 10-minutes from the Boston Convention & Exhibition Center (BCEC), and 15-minutes from downtown Boston with several airport and public transportation options to downtown, the Seaport district, and suburban locations.

Transportation options from Logan International Airport (BOS) to surrounding Hotels and the Boston Convention & Exhibition Center:

Taxi/Rideshare:
Taxi:

A taxi from the airport to the venue takes approx. 10-minutes, and approx. 20-minutes to downtown Boston.

Rideshare:

Choosing to ride with Uber or Lyft? The airport has created designated areas for all pick-up and drop offs.

Boston Water Taxi:

The Massport provides free shuttle bus service to and from the Logan Dock and Airport Terminals. For more information click here.

Public Transportation:
The Massport, locally known as "the T" includes Rapid shuttle bus services, subway and MBTA water shuttle. The T provides convenient, FREE transit options accessing area such as downtown Boston, South Station, Seaport District and much more from the airport. For more information visit the Massport Website.

The Silver Line is FREE from Boston Logan inbound to South Station. This service will provide access to Downtown Boston, South Station, and the Seaport District. The service operates from 5:30am to 12:30am seven days a week.

For more information on transportation options, click here.
Local Information:
Currency: US Dollar (USD)
Time Zone: Eastern Standard Time Zone (EST)/ UTC (GMT -4)
Language: English
Electrical Voltage: 120 Volts
Telephone Country Code: +1
Weather:
Temperatures in Boston in Early May average a high of 66°F (19°C) and a low of 48°F (9°C).
Getting around with public transport:
Boston's public transportation system enhances the accessibility of the city. Underground lines, and buses service the city efficiently and affordably.
Things To Do:
Boston is an active, vibrant city with something for everyone! Explore the historic city and enjoy local attractions after a day of meetings. Boston area attractions provide your attendees with more compelling things to see and do than any other convention city in North America. From America's history found along the Freedom Trail to world-famous museums, musical institutions, local and international cuisine, and spectator sports like the Red Sox and Patriots, this is a city unlike any other.
Many local attractions are just minutes away from the Boston Seaport District. For more information on getting there, getting around, what to expect for weather and ideas to make your stay more enjoyable: https://www.bostonusa.com/things-to-do/