Hotel Information
The ISPOR 2023 hotel program will include several hotels located in the Seaport District within walking distance to the Boston Conference & Exhibition Center, and Downtown Boston (a mile away).
ISPOR is excited to announce the Seaport Hotel as the headquarter hotel for ISPOR 2023.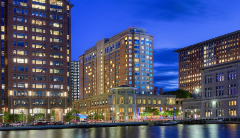 Seaport Hotel
1 Seaport Lane
Boston, Massachusetts, 02210
United States
The complete hotel program for ISPOR 2023 will be released in the coming months with individual and group policies. Please check back here for more details.

IMPORTANT ALERT
Please be aware of third parties selling fictitious room reservations. These companies may mislead event participants by representing themselves as the official congress accommodation provider and may use a range of tactics to deceive including the usage of the ISPOR logo. In some cases, event participants have been led to believe that they had made a reservation, only to arrive at the event to find that no reservation has been made and their credit cards may have been charged. ISPOR is not associated with any housing agencies for ISPOR 2023.

For questions regarding the conference venue and hotel, please contact us here.