Speaker
Maggie Galbraith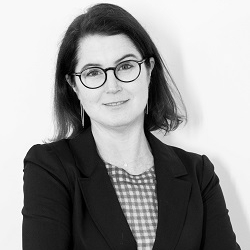 Haute Autorité de Santé, France
Maggie Galbraith is a project manager in the HTA division at the French National Authority for Health (HAS). HAS leads EUnetHTA WP5 focusing on evidence generation. Currently, she manages the daily operations of the EUnetHTA Early Dialogues Secretariat and the inclusion of stakeholders in Early Dialogues.

She was previously project manager for the Patient Safety and Quality of Care (PaSQ) Joint Action, the SEED consortium, the EU Network for Patient Safety (EUNetPaS) project and the ALzheimer COoperative Valuation in Europe (ALCOVE) Joint Action all of which received financing from the European Commission and were coordinated by HAS.

Prior to joining HAS, Ms. Galbraith worked in technology development at a large metropolitan hospital developing data-driven patient management and evidence-based self-diagnosis solutions.

She has a Master's degree in Public Affairs from Sciences Po, Paris, an undergraduate degree in Russian Language and Political Science from Indiana University, and a CAP in Pâtisserie.