Speaker
Brigitta Monz, MD, MPH, MA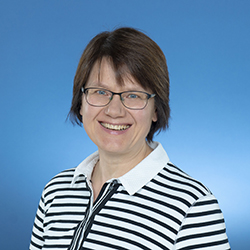 Global Head Real World Data Immunology, Infectious Diseases, Ophthalmology and Neuroscience
Brigitta Monz has been with Roche since 2015 in the Personalized Health Care function, as Global Head Real World Data Immunology, Infectious Diseases, Ophthalmology and Neuroscience. Throughout her career, Brigitta's passion and interest has been in applying evidence for decision making in health care, lately focused on Real World Data studies.
In her over 15 years in the pharmaceutical industry in several companies and several roles, such as health economics & outcomes research, medical affairs and drug development, she has been striving for robust evidence to inform decisions whatever the context, such as for regulatory approval, reimbursement, or healthcare provider - patient interactions. She participated in related policy initiatives to advance methodology and standardization in those areas.
Brigitta holds a medical degree from the University of Mainz, Germany, and is a board licensed anesthesiologist.